Police officer died of 'natural' causes day after Capitol riot: Medical examiner
Authorities haven't said if the assault directly contributed to his death.
U.S. Capitol Police Officer Brian Sicknick died of "natural" causes one day after a violent mob stormed the U.S. Capitol on Jan. 6, the Washington, D.C., medical examiner announced on Monday.
The medical examiner's conclusion comes amid lingering questions over whether the 42-year-old officer was fatally attacked on Jan. 6.
Last month, federal authorities arrested two men who allegedly assaulted Sicknick with bear spray at the Capitol, but authorities did not say if the assault directly contributed to his death the next day.
According to the medical examiner, a stroke is specifically what caused Sicknick's "natural" death, and, "If death is hastened by an injury, the manner of death is not considered natural."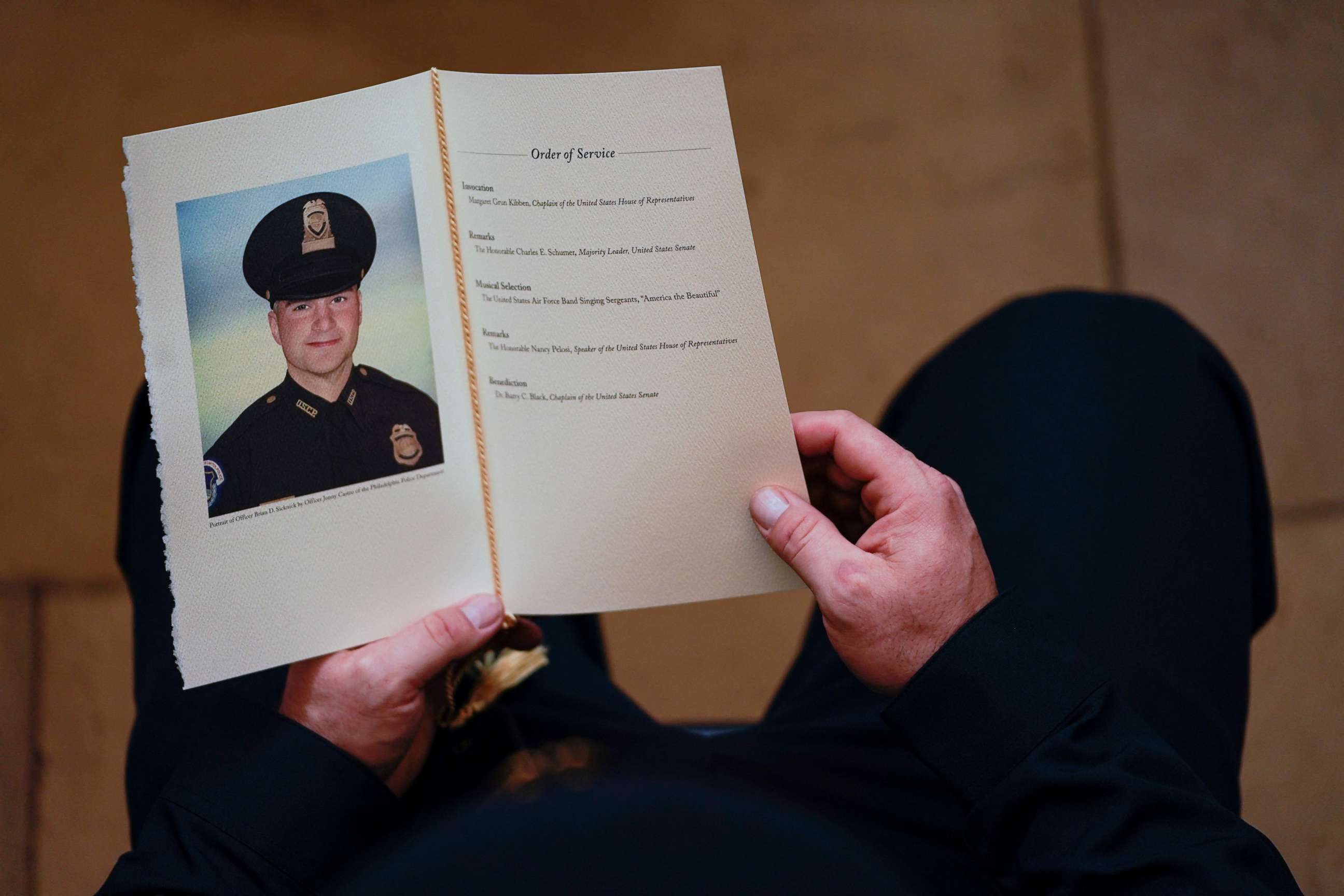 In a statement, the U.S. Capitol Police said that while they accept the medical examiner's conclusion, "This does not change the fact Officer Sicknick died in the line of duty, courageously defending Congress and the Capitol."
"Working with the U.S. Attorney's Office for the District of Columbia, the F.B.I.'s Washington Field Office and the Metropolitan Police Department, the USCP will continue to ensure those responsible for the assault against officers are held accountable," the statement continued.
Charges against Julian Khater of Pennsylvania and George Tanios of West Virginia include conspiracy to injure officers, assault on federal officers and civil disorder.
An affidavit said three officers, including Sicknick, "were incapacitated and unable to perform their duties for at least 20 minutes or longer while they recovered from the spray." One officer said the spray was "as strong as, if not stronger than, any version of the pepper spray they had been exposed to during their training as law enforcement officers."
ABC News' Luke Barr and Lauren King contributed to this report.