The House on Tuesday overwhelmingly passed a resolution to reaffirm Israel is not a "racist state" and to condemn antisemitism -- a GOP-led effort designed to drive a wedge between Democrats as the party contends with divisions in its ranks concerning the U.S. ally.
The vote was 412-9-1 with nine Democrats voting no, including Reps. Rashida Tlaib, Alexandria Ocasio-Cortez, Ilhan Omar, Jamaal Bowman, Summer Lee, Cori Bush, Ayanna Pressley, Andre Carson and Delia Ramirez.
Notably, Rep. Pramila Jayapal, whose recent comments sparked the move, voted yes. (Rep. Betty McCollum voted present.)
The resolution, introduced by Rep. August Pfluger, R-Texas, says "the State of Israel is not a racist or apartheid state, Congress rejects all forms of antisemitism and xenophobia, and the United States will always be a staunch partner and supporter of Israel."
The vote was essentially a rebuke of Jayapal, who has walked back her comments calling Israel a "racist state" and apologized to those she hurt with the remarks made at a political conference over the weekend. Seeking to clarify her remarks, Jayapal said she supported the two-state solution but is opposed to Prime Minister Benjamin Netanyahu's regime and its policies.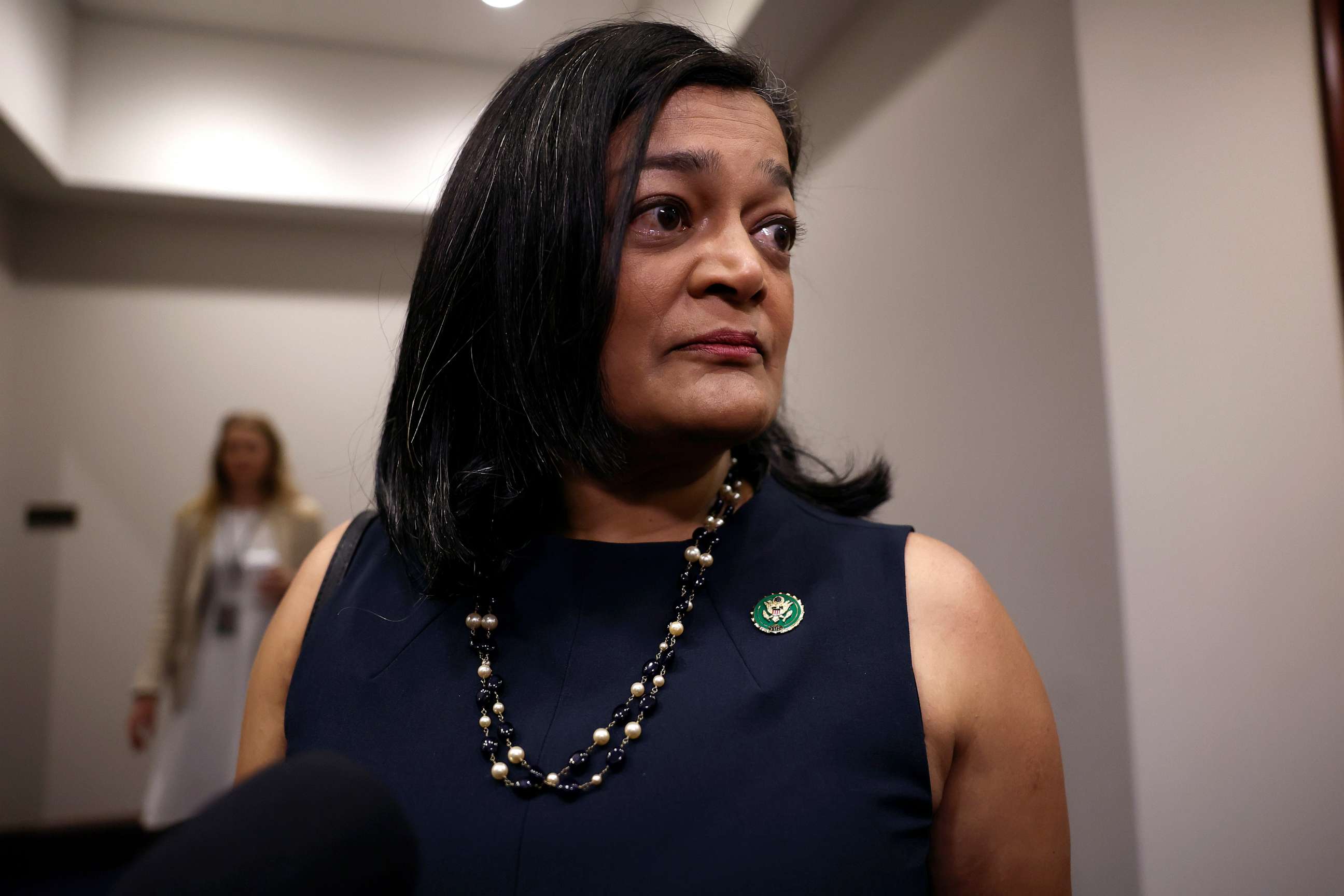 Top Democrats issued a statement over the weekend countering Jayapal's remarks in which they declared, "Israel is not a racist state."
"Our commitment to a safe and secure Israel as an invaluable partner, ally and beacon of democracy in the Middle East is ironclad," House Minority Leader Hakeem Jeffries and Reps. Katherine Clark, Pete Aguilar and Ted Lieu said in a statement.
Aguilar further touted the "special relationship" between the U.S. and Israel during a news conference on Tuesday, where he was asked whether the Israel resolution would expose division within the party.
"No, there's unity in the Democratic caucus," Aguilar responded. "I think you'll see that with strong attendance from our colleagues on the House floor to see the president of Israel address us."
House Majority Leader Steve Scalise, R-Calif., applauded the resolution.
"I think you have seen some growing antisemitism over the years and including coming from some members of Congress. And I think it's always important that we reiterate our strong support with our great ally Israel, and stand up to antisemitism wherever we see it," Scalise said.
Presented with the contrast between his condemnation of antisemitism with House Republicans' plans for Robert F. Kennedy Jr. to testify before a House subcommittee -- despite Kennedy recently being accused of antisemitism for his false claim that COVID-19 was "targeted to" certain ethnicities while Chinese people and Jewish people of European descent were more immune -- Scalise criticized Kennedy's remarks.
"I don't agree with that," Scalise said when asked about Kennedy's recent comments. "But we're bringing legislation so that every member of Congress can be on record about whether or not they stand up against antisemitism."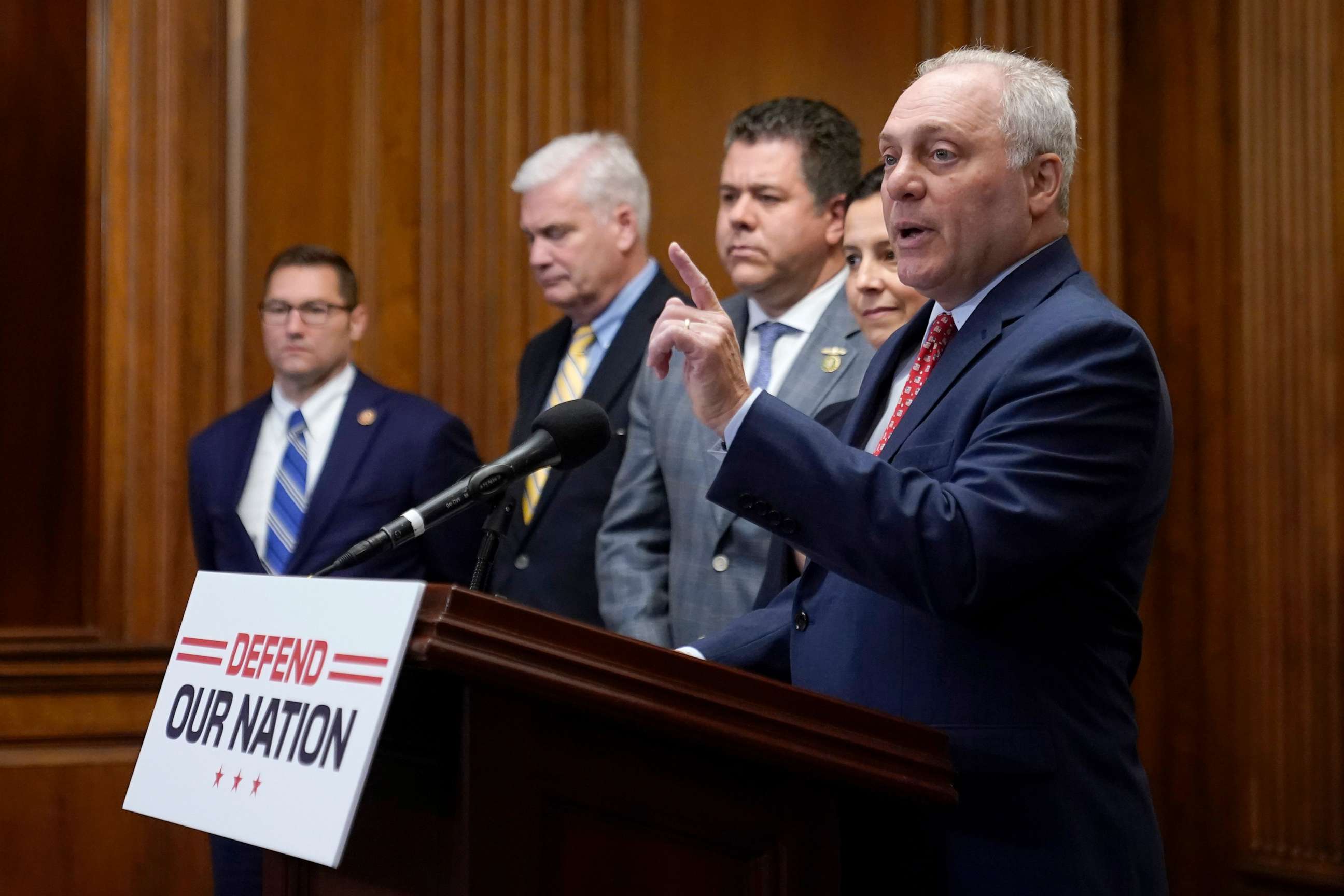 The House vote came as Israeli President Isaac Herzog was in Washington to meet with President Joe Biden at the White House. Herzog will address a joint meeting of Congress on Wednesday to mark the 75th anniversary of Israel's statehood.
Some progressive Democrats, including Reps. Ilhan Omar and Alexandria Ocasio-Cortez, have said they will boycott his remarks.
ABC News' Arthur Jones contributed to this report.