'Impossible' to argue Colorado's not safer because of this law: Sen. Michael Bennet
The presidential hopeful spoke on "This Week"
In the wake of the deadly mass shooting in Virginia Beach, Sen. Michael Bennet, D-Colo., said that the president could make a big difference in the effort to keep guns out of the hands of criminals.
Twelve people were shot to death in the Virginia Beach municipal building and four others were injured in Friday's rampage, allegedly carried out by an employee.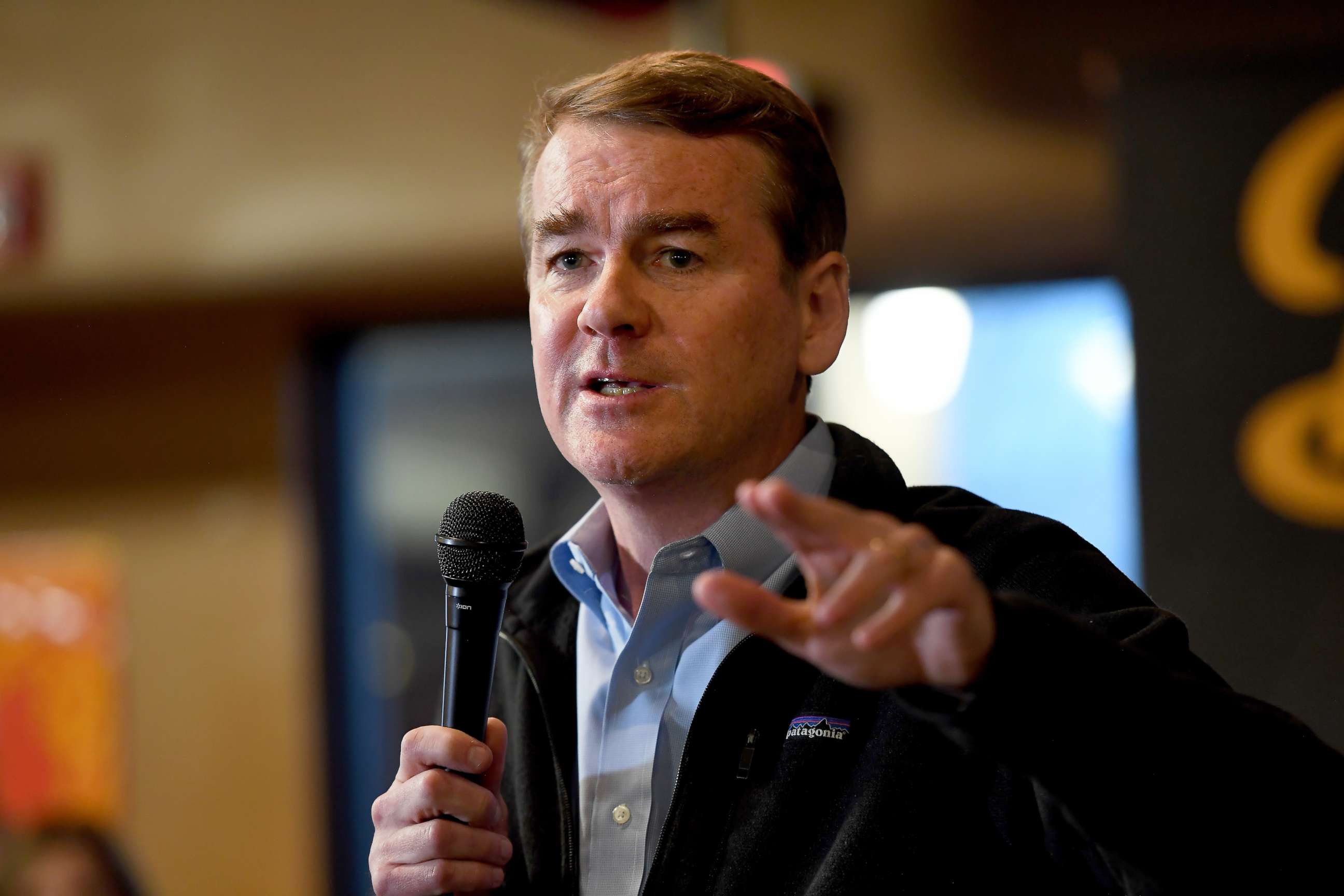 The Democratic presidential hopeful told ABC News Chief Anchor George Stephanopoulos on "This Week" Sunday that, "I think the president can make a difference. The House of Representatives have passed background checks to close the internet loophole. This person bought the guns lawfully as we know. Every single fact pattern will be different. We should pass those background checks. 90% of Americans support it."
He said that in Colorado, people are safer because of the laws that have been passed to close so-called loopholes.
"After Columbine in Colorado, the people of this western state voted to close the gun show loophole and internet loophole," he said. "It's impossible to argue that our state isn't safer because of this law. If McConnell doesn't take this on the floor, the people of America and the people of Kentucky will hold him accountable for that."
Bennet holds a mixed record on gun control. He's voted to ban high-capacity magazines of over 10 bullets; he's also said he opposes restricting the right to bear arms; and, in 2009, he voted to allow Amtrak riders to check bags containing guns. His push for gun control on the campaign trail has not always been widely accepted.
According to local news reports, a group of students walked out of an event in May, organized by a local chapter of the Brady Campaign to Prevent Gun Violence, after hearing speeches from members of the community, including activists and elected officials, including Bennet. Both the senator and Rep. Jason Crow, who represents the district where the shooting took place, were invited by the Brady Campaign to speak at the event. They talked about the need to take action in the wake of another tragic school shooting and reform the nation's gun laws. Students from the STEM School in Highlands Ranch, Colorado and critics condemned Bennet's remarks, calling it a "political stunt."
In the 2020 race, Bennet's push to secure his spot on the debate stage has been an uphill climb. The Democratic presidential hopeful has not reached the Democratic National Committee polling criteria, appearing at 1% in two national polls, but still has not reached the 65,000 individual donor threshold needed to lock in his podium at the first debate later this month.
"I only got in the race four weeks ago, so, George, I'm behind and anybody who wants to help, we'd love to have the help. But I also think – I hope the DNC sort of takes a look at this and reconsiders," Bennet told Stephanopoulos. "I've been in the Senate for 10 years and I think the tragedy for adding voices to the Democracy, if we're basing it just on what people can raise on the internet in just a handful of weeks, I just don't think it makes any sense."
The Colorado senator spent the weekend campaigning in South Carolina, while his fellow moderate in the Democratic field, former Colorado Gov. John Hickenlooper, faced a disruptive crowd in California when he said that "socialism is not the answer" to winning the 2020 election.
At the California Democratic Convention, Hickenlooper responded to the boos he received by saying, "you know, if we are not careful we are going to help re-elect the worst president in American history."
On "This Week," Stephanopoulos said, "You heard those boos right there. You know, at the State of the Union, you applauded President Trump when he said America will never be a socialist country. Are you worried that you and John Hickenlooper are out of step with the base of your party?"
Bennet responded that San Francisco may have been the wrong place to make that statement and that, "I don't think I'm out of step. I was not applauding Donald Trump, I was applauding the idea that this country will not become a socialist country. I think we have 230 years of being the longest lived democracy on the planet, that's something we need to preserve."
He said it's becoming harder to preserve that ideal, however, because "we have had 40 years of no economic mobility in the United States, 90 percent of the American people -- 90 percent, George -- have not shared in the economic growth over the last 40 years. For them, those periods of economic growth have acted as a recession and as a result they can't afford the basic components of the middle class life."
Bennet echoed that sentiment while criticizing Sen. Bernie Sanders' Medicare-for-all plan and advocating for his Medicare X plan, an extension of the Affordable Care Act which would provide Americans with a public option. Bennet said his plan has higher chance of being passed into legislation.
"The Twitter universe in the party is going in another direction, the base of the party that I've been meeting with in New Hampshire, Iowa and -- just yesterday -- in South Carolina, they don't think we would take insurance away from 180 (million) people. And they absolutely categorically do not agree that Bernie is right on that and I don't think Bernie is right on that."
Still, if Sanders does become the Democratic Party's nominee, Bennet said that he would support him, despite disagreeing with his opponent's more left-leaning agenda.
"Well, I think the only way we're going to lose to Donald Trump is if we disqualify ourselves," he said. "And that's why -- that's why these issues around how we approach universal health care, how we approach climate change, we -- as Democrats -- we have to build a broad constituency in the country not just of Democrats but of independents and Republicans to overcome Trump."