— -- Sen. Bernie Sanders has turned his attention to Indiana, despite his diminishing chances to secure the Democratic presidential nomination.
Sanders' focus on the next primary comes during a tough week, which started with his winning only one of the five East Coast primaries on Tuesday.
The campaign then announced the next day it was cutting hundreds of staffers, though arguing that fewer remaining primaries call for a realignment of resources. But his overall campaign has shrunk dramatically, to between 325 and 350 staffers from more than 1,000, a campaign source told ABC News.
"Bernie Sanders began the process of conceding in his speech on Tuesday, when he said he would take this to the convention for the purpose of influencing the platform," Georgetown University associate professor Hans Noel told ABC News today. "Laying off workers is just a hint at that."
The Sanders campaign hasn't conceded anything, however, even stressing after Tuesday's disappointing finish that he's in the race for the long haul.
"The people in every state in this country should have the right to determine who they want as president and what the agenda of the Democratic Party should be. That's why we are in this race until the last vote is cast," Sanders said in the statement.
Indeed, the campaign has been well underway in Indiana, which holds its primary next Tuesday and allocates 92 delegates proportionally.
"His operation actually has been pretty impressive," political science professor Marjorie Hershey of Indiana University said. "I live in Bloomington [Indiana] and this will probably be one of his best areas of the state.
"His canvasing has been pretty thorough and I've seen a number of Sanders' television ads, whereas I have seen only one [Hillary] Clinton television ad."
Hershey said she saw her first Sanders ad a week before she saw a Clinton ad, which is consistent with his state director's comments to ABC News that they started their operation there more than a month ago.
"We were sent here to win six weeks ago in a vacuum regardless of what else was happening," the Sander's campaign Indiana director, Pete D'Alessendro, said.
"We are here to win Indiana."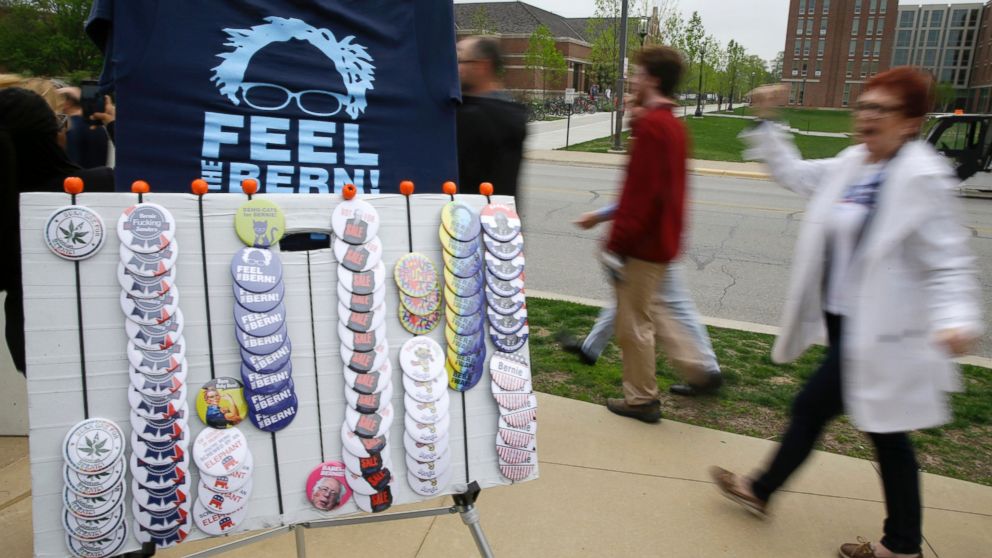 D'Alessendro pointed to the significant crowds Sanders attracted in the state a day after the Tuesday East Coast primaries.
"We haven't seen a hit in the grassroots enthusiasm, but that is unique to this campaign," he said. "Every other campaign in the history of the world would have seen one."
There has been no reportable statewide polling in Indiana yet, so it is difficult to grasp the spread in the Democratic race there.
If Hillary Clinton secures 24 of the state's 83 pledged delegates, there will be no way for Sanders to earn enough pledged delegates to secure the nomination outright. He would have to rely on superdelegates.
Still, professor Hershey says, Sanders could translate whatever wins he has into the power to shape the political conversation at this summer's convention and beyond.
"I think that, to be perfectly frank, the Democratic race is over at this point," Hershey said.
"Now it depends on what you are expecting and hoping that Sanders would achieve. If we're not talking about his winning the nomination ... but about his retaining some momentum primarily for his ideas as we go into the convention phase, then certainly doing really well in Indiana would be really important," she said.