— -- President Donald Trump counted his attorney general, Jeff Sessions, among his earliest supporters and the first sitting senator to endorse him.
On Wednesday, Sessions resigned as attorney general effective immediately at the request of the president.
The relationship between Sessions and Trump began to fray last year in the wake of Sessions recusing himself from the Russia investigation – a cloud that has hung over the Trump administration almost since its inception.
Trump even rebuked Sessions publicly, indicating that he would have nominated someone else for attorney general had he known about the recusal and called him a "beleaguered A.G." on Twitter.
Sessions offered to resign at one point -- which Trump rejected -- but later said in the summer of 2017 that he planned to remain attorney general "as long as that is appropriate."
Here is a timeline of the ongoing relationship between Trump and Sessions:
Feb. 28, 2016 -- Sessions endorses Trump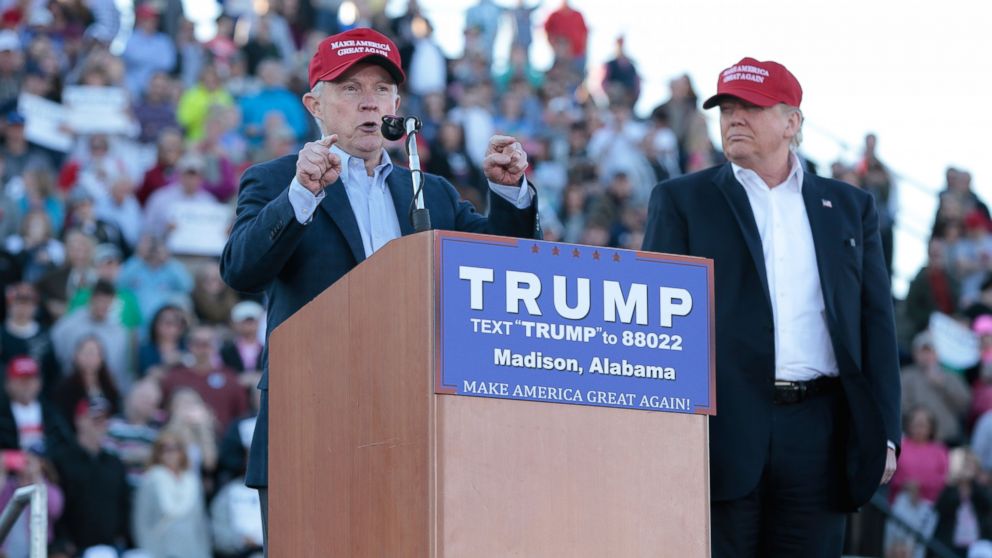 Sessions formally endorsed Trump's candidacy for the Republican presidential nomination days ahead of Super Tuesday, becoming the first sitting senator to do so. Trump's outsider bid continued to build momentum in the weeks leading up to the endorsement as the real estate mogul captured primary and caucus victories in three of the first four contests.
"I told Donald Trump, this isn't a campaign, this is a movement," Sessions said in a speech in Alabama announcing the endorsement.
Mar. 3, 2016 -- Sessions named chair of Trump's national security advisory council
Trump appointed Sessions to an official position on his campaign team, naming the Alabama senator the head of his national security advisory council.
"I am grateful for the opportunity to recommend and facilitate discussions among exceptional and experienced American military and diplomatic leaders to share insight and advice with Donald Trump, regardless of their political views," Sessions said in a release announcing the appointment.
April 27, 2016 -- Sessions and Russian ambassador attend Trump speech
In a moment that would later be heavily scrutinized, Sessions attended a foreign policy address given by Trump at the Mayflower Hotel in Washington, D.C. Also in attendance -- Russian Ambassador to the United States Sergey Kislyak. This year, as Kislyak's interactions with members of the administration -- including Sessions and national security adviser Michael Flynn -- became public, the White House pushed back on suggestions Kislyak met with Trump at the speech.
"To state they met or that a meeting took place is disingenuous and absurd," a senior White House official said in March 2017.
July 18, 2016, and Sept. 8, 2016 -- Sessions meets with Kislyak
Sessions met with Kislyak on at least two occasions last year. The first came during an event at the Republican National Convention hosted by the Heritage Foundation where the Russian ambassador was among a small group of diplomats with whom the Alabama senator spoke. The second was a meeting in Sessions' Washington, D.C., office that was also attended by staff members.
Though the Department of Justice would later categorize the meetings as routine, given Sessions' responsibilities as a senator, the encounters would play a role in Sessions' recusal as attorney general from all investigations related to Russian interference in the presidential election.
Nov. 18, 2016 -- Trump nominates Sessions to be attorney general
To the displeasure of some Democrats who questioned Sessions' record on civil rights and failed 1986 nomination to serve as a U.S. district court judge, Trump tapped Sessions to serve as his attorney general.
Jan. 10, 2017 -- Confirmation hearing comments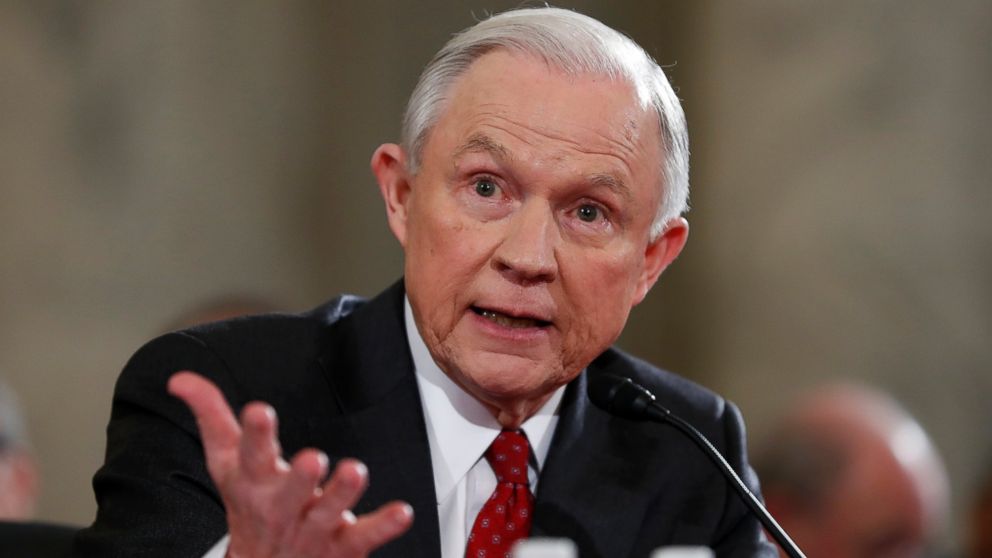 Sessions was questioned by Sen. Al Franken, D-Minn., about what he would do as attorney general if evidence emerged that members of the Trump campaign communicated with Russia.
"Sen. Franken, I'm not aware of any of those activities," Sessions said. "I have been called a surrogate at a time or two in that campaign and I didn't have -- did not have communications with the Russians, and I'm unable to comment on it."
Mar. 2, 2017 -- Recusal from campaign-related investigations
After Sessions' meetings with Kislyak became public, he maintained that he did not answer Franken dishonestly because the discussions came in his capacity as a senator and not as a representative of the campaign.
Trump himself later said in a statement that Sessions "could have stated his response more accurately, but it was clearly not intentional."
As pressure built, however, Sessions announced that he would not participate in any ongoing or future inquiries into matters related to the presidential election.
"Let me be clear: I never had meetings with Russian operatives or Russian intermediaries about the Trump campaign," Sessions told reporters. "And the idea that I was part of a continuing exchange of information during the campaign between Trump surrogates and intermediaries to the Russian government are false."
Earlier in the day, Trump said he had "total" confidence in Sessions and didn't believe the attorney general should recuse himself. On March 3, Trump reiterated his earlier sentiments about Sessions' intentions and said that the "narrative is a way of saving face for Democrats losing an election that everyone thought they were supposed to win."
June 5, 2017 -- Travel ban frustration
Trump's frustration over his stalled plan to limit travel and immigration from a number of Middle Eastern and African countries boiled over as he unleashed a series of tweets seemingly blaming the Justice Department -- charged with defending the ban in court -- with the revised order's "watering down."
June 6, 2017 -- Sources say Sessions recently offered to resign
ABC News learns that Sessions had recently offered to resign as Trump continued to express frustration with the attorney general's decision to recuse himself from the election-tampering investigation.
During the day's White House press briefing, press secretary Sean Spicer, in response to questioning on whether Trump had confidence in Sessions, said, "I have not had that discussion with [President Trump]."
June 13, 2017 -- Sessions testifies in front of Senate committee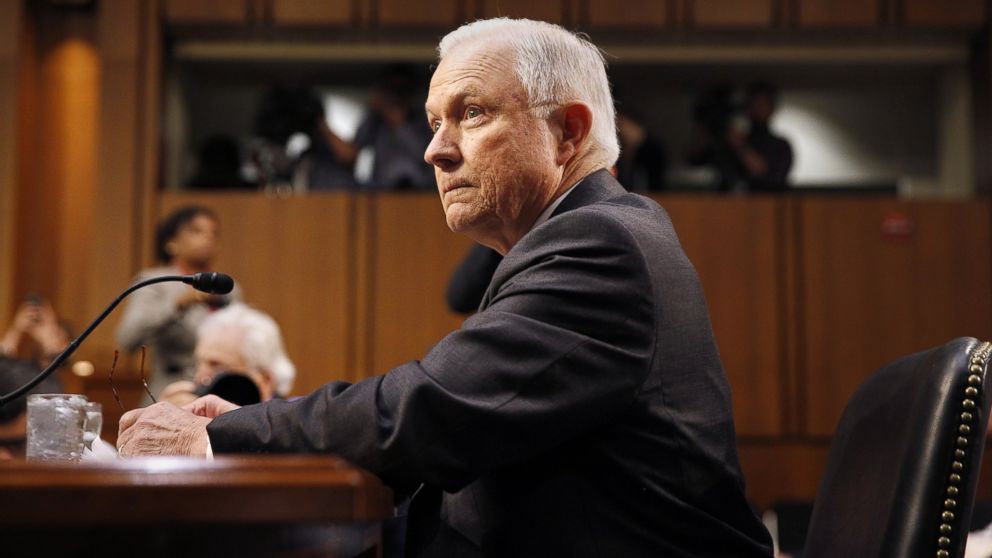 Sessions testified in front of the Senate Intelligence Committee, and issued a sweeping denial of any personal involvement in Russian interference in the 2016 presidential campaign.
"I have never met with, or had any conversation with, any Russians or any foreign officials concerning any type of interference with any campaign or election in the United States," Sessions told the Senate Intelligence Committee. "Further, I have no knowledge of any such conversations by anyone connected to the Trump campaign."
Trump, apparently, was pleased with his performance. Principal deputy White House press secretary Sarah Huckabee Sanders told reporters that the president "wasn't able to watch much of [Sessions' testimony] ... but what he did see, what he heard, he thought that Attorney General Sessions did a very good job, and in particular, was very strong on the point that there was no collusion between Russia and the Trump campaign."
July 19, 2017 -- Trump slams Sessions in interview
Trump had a sit-down interview with The New York Times, during which he launched into a blistering rebuke of Sessions and his decision to recuse himself from anything relating to any presidential campaigns, including, most notably, the 2016 campaign.
"Sessions should have never recused himself, and if he was going to recuse himself, he should have told me before he took the job, and I would have picked somebody else," Trump said in the interview.
When asked whether Sessions gave the president a "heads up" before the recusal, Trump said: "Zero."
"So Jeff Sessions takes the job, gets into the job, recuses himself. I then have — which, frankly, I think is very unfair to the president. How do you take a job and then recuse yourself? If he would have recused himself before the job, I would have said, "Thanks, Jeff, but I can't, you know, I'm not going to take you." It's extremely unfair, and that's a mild word, to the president. So he recuses himself. I then end up with a second man, who's a deputy," Trump said, referring to Rod Rosenstein.
July 20, 2017 -- Sessions responds, says he's staying
Asked today for his reaction to Trump's comments, Sessions maintained that he will remain at his position "as long as that is appropriate."
"We in this Department of Justice will continue every single day to work hard to serve the national interest, and we wholeheartedly join in the priorities of President Trump," he said at a news conference today.
"I have the honor of serving as Attorney General, it's something that goes beyond any thought I would have ever had for myself," he added. "We love this job, we love this department, and I plan to continue to do so as long as that is appropriate."
July 24, 2017 -- Trump calls Sessions "beleaguered"
Trump posted a tweet that included an apparent slight against Sessions, writing: "So why aren't the Committees and investigators, and of course our beleaguered A.G., looking into Crooked Hillarys crimes & Russia relations?"
Sessions did not immediately respond to the tweet.
July 25, 2017 -- Trump slams Sessions again on Twitter
For the second day in a row, the president aired his frustration with his attorney general and took aim again at his Democratic rival.
"Attorney General Jeff Sessions has taken a VERY weak position on Hillary Clinton crimes (where are E-mails & DNC server) & Intel leakers!" Trump wrote in a tweet.
Sessions did not immediately respond to the tweet.
Later that day, during a joint news conference with Lebanese Prime Minister Saad Hariri, Trump said that he is "disappointed" with Sessions.
Trump said that he wants Sessions "to be much tougher on the leaks from intelligence agencies, which are leaking like rarely have they ever leaked before at a very important level."
"We will see what happens. Time will tell. Time will tell," he added.
July 26, 2017 -- A meeting at the White House, but without Trump
Sessions went to a meeting at the White House that the president did not attend. In a morning tweet Trump slammed his attorney general for not replacing the acting FBI director.
"Why didn't A.G. Sessions replace Acting FBI Director Andrew McCabe, a Comey friend who was in charge of Clinton investigation but got big dollars ($700,000) for his wife's political run from Hillary Clinton and her representatives. Drain the Swamp!" Trump wrote in two tweets.
That meeting came shortly after a U.S. official told ABC News that Sessions' chief of staff, Jody Hunt, recently informed White House Chief of Staff Reince Priebus that Sessions has no plans to resign from his post, despite growing pressure from Trump.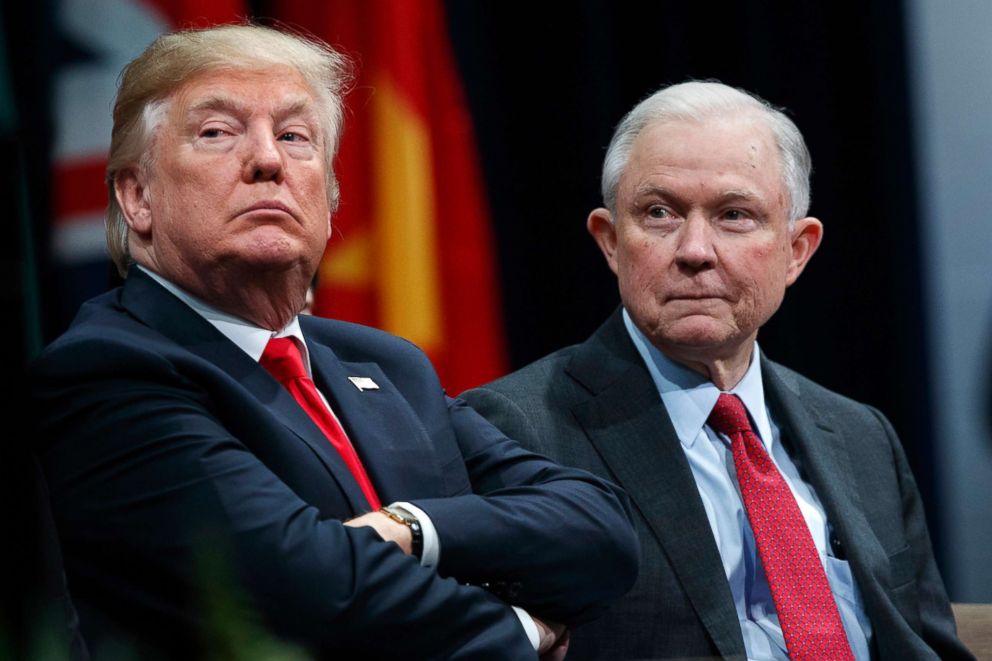 White House press secretary Sarah Sanders later told reporters that Trump has "been very clear" about his feelings on Sessions.
"He's obviously disappointed but also wants the attorney general to continue to focus on the things that the attorney general does. He wants him to lead the Department of Justice. He wants to do that strongly. He wants him to focus on things like immigration, leaks and a number of other issues," Sanders said.
She went on, "You can be disappointed in someone but still want them to continue to do their job and that's where they are."
Nov. 7, 2018 -- Sessions resigns at Trump's request
Sessions submitted his resignation letter to Trump after the president asked him to do so.
"Since the day I was honored to be sworn in as Attorney General of the United States, I came to work at the Department of Jusitce every day determined to do my duty and serve my country," Sessions wrote. "I have done so to the best of my ability, working to support the fundamental legal processes that are the foundation of justice."