— -- It is a business empire that spans four continents and nearly two dozen countries.
Among the interests are golf courses and residential and commercial developments.
But the corporate titan behind these business dealings is none other than the president-elect of the United States, Donald Trump.
The real estate mogul's new role as the leader of the free world while still having his name on properties in foreign lands could complicate trade deals and foreign relations.
Trump has said that the law is on his side and, indeed, federal ethics laws governing conflicts of interest contain specific exemptions for the president and vice president.
Still, some ethics experts say Trump could be in violation of the emoluments clause of the Constitution, which prohibits enrichment from foreign heads of state, from the moment he takes office. Others have argued that the clause may not apply to the president.
Trump has made sometimes conflicting statements about what he plans to do with his businesses, at one point complaining about all the attention the ties were receiving.
"Prior to the election it was well known that I have interests in properties all over the world.Only the crooked media makes this a big deal!" he tweeted on Nov. 21.
More than a week later, he tweeted that while he was under no legal obligation to do so, he intends to leave his "great business in total in order to focus on running the country."
During the transition period, Trump has taken steps to cancel some business deals and shut down some foreign entities — eliminating some potentially thorny issues before his move into the White House.
His overall plans are expected to be announced this week. On Monday, Trump told reporters at Trump Tower in New York to stay tuned for details but that "it's very simple, very easy."
In advance of that expected announcement ABC News decided to lay out his known properties and business interests in the U.S. and elsewhere around the globe, based primarily on the financial disclosure documents Trump filed covering 2014 to 2016, with additional information from the Trump Organization's website and public statements, court filings and other public records, ABC News stories and other published reports.
Here is a list of business ties that Trump has pursued in other countries,including some that the organization describes as canceled, inactive or prospective.
ARGENTINA
(CANCELED)
A possible deal for a Trump-branded office tower in central Buenos Aires has been dropped, a Trump Organization source tells ABC News.
The proposal had attracted international attention in mid-November after a congratulatory phone call placed to the president-elect by Argentine President Mauricio Macri. A report in Argentine media that Trump used the occasion to solicit Macri's assistance with getting approvals for his partners in the project was forcefully denied by Macri's office and a spokesman for Trump.
The development firm behind the now abandoned plan, YY Development Group, told Argentine daily newspaper La Nacion in November that construction on the planned 35-story building could have gotten underway by next summer if it had received approvals from Buenos Aires city officials.
YY Development Group is building a Trump-branded residential tower in neighboring Uruguay. The managing director, Juan Jose Cugliandolo, told ABC News in December that his company's dealings have primarily been with Eric Trump and he didn't expect anything to change. Cugliandolo suggested that Donald Trump's election to the presidency "can only add prestige to our business."
Macri, the son of a wealthy businessman, has known Trump and his family for years. He told a Japanese interviewer in November that in addition to speaking with the president-elect on the phone, he had also spoken with his daughter Ivanka Trump, whom Macri said he has known "since infant days."
AZERBAIJAN
(CANCELED)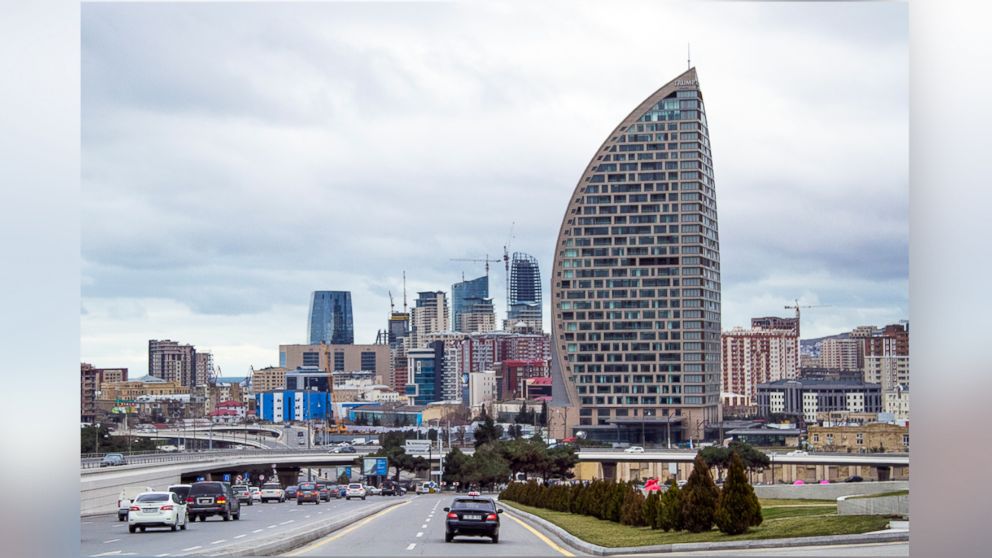 The Trump International Hotel and Tower Baku, a 33-floor sail-shaped hotel and condominium building near the shores of the Caspian Sea, was heralded by the Trump Hotels Collection as "the next generation of luxury hospitality" that would "set a new standard for excellence in the region," according to a 2014 press release.
But a representative for the Trump Organization told ABC News in a statement that the branding deal is off, citing delays in the development. "We have chosen to end our association with this project and reallocate our resources," the statement reads. "We wish the developers much success."
Trump Organization attorney Alan Garten in December told The Associated Press that the move to nix the deal was "normal housekeeping" unconnected to a strategy to reduce potential conflicts of interest. Months earlier, he told the AP that the deal was on hold "for economic reasons." The building once had a targeted opening date in 2016 but was delayed when Azerbaijan's economy soured as oil and gas prices fell.
As Trump's campaign for the GOP nomination gained momentum in mid-2016, the Baku deal came under scrutiny in part because of the country's reputation as a haven for corruption. According to a 2015 report from the U.S. State Department, Azerbaijan continues to be plagued by "pervasive corruption — including bribery of public officials" that presents a "major challenge for U.S. and other international firms" doing business there.
One of Trump's former partners in the building's development was Anar Mammadov, the son of former Transportation Minister Ziya Mammadov, who at the time of the deal was reportedly a close ally of Azerbaijan's President Ilham Aliyev.
Though the Trump Organization has backed out of the project, Trump reported income from management fees connected to the deal of over $2.8 million since 2014, according to his two financial disclosure forms filed during his campaign.
BRAZIL
(CANCELED)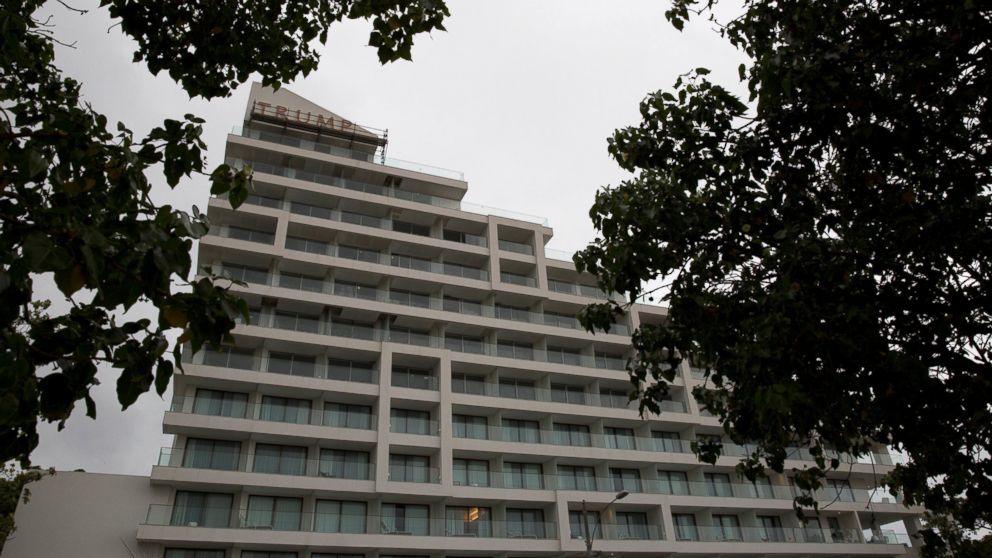 The Trump Organization said in December that it was pulling out of two brand-licensing deals in Rio de Janeiro, one for a partially built hotel and another for a planned complex of five office towers near the city's commercial center. The properties have been removed from the organization's website.
A Trump Organization representative told ABC News in a statement that the developers of the Rio hotel "are significantly behind on the completion of the property and their vision for the hotel no longer aligns with the Trump brand. As a result, we have made the decision to remove our brand name from the project."
Trump had no ownership interest in either of the developments, though he promoted the office project in an early 2013 tweet, saying, "The Trump Organization is going [to] revolutionize Rio de Janeiro's downtown port area with Trump Towers. Construction begins soon!"
Both projects have reportedly come under scrutiny recently by federal prosecutors in Brazil for possible criminality involving financing, but no one from the Trump Organization has been implicated.
CANADA
Toronto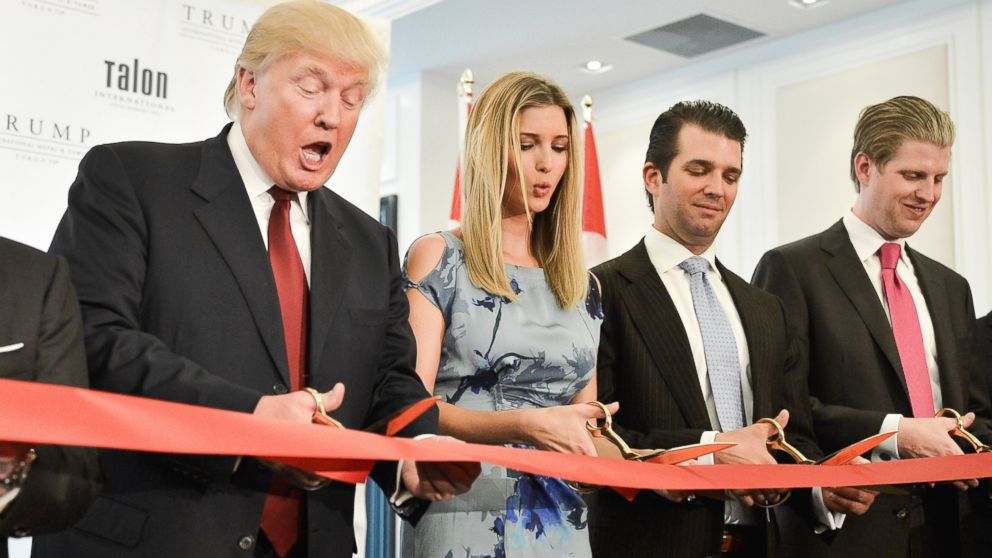 Trump licenses his name to the Trump International Hotel and Tower Toronto, the first in Canada for the Trump Organization, which also manages the five-star property. The hotel and condominium tower officially opened in 2012.
The hotel was developed by Talon International, a firm controlled by Russian-born Canadian billionaire Alex Shnaider. The building was recently put up for sale for an asking price of $222 million, according to Bloomberg. The Trump brand name may or may not remain on the hotel after the sale, Bloomberg reported.
Trump Hotels said in an emailed statement to The New York Times in early November that it expected to maintain the status quo. "Regardless of any capital partner or ownership changes that may take place, we will continue to operate the property under our luxury hotel brand flag," the statement said.
Vancouver
The Trump International Hotel and Tower Vancouver, a 147-room hotel with 218 condominium residences, is scheduled to open in January 2017 and is a Trump brand-licensing deal announced in 2013 as a partnership with the developer, Holburn Group, whose CEO is Joo Kim Tiah, the son of one of Malaysia's wealthiest men.
In late 2015, Vancouver city officials, including Mayor Gregor Robertson, tried unsuccessfully to persuade the Holburn Group to remove Trump's name from the hotel.Robertson was quoted as saying in The Vancouver Sun, "Trump's name and brand have no more place on Vancouver's skyline than his ignorant ideas have in the modern world."
CHINA
(INACTIVE)
Trump's financial disclosure forms list nine companies that may be related to prospective business interests in China. The companies have names like THC China Development LLC and THC Shenzhen Hotel Manager LLC -- a naming convention similar to those for other Trump branding deals overseas. Most of the entities are categorized in the disclosure as dormant or inactive.
The activity, if any, of these companies is not clear, but according to a report by NPR, Trump Hotel Collection CEO Eric Danziger told Chinese media in October that the company had goals to build 20 to 30 Trump and subbrand Scion hotels in major Chinese cities.
The Trump Organization did not provide a response to ABC News' questions about possible business deals or development in China.
DOMINICAN REPUBLIC
According to his May 2016 financial disclosure form, Trump reported an ownership interest in an entity called Caribusiness Investments, S.R.L, in the Dominican Republic.
The form attaches a value of $1 million to $5 million and claims $2 million in income from land sales since 2015. No further information about the underlying investment was provided on the forms.
Trump has dabbled in the Dominican market before, announcing in 2007 a partnership deal with local developers for a $2 billion resort to be called Trump Farallon Estates in Cap Cana.
Several years later, Trump filed a federal lawsuit against the developers, alleging they had failed to pay almost $6 million in licensing fees and percentages of gross sales that were owed under the agreement. The case was settled in July of 2013 for undisclosed terms.
EGYPT
(INACTIVE)
Trump's financial disclosure forms list two inactive companies that may have been related to prospective business interests in Egypt. Trump Marks Egypt Corp. and Trump Marks Egypt LLC have the same incorporation date of Sept. 17, 2007, according to online records of the Delaware Department of State. Trump's disclosure forms do not indicate any income or activity associated with these entities.
The Trump Organization did not provide a response to ABC News' questions about possible business deals or development in Egypt.
GEORGIA
(CANCELED)
The long-stalled plan for a Trump-branded residential tower in the Black Sea resort town of Batumi seemed to gain momentum after Trump's election victory, according to a Bloomberg report. But the Trump Organization recently dashed those hopes, saying steps were being taken to cancel the deal in the former Soviet republic that was signed in 2011.
In a statement from the Trump Organization and the developer Silk Road Group provided to ABC News, the partners jointly announced the decision "to formally end the development of Trump Tower, Batumi." SRG "is grateful to the Trump Organization for the time and attention it has dedicated to this project," the statement said, "and fully understands the circumstances and accepts this request."
INDIA
The Trump Organization tells ABC News it has five licensing deals in India, three of which have been announced: Trump Tower Mumbai, which is owned and developed by the Lodha Group; Trump Towers Pune, which is owned and developed by Zero G Apartments Private Limited; and a Trump-branded office tower planned for Gurgaon, in partnership with private equity firm IREO. Financial disclosure forms filed during the presidential campaign list additional business entities associated with the Worli region of Mumbai and the eastern city of Kolkata
The Trump Organization says in a statement to ABC News that the one commercial and four residential projects in India "will proceed as planned. They will remain under the Trump brand. We are incredibly proud of the projects in Pune and Mumbai and look forward to sharing additional updates on our newest developments in the coming months."
Kalpesh Mehta, the founder and managing partner of Tribeca, a Mumbai-based developer that touts itself as the "exclusive India representative" of the Trump Organization, toldThe Hindustan Times days after Trump's victory that "demand for the Trump brand in India remains strong."
After his election, Trump notably met with Mehta and some of his other Indian business partners at Trump Tower in New York.
In an interview with The New York Times a short time later, Trump shrugged off the criticism that the meeting presented a possible conflict of interest.
"I mean, if a partner comes in from India or if a partner comes in from Canada," Trump said, "and they want to take a picture and come into my office and my kids come in and I originally made the deal with these people, I mean, what am I going to say? I'm not going to talk to you, I'm not going to take pictures? You have to, you know, on a human basis, you take pictures."
INDONESIA
Within a few months of the June 2015 announcement that Trump was running for president, his hotel group announced licensing deals for two luxury resort properties in Indonesia.
The properties, planned for seaside locations in Bali and Lido, are being developed by Indonesian media tycoon Hary Tanoesoedibjo, a former candidate for vice president in Indonesia who is ranked by Forbes as the nation's 29th wealthiest individual. The New York Times reported in December that the Trump Organization said it was moving ahead with the branding deals.
According to his most recent financial disclosure form, Trump took in $1 million to $5 million in royalties on each property in 2015 and part of 2016.
IRELAND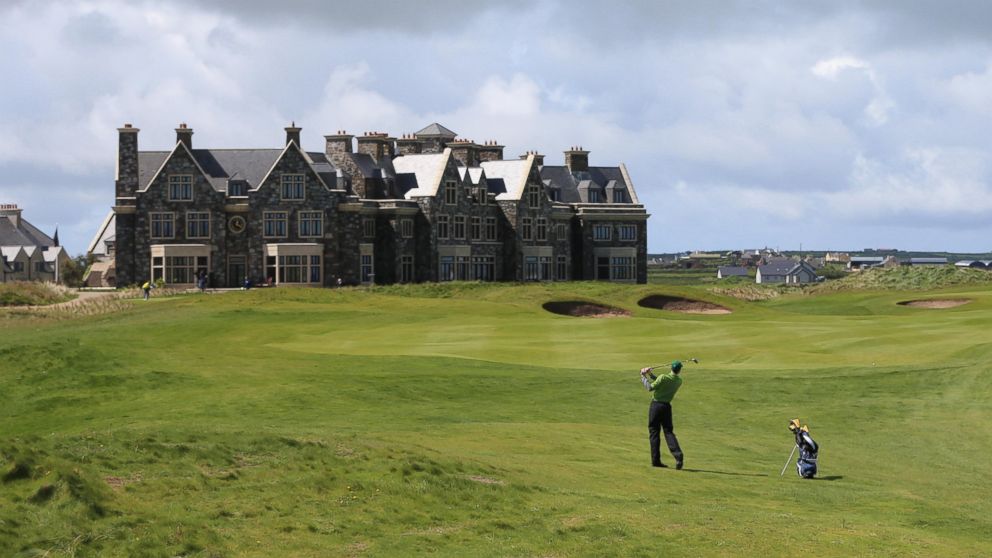 The Trump Organization purchased the Doonbeg Golf Club in February 2014 and spent more than two years redesigning the course and hotel.
The president-elect's son Eric Trump told The Irish Times in May 2016 that the Trumps had spent "north of $50 million to $60 million" on the purchase and improvements at the County Clare oceanside resort, which was renamed Trump International Golf Links Ireland.
The Trump Organization wanted to build a seawall there "to protect the golf course and dunes from excessive erosion," according to documents filed by its design and landscape architects and obtained by ABC News — which cited climate change as a central justification to undertake the project. After facing fierce opposition, Trump scrapped the original seawall proposal in early December and submitted plans for a much smaller wall, according to The Irish Times.
PANAMA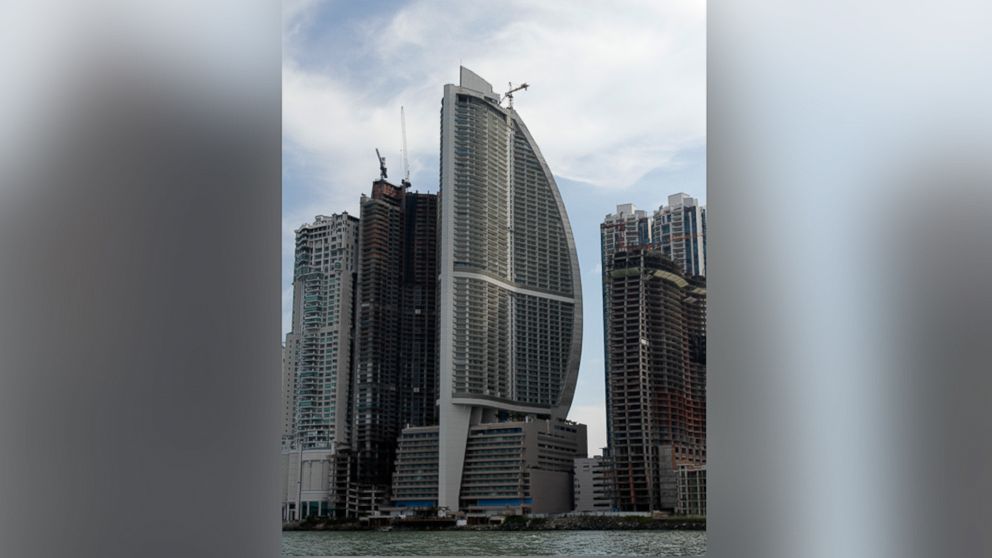 The Trump Organization licenses its name to a 70-story hotel and residential tower, Trump Ocean Club in Panama City, in partnership with Newland International Properties.
Trump reported $1.3 million in income from management fees in 2015 and 2016 on his most recent financial disclosure form. In addition to the licensing deal, the Trump Organization has a 40-year deal to manage the hotel portion of the building, according to a report by The Associated Press.
PHILIPPINES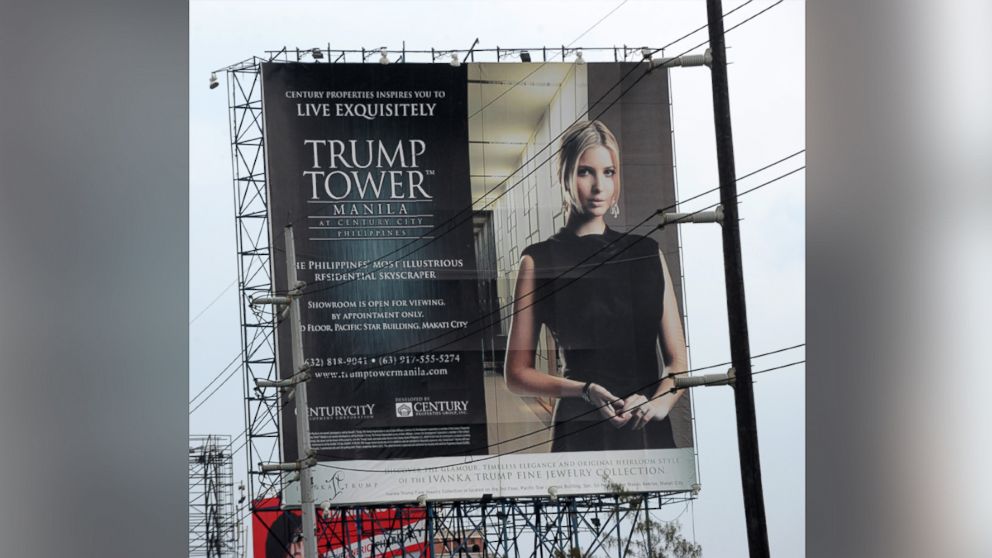 Trump has a licensing deal on the luxury residential development Trump Tower Century City in Makati, part of Metro Manila and the financial hub of the Philippines.
His partner in the project, Century City Development, is led by Jose E.B. Antonio, who was recently named by the country's President Rodrigo Duterte as a special trade envoy to the United States.
Trump reported royalty income from the deal of $1 million to $5 million in 2015 to 2016. Trump has no equity investment in the property.
QATAR
(INACTIVE)
Trump's financial disclosure forms list four companies that may be related to prospective business interests in Qatar. All four, including an entity called THC Qatar Hotel Manager, were established in late 2014, but there is no activity or income reported for these companies.
The Trump Organization did not provide a response to ABC News' questions about possible branding deals or development in Qatar.
ST. MARTIN
In 2013, it was reported that Trump quietly purchased the nine-bedroom Chateau des Palmiers mansion on St. Martin.
In a brochure sent to Trump Organization insiders after the sale, Trump pitched the availability of the "exquisite Caribbean oceanfront residence" for weekly rentals throughout the year, accordingt o court documents in a dispute involving the previous owner of the home.
Trump claims a value on the residential rental property of $25 million to $50 million and income in 2015 to 2016 of $100,000 to $1 million according to financial disclosure forms.
The Trump Organization did not provide a response when asked by ABC News if Trump still owned the home. The website for the property features a greeting "from Donald J. Trump" that invites renters to escape "to a place like no other."
ST. VINCENT AND THE GRENADINES
Trump reported in his most recent financial disclosure $3 million in income for land sales on Canouan, a tiny island in the southeastern Caribbean, though The Telegraph reports that he ended any active business operations there long ago.
In 2003, Trump had joined a partnership of companies developing the island and announced plans for phased construction of dozens of luxury villas and an agreement for his company to take over operations of an existing casino on the island.
The Trump Organization did not provide a response when asked by ABC News if Trump had remaining business or equity interests on Canouan.
SAUDI ARABIA
(CANCELED)
In the days after the presidential election, the Trump Organization shut down a number of entities that were set up in 2015 and that appeared to be related to prospective business ventures in Saudi Arabia. Other entities with similar names were shut down in 2015, within months of their establishment, according to corporate filings in Delaware.
Garten told The Associated Press the move to shutter the holding companies was routine "housecleaning" and that Trump had no deals in place in Saudi Arabia.
The Trump Organization did not provide a response to ABC News' questions about possible deals or development in Saudi Arabia.
SOUTH KOREA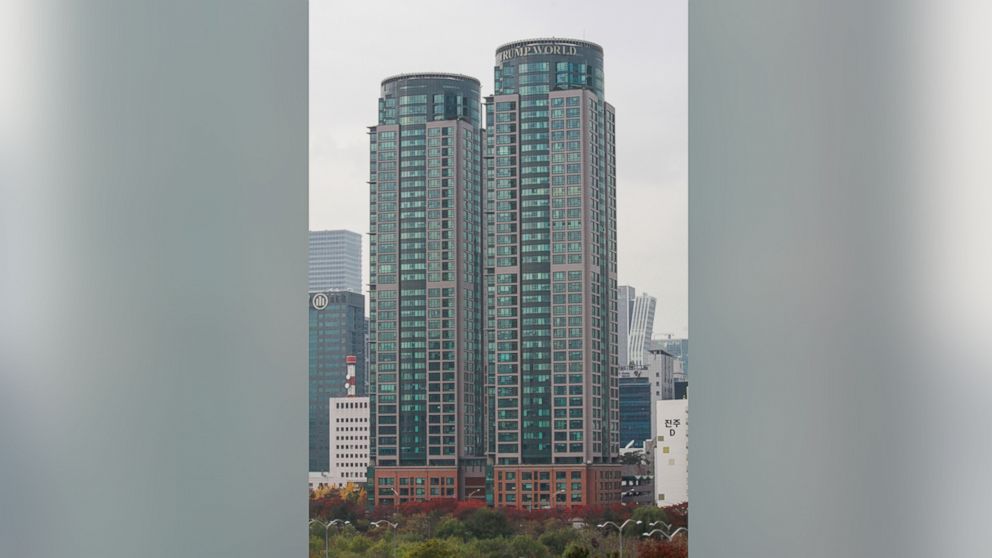 Trump World in South Korea is a brand-licensing deal with Daewoo Engineering and Construction on six residential towers in three cities; Seoul, Busan and Daegu.
Daewoo previously partnered with Trump on his Trump World Tower residential building near the United Nations in New York, according to a Newsweek report, and the South Korean company was reportedly the first to enter into the type of major Trump brand-licensing deal that later became a staple of Trump's worldwide enterprise.
TURKEY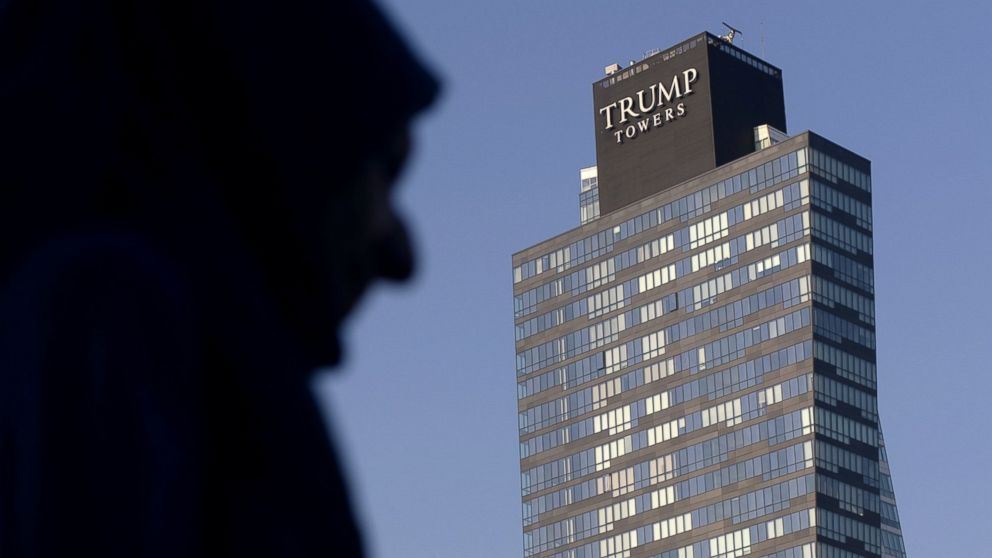 Trump struck a deal in 2008 with the Dogan Group to license his brand to Trump Towers Istanbul, one with residential and the other with commercial office space. Four years later, Turkish President Recep Tayyip Erdogan attended the ceremonial opening of the development.
During Trump's presidential campaign, in which he called for a ban on Muslim immigration to the U.S., Erdogan changed his tune, according to The Wall Street Journal, calling for the removal of Trump's name from the buildings.
After Trump won the election, Erdogan struck a more conciliatory tone, but the delicate and critical relationship between Turkey, a key NATO ally, and the U.S. will be one of Trump's most pressing foreign policy challenges in the near term.
UNITED ARAB EMIRATES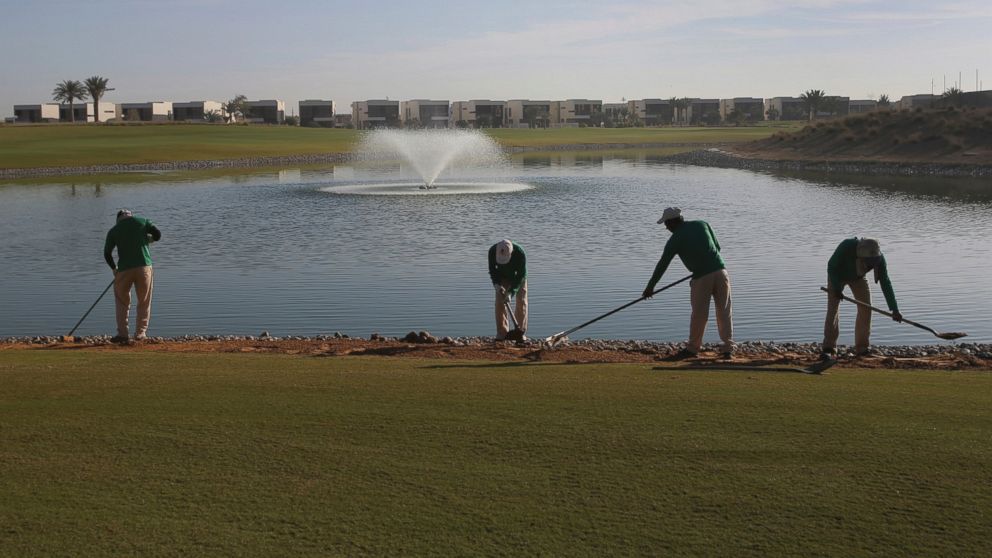 Trump has licensing deals in place for two golf-courses in Dubai, including one designed by Tiger Woods, that are being developed by the DAMAC group.
After Trump's election, his partners in the deal told ABC News that the Trump brand had become "stronger, more global."
Hussain Sajwani, the chairman of DAMAC, who is preparing to open the clubhouse for the first of the two 18-hole Trump golf course developments early in 2017, said the project is "benefiting from that – the strength of that brand."
UNITED KINGDOM
Trump owns two golf courses in Scotland.
In 2008, he won a contentious battle for approval to build a course from scratch in his mother's native land, along the coastline in Aberdeenshire. Trump's quest to create Trump International Golf Links Scotland over the objections of many local residents later became the subject of the documentary "You've Been Trumped." After the course's completion, Trump took a fight against proposed wind farms off the coast of his resort all the way to Britain's highest court — and lost.
In 2014, Trump added the famed Turnberry resort in western Scotland, a four time host of the Open Championship, to his worldwide portfolio of 17 courses. "It is an honor and privilege to own one of golf's greatest and most exciting properties," Trump said in a news release.
URUGUAY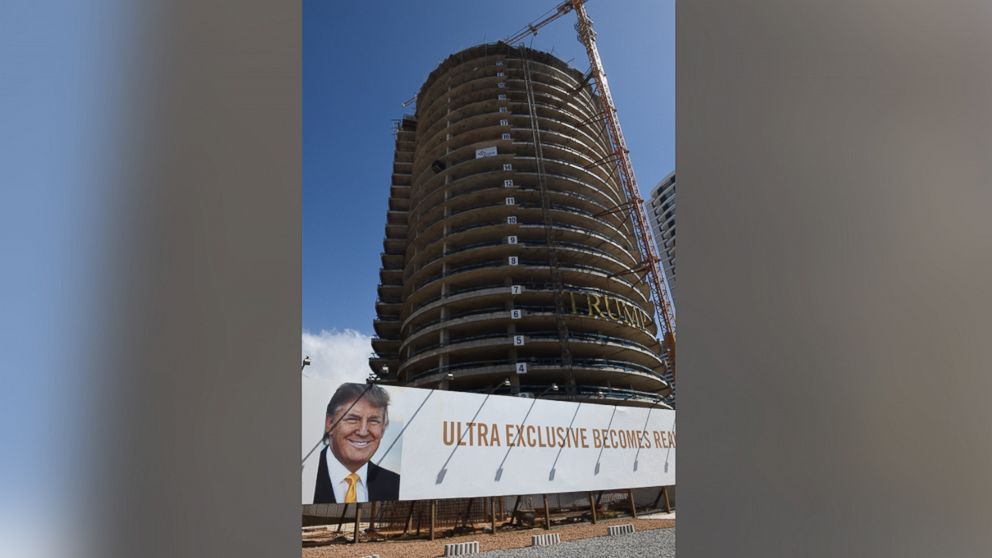 Trump has a licensing deal with YY Development Group for a residential tower currently under construction in the Uruguayan resort town of Punta del Este, sometimes called the St.-Tropez of South America. His partners in the deal are the same group that had plans, now canceled, to build a Trump-branded office tower in the central district of Buenos Aires in Argentina.
Trump reported income from the Punta del Este deal of $100,000 to $1 million in 2015 to 2016.
Earlier this month, Eric Trump traveled to Uruguay to check on the building's progress, tweeting pictures of the partially constructed tower.
ABC News' Meghan Keneally, Zunaira Zaki, Taylor Dunn, Jessica Puckett, Erica Scott, Matthew Mosk, Jordyn Phelps, Katherine Faulders and Lauren Pearle contributed to this report.