— -- Kellyanne Conway has broken her silence on Monday's social media-fueled scandal, "Couchgate."
The Twittersphere lit up after a series of photos were released of President Donald Trump's adviser perched on her knees on an Oval Office couch with her feet behind her and her shoes on. Some photos show Conway leaning over to take a photo of leaders of historically black colleges and universities who had gathered in the Oval Office to meet with the president.
The photos ignited a debate about decorum in the White House, and Conway's respect for the office of the president.
"Kellyanne Conway is treating the Oval Office like her own living room," tweeted actor George Takei, an outspoken Trump critic. "Looks like she's settling in for a night of binge-watching Scandal.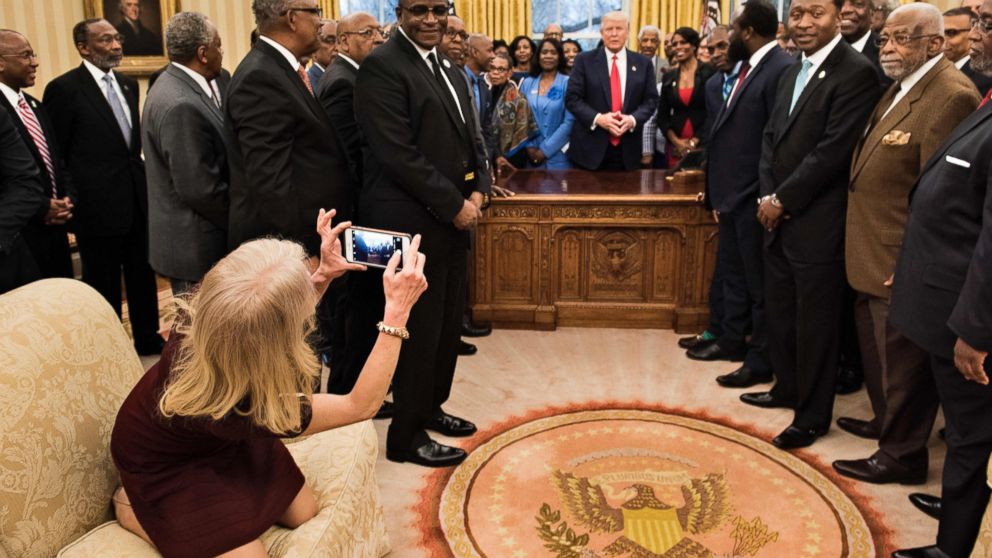 In an interview with Fox News Tuesday night, Conway explained, "I was asked to take the picture. We had a crowded room. We never had so many people in the Oval Office in this young administration gathering of men women at one time to take a picture. There was literally nowhere to stand. The press had come in. A couple of them had asked me to take pictures and text it to them right away. And I did that. I just snapped at that angle. I needed to get the better angle ... Then I texted it to a few of them, and then it was over in a matter of quick moments."
Conway took issue with critics who questioned her Oval Office etiquette.
"I, of course, respect the office of the president and its current president," she said. "I'm glad there is such a renewed interest in showing respect for the office of the president. I obviously meant no disrespect. I'm always amazed what actually qualifies as news on a day when there is so much of it."