In the wake of Supreme Court Justice Anthony Kennedy's stunning retirement announcement, and President Trump's drama-filled unveiling of conservative federal judge Brett Kavanaugh to replace him, the nominee's first week was maybe most remarkable for its low-key, gaffe-free, buttoned-up orderliness.
Even staunch "never Trump" politicos like Michael Gerson, who worked with Kavanaugh in the George W. Bush White House, and who regularly upbraids Trump in the editorial pages of the Washington Post, heaped praise on Kavanaugh's selection, although adding his former colleague would likely be among those to "stand up" to the president's "lawlessness and bullying."
Conservatives - even those who shrugged and called the nominee "uninspiring" or voiced initial concern - held their fire.
But, of course, it's still early, and honeymoons usually don't last long in the nation's capital. To be exact, there are at least 40 days ahead of the 53-year old nominee before confirmation hearings commence - if past is prologue, that is. Senate Judiciary Committee Chairman Chuck Grassley confirmed as much this week.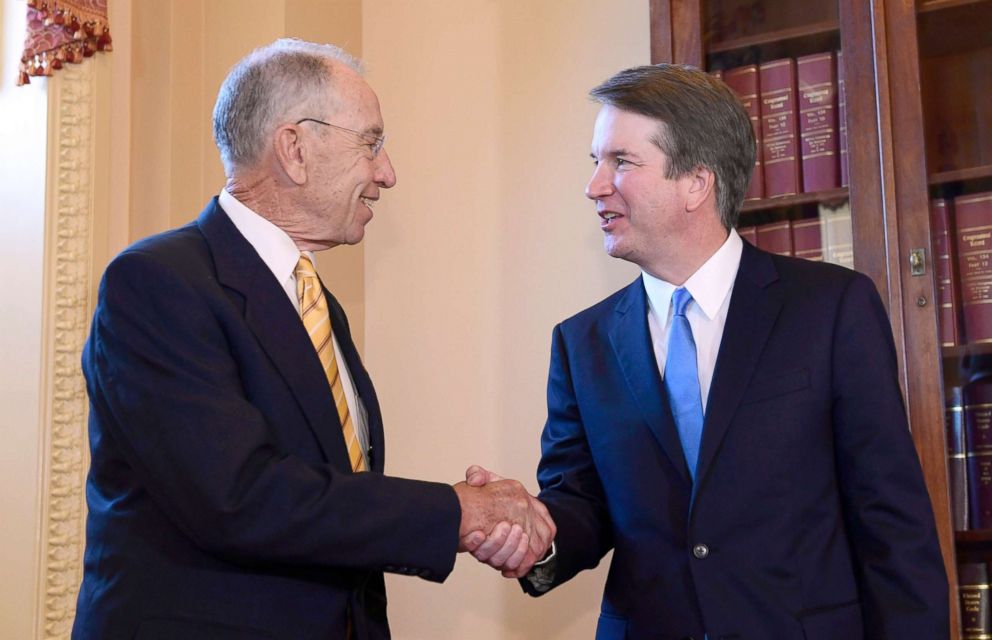 But the path to confirmation for Kavanaugh is strewn with paper, potentially more than a million records from the Bush presidential library in Dallas alone, if all are released. Kavanaugh worked in the White House Counsel's office and was Staff Secretary, a position that touches nearly everything that goes to the president's desk.
So delays are certainly possible for any manner of reason, and Grassley admitted that much, as well.
Opponents and supporters alike are now in Dallas combing through the 16,180 documents released thus far. Lawsuits challenging the document production were filed in federal court this week by Gabe Roth, head of the nonpartisan group "Fix the Court," which advocates for greater transparency from the high court.
It's anyone's guess where all of that that will lead, but if Democrats and their activist allies have their way, the tedious document production will delay confirmation hearings. After all, as pointed out by Demand Justice, a group fighting the nomination, former Sen. Jon Kyl - who is lead "sherpa" for Kavanaugh - and other Judiciary Committee members back in 2010, fought for the release of all possible records from then-Supreme Court nominee Elena Kagan, who had also served time in the White House, like Kavanaugh. Some 170,000 were eventually released.
Democrats are calling it "the Elena Kagan standard," but Grassley, while acknowledging he would likely honor legitimate requests for documents, warned against any political gamesmanship, especially by those who have already announced opposition to the nominee, which happens to be every Democrat sitting on his panel.
For his part, Kavanaugh, in doing the traditional "courtesy call" tour visiting with senators ahead of his confirmation hearings, studiously avoided saying anything when in the presence of reporters. Nary a "hello" to be heard from him - just a wide smile and enthusiastic handshake with the member of Congress with him as the trove of cameras took in the always-awkward spectacle.
It should be noted, though, that every visit this week was with a Republican, so Kavanaugh has yet to wander into potentially-hostile territory.
Interest groups, awaiting the Kennedy retirement for more than a year, predictably unleashed their well-heeled campaigns, with Republicans having a clear advantage.
One group, the conservative Judicial Crisis Network, launched a $1.4 million ad buy on national cable and digital in Alabama, Indiana, North Dakota and West Virginia, hoping to pressure vulnerable red-state Democrats to support Kavanaugh. The group's chief counsel, Carrie Severino, told ABC News, "We're prepared to spend whatever it takes."
Republicans have long put the judicial confirmation fight atop their priority list, meaning they have thicker grassroots, far more money than their political rivals, so Democrats are playing catch-up - trying to capture the same kind of lightning in their blue bottle, aiming to excite their base to turn out in the fall where control of Congress is at stake.
Anti-Kavanaugh ads released Friday by Demand Justice focus on one issue popular with voters across the political spectrum - guaranteed health insurance for people with pre-existing conditions and the possibility that a Justice Kavanaugh might lend a deciding vote in striking down that guarantee in the Affordable Care Act.
The ads target the same three Democrats as JCN who are up for reelection this year in conservative states that Trump won, Joe Manchin of West Virginia, North Dakota's Heidi Heitkamp, and Joe Donnelly of Indiana. Alabama's Doug Jones is not up for re-election until 2020, so Democrats, unlike JCN, are not focusing on him.
Two moderate GOP senators were stalked by legions of political reporters around the Capitol this week to glean any sense of their position. Susan Collins of Maine and Alaska's Lisa Murkowski were being hit from all sides. Democrats want them to remain on the fence as long as possible, in order to keep their own red-state Democrats from announcing their support. Republicans, who hold a razor-thin majority of 51, need their votes.
"The first week has gone just about as one would expect, after the reality TV style rollout," said Jim Manley, a veteran Democratic strategist who worked for both Senate leadership and a member of the Judiciary Committee involved in Supreme Court confirmation fights. "Republicans are working hard to paint him as an everyday American while at the same time showing the business community and others in their base that this is the kind of nominee they have been waiting for. Democrats, on the other hand, have tried-correctly in my opinion, to try and get beyond abortion-related politics and paint Kavanaugh as the threat that he is on a wide range of issues, including health care."
The only apparent bump for Kavanaugh, so far, was a report of tens of thousands in debt the 53-year old racked up on baseball tickets and home improvements, as first reported by the Washington Post. Conservatives quickly rallied around the nominee, though, mocking the report, with the Senate Majority Leader tweeting, "In a 'breaking news' bombshell report last night, we learned that Judge Kavanaugh enjoys America's pastime."
As for the week ahead, White House aides have not nailed down the judge's schedule, though he does not have any meetings Monday. The aim is to have the judge sit down with a Democrat, but that remains to be seen.
White House deputy press secretary Raj Shah tells ABC News that vigorous preparatory sessions that simulate confirmation hearings, in the past called "murder boards" for their intensity, and what White House lawyers are now calling "moots" (as in moot court), are likely to begin next week. Kyl is expected to participate.
"They're going to be as real as possible both in length and subject," Shah said, saying they'll be occurring in a large room in the Eisenhower Executive Office Building next door to the White House.
As for Kavanaugh, no matter how hard the prep work gets, and apparently, the nominee is known as a perfectionist, he has one thing he clearly loves to look forward to - Tuesday night's MLB All-Star Game which he's planning to attend, according to a source.