— -- Donald Trump has made his promise that Mexico would pay to build a wall along the U.S. border a centerpiece of his proposed immigration policy. But only 13 percent of Americans believe the Republican presidential candidate could deliver on that promise if elected.
ABC News together with our partners at SSRS survey research firm asked our online opinion panel if they believed Trump would be able to get Mexico to pay for building a wall along the U.S. southern border.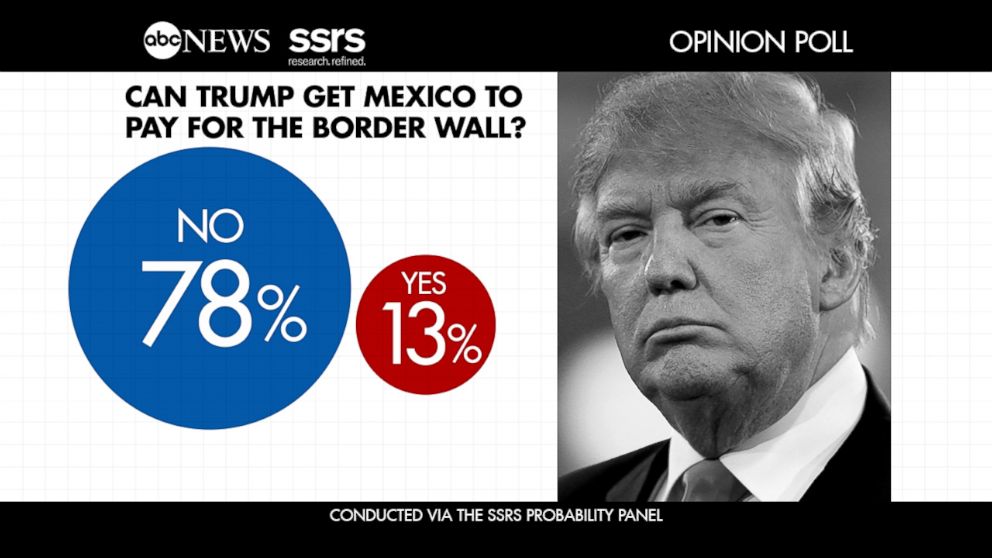 Seventy-eight percent said they believed Trump could not deliver on this promise, while 13 percent said he could.
Asked to give a one-word response to a video of one part of Trump's highly anticipated immigration speech last week, 67 percent reacted with a negative word, such as "ridiculous" and "disgusting." Just 27 percent responded with a positive word, such as "great" and "agree."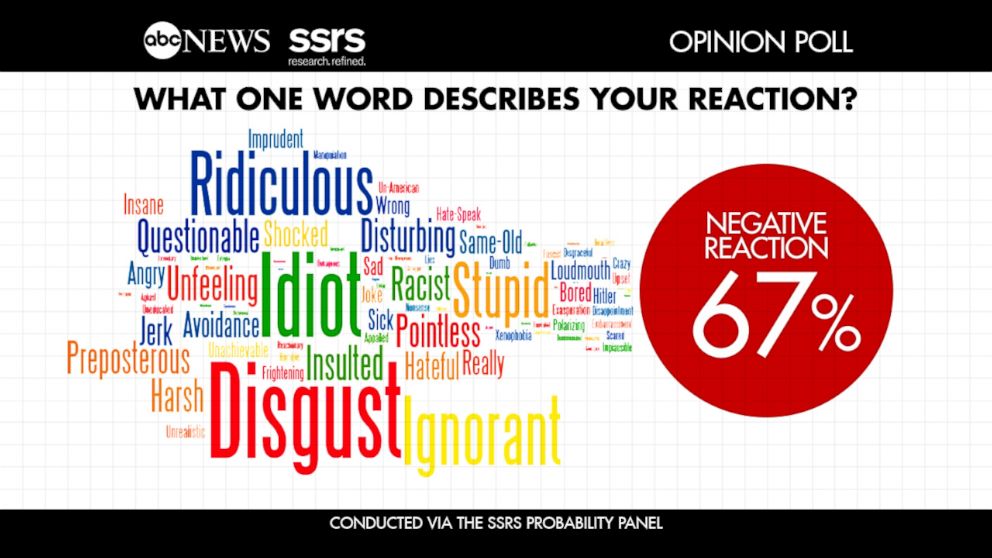 The video shows Trump speaking in Phoenix, Arizona, on Wednesday night, saying: ""Anyone who has entered the United States illegally is subject to deportation... There will be no amnesty... I am going to create a new special deportation task force focused on identifying and quickly removing the most dangerous criminal illegal immigrants in America who have evaded justice, just like Hillary Clinton has evaded justice, OK?"
The ABC News/SSRS Poll was conducted using the SSRS Probability Panel. Interviews were conducted online overnight from Sept. 1 through Sept. 2, 2016, among a nationally representative sample of 228 respondents age 18 and older. The margin of error for total respondents is +/-8.5 percent at the 95 percent confidence level. Design effect is 1.71. The SSRS Probability Panel is a probability-based, online panel of adults recruited from random digit dialed landline and cell phone numbers. For more information, visit http://ssrs.com/research/ssrs-probability-panel/.