Marco Rubio Stomps on Footwear Critics: 'This Is Craziness'
Rubio steps out in a fresh pair of booties, but not everyone was a fan.
— -- Marco Rubio's boots may have been made for walkin'. But were they made for campaigning?
The Republican presidential candidate caused a stir on the trail this week after sporting a pair of black, high-heeled boots, which have sparked snarky criticism from some of his opponents, and on Thursday, a response from Rubio himself.
"Let me get this right," Rubio said at an event in Nashua, New Hampshire. "ISIS is cutting people's heads off, setting people on fire in cages, Saudi Arabia and Iran are on the verge of a war, the Chinese are landing airplanes on islands that they built and say belong to them in what are international waters and somewhat territorial waters. Our economy is flat-lined, the stock market is falling apart, but boy are we getting a lot of coverage about a pair of boots. This is craziness, people."
New York Times reporter Michael Barbaro first spotted the Florida senator's footwear, tweeting out a photo of the booties with the caption: "Marco Rubio is rocking some seriously fashionable boots today in New Hampshire."
It wasn't long before Rubio's fashion choice made ripples in the political world. Ted Cruz's communication director, Rick Tyler, mocked Rubio, tweeting that "a vote for Marco Rubio is a vote for men's high heeled booties."
In an interview on The Howie Carr Show, Donald Trump assured the public that they wouldn't "see [him] wearing them." But it was the size of the heel, not the shine of the boot that really made Trump incredulous.
"I don't know what to think of those boots," he said. "I don't know they're big heels. They're big heels. I mean, those heels were really up there."
Trump suggested to the 5-foot-10 Rubio that "it helps to be tall" and that "he would have been better off not going that route."
Fellow GOP presidential hopeful Rand Paul also zeroed in on the stylish boots. As he prepared to appear on ABC's "The View" on Wednesday, he tweeted a video of himself brandishing a black and gold loafer in Whoopi Goldberg's dressing room and telling Rubio that he could "eat his heart" out. "Marco's got some cute new boots and I don't want to be outdone," Paul wrote.
Carly Fiorina -- no stranger to heels -- was less than impressed with Rubio's kicks. She shot back with a picture of her 3.5-inch heeled boots.
As a seasoned cowboy boot-wearer himself, Jeb Bush was quick to defend the height of his own heels. "They're not high heeled," he noted.
The boots' notoriety quickly spread beyond the campaign trail. Rubio even drew a comparison to Harry Styles of the pop group One Direction.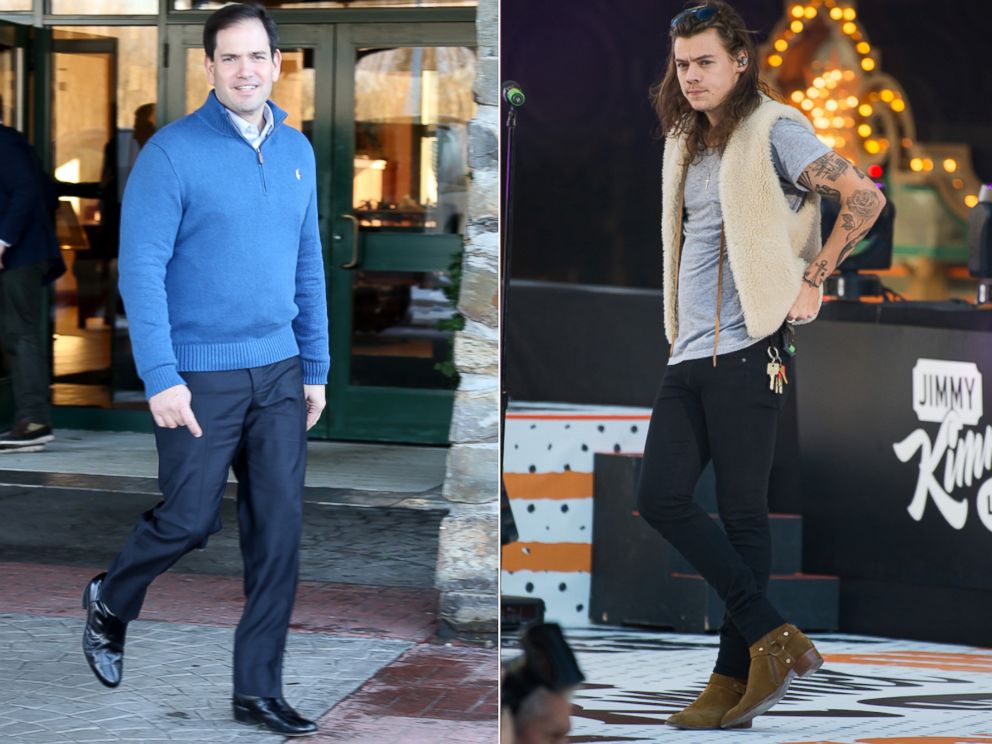 So who is the designer of these much-talked about boots?
The Rubio campaign confirmed that the boots are "Florsheim" shoes, but there is no word on whether Rubio picked them out himself. He has said before that his wife Jeanette helps him out with sartorial decisions.
By Thursday, it seemed that Rubio's fashion critics might have gotten the best of him. Rubio was sporting a pair of simple black loafers as he campaigned in New Hampshire, but he hinted about his more famous footwear.
"Who knows, they may make a comeback here soon," he said.