WASHINGTON — -- The final outstanding Senate race of 2014 was decided Saturday night when three-term Democratic Sen. Mary Landrieu lost her bid for reelection to Republican Rep. Bill Cassidy.
Landrieu was the last vestige of Democratic representation from the Deep South and her defeat means that Republicans will control every seat from the region in next year's Senate.
Cassidy's victory also cushioned the Republican takeover of the Senate, bringing the GOP's total seat count to 54 with a net gain to nine seats -- the party's biggest pickup in an election since 1994.
Democrats hold 44 seats, while two will be filled by independents.
Landrieu and Cassidy advanced to a runoff under Louisiana's "jungle primary" system after neither candidate managed to capture more than 50 percent of the total vote on Nov. 4.
The election's outcome was not unexpected, following a number of key indicators that forecasted a win for Cassidy.
Even before the general election, most polls suggested that Landrieu would lose to Cassidy in a head-to-head contest. And developments during the runoff period further spelled defeat for Landrieu.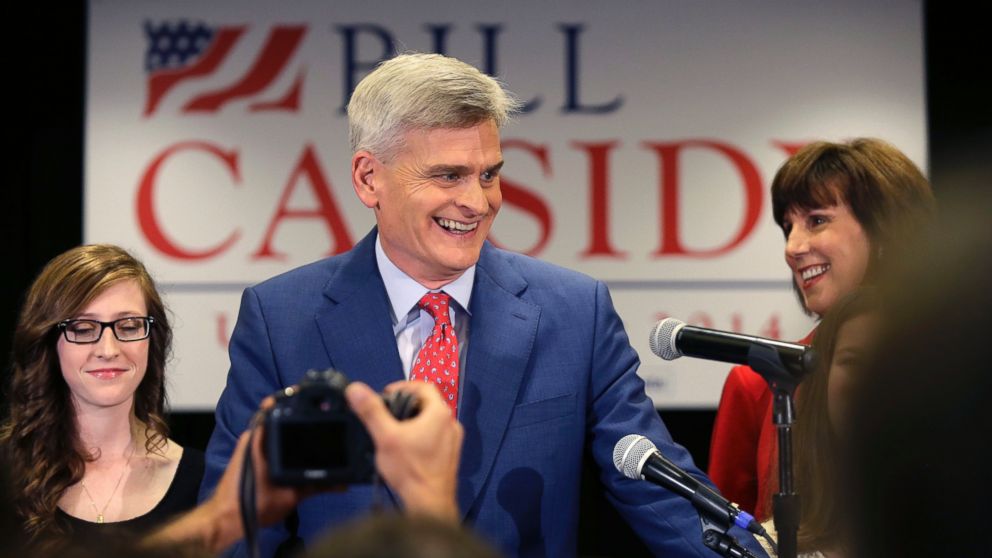 While Cassidy saw a boost in fundraising and support from his party during the runoff, Landrieu was all but abandoned by national Democrats early on and was left to fend for herself against a wall of Republican-led opposition.
The Democratic Senatorial Campaign Committee, which had previously reserved $2 million in air time for Landrieu should she face a runoff, pulled back all promised funding from the runoff following a bruising wave of defeats across the country on Nov. 4.
The DSCC did not spend a single dollar on the runoff to support Landrieu, compared to $1.3 million spent by the National Republican Senatorial Committee to benefit Cassidy.
But it wasn't just the DSCC that abandoned Landrieu. So too did most outside groups. FEC filings show that while outside groupd spent $11 million to help Cassidy, just $2.1 million went to bolster Landrieu.
What resulted was a lopsided ad war, with less than 1 percent of the 14,000 TV campaign ads aired during the runoff coming from outside groups that supported Landrieu, according to an analysis by The Center for Public Integrity.
While Landrieu did maintain the support of some staunch national Democratic allies -- including former Secretary of State Hillary Clinton -- she was ultimately outnumbered and outspent.
But in the end, it may have been Landrieu's alliance with President Obama that did her in more than any other factor.
Cassidy successfully framed the election as a referendum on Obama, who is deeply unpopular in Louisiana, and pounded the point that Landrieu has voted with the president 97 percent of the time.
Another liability for Landrieu was her vote -- and her subsequent defense -- for the Affordable Care Act; Cassidy promised on the campaign trail that he'll work to repeal the controversial healthcare law.
Cassidy is a doctor with more than two decades of experience working with Louisiana's charity hospital system and comes to the Senate after three terms in Congress representing Louisiana's 6th District.