When he wasn't conducting state business as the longtime elected representative of communities north of Boston, David Nangle frequented casinos throughout New England, accumulating so much gambling debt that he turned to campaign funds to keep himself financially afloat, according to a 28-count indictment unsealed Tuesday.
Nangle, D-Lowell, was arrested Tuesday by the FBI and the IRS on charges of bank fraud, wire fraud, filing false tax returns and lying to a bank.
"Time after time he allegedly used campaign funds to pay for personal expenses, spending thousands of dollars on golf club fees, gas, gift cards, hotels, restaurants, flowers and rental cars for trips to casinos, some of which he had already been reimbursed for by taxpayers," said the FBI's Joe Bonavolonta.
When regulators asked about these expenses, prosecutors said Nangle "fraudulently described the purpose of such spending as political in nature."
"David Nangle is a good man who has proudly served his district as a state representative," Nangle's attorney, William Connolly, said in a statement to ABC News. "The charges against David are nothing more than allegations. We will fight these charges in court.."
Nangle has been the state representative from Lowell and Chelmsford since 1999 and in recent years, earned about $100,000, according to court records.
"Despite his salary and perks, Nangle was heavily in debt, had poor credit and had regular cash flow problems as a result of extensive gambling at various casinos in Connecticut, New Hampshire, Massachusetts and Rhode Island, among others -- placing thousands of bets on internet gambling sites," per the indictment.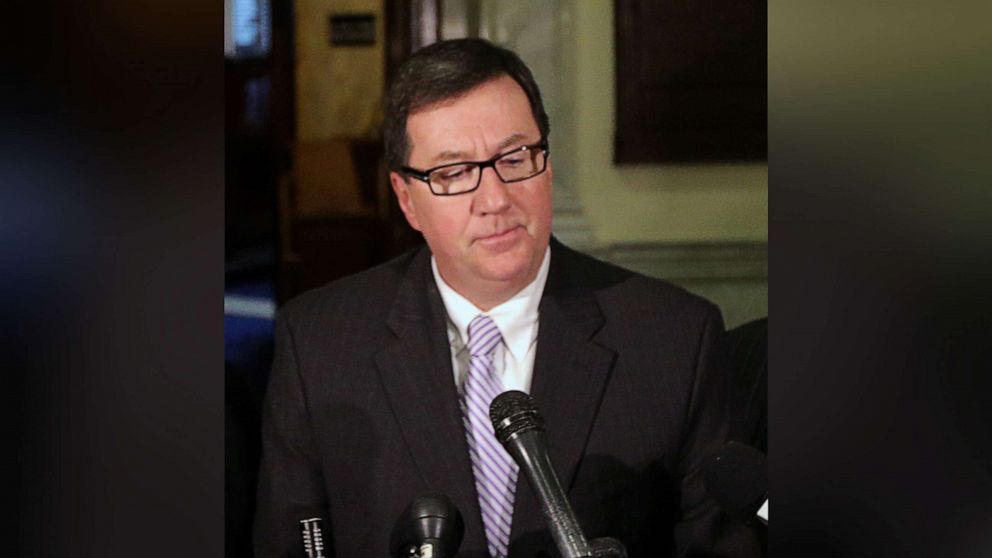 As his debts ballooned to tens of thousands of dollars, Nangle tapped campaign funds to supplement his personal finances instead of using the funds for permissible campaign purposes, the indictment read.
According to federal prosecutors, Nangle defrauded Massachusetts campaign finance regulators by "using the Nangle Committee bank account as his own personal checking account to pay for various personal expenses and to withdraw cash."
"I think there's a real deterrent value in us being active in this area and we will continue to do that," said Andrew Lelling, U.S. Attorney for the District of Massachusetts, when asked why Nangle was being charged federally instead of at the state level.
According to the indictment, Nangle raised hundreds of thousands of dollars, despite running unopposed and spent as much as he raised -- but for personal gain.
He set up a campaign bank account, which he used solely for personal funds, federal prosecutors said. Nangle borrowed sums totaling more than $100,000 from local friends and business owners. He paid these back, almost entirely with campaign funds, federal prosecutors alleged.
Prosecutors also detailed how exactly Nangle used his campaign funds to pay for a golf club membership, which he categorized as "Campaign Volunteers Appreciation," and charged the green fees and member dues as "fundraiser catering."
Separately, Nangle did not pay for up to $8,000 in renovations to his house, instead "handing the contractor his State Representative business card." Ultimately, the contractor, who was not named, was rewarded with "lucrative bids for construction projects for which Nangle had secured state funding."
In addition to his state representative's salary, Nangle also "consulted" for a local home improvement company while getting paid $10,000 and $17,000 for no real work at all.
"At the time Nangle had received the February 2015 payment, Nangle had provided no real estate consulting services…," the indictment says.
Nangle, also according to the indictment, used cars rented with money from his campaign account to travel to casinos all over New England, from New Hampshire to Connecticut.
He also set up a straw vendor for his campaign to pay, which was operated by a friend of Nangle's relative.
While applying for a bank loan, prosecutors say he committed bank fraud, by not listing or omitting the truth for not paying his debts, in one letter "falsely blamed his bad credit on his ex-wife, claiming that he had loaned her the money, which she did not pay back in a timely fashion, when in truth and fact, Nangle had spent thousands of dollars at NH Casinos 1 and 2, the RI Casino and CT Casino 2."
While filing faulty taxes, prosecutors allege that Nangle wrangled in a part-time state employee to help him, and when the person refused to submit the false tax returns, Nangle pushed the button and said that he would "take the blame if anything happens."
In addition, Nangle filed fraudulent deductions, prosecutors said, giving one example of Nangle driving 47,000 miles for the consulting company in one year, which prosecutors determined that he would have to drive 345 miles per day for 7 days per week for the entire year.
"Nangle stole from the campaign fund on a year basis, using thousands of dollars in campaign contributions to pay his personal golf dues rental car and other personal expenses…." prosecutors wrote
In one other instance, Nangle actually won a slot machine jackpot for $1,221 in CT Casino 2 and by Connecticut law, any winnings over $1,200 dollars have to documented, which prosecutors say that Nangle paid someone else to do for him so his name wouldn't be on the books.