Speaker Kevin McCarthy, flanked by a bipartisan congressional delegation, promised Taiwanese President Tsai Ing-wen unwavering support for Taiwan in a historic meeting in Simi Valley, California, on Wednesday.
Calling her a "great friend to America," McCarthy welcomed Tsai at the Ronald Reagan Presidential Library, reaffirming American support for her government and emphasizing the importance of continued arms sales and economic cooperation with Taiwan.
"We've always had with the six assurances that we could supply weapons to Taiwan, that they could defend themselves that war would not be created," McCarthy said, referring to the U.S. policy on Taiwan crafted during the Reagan Administration. "They have purchased a number of weapons from America. Some had been delayed. I think that is one of the things that we had talked about -- how could we speed that up in the process."
In her remarks, Tsai noted the importance of the relationship between the United States and Taiwan, adding that the presence and support of the delegation during her trip would "reassure the people of Taiwan that we are not isolated and we are not alone."
The meeting marks the highest-profile encounter between U.S. and Taiwanese leaders on American soil since the end of formal diplomatic relations in 1979.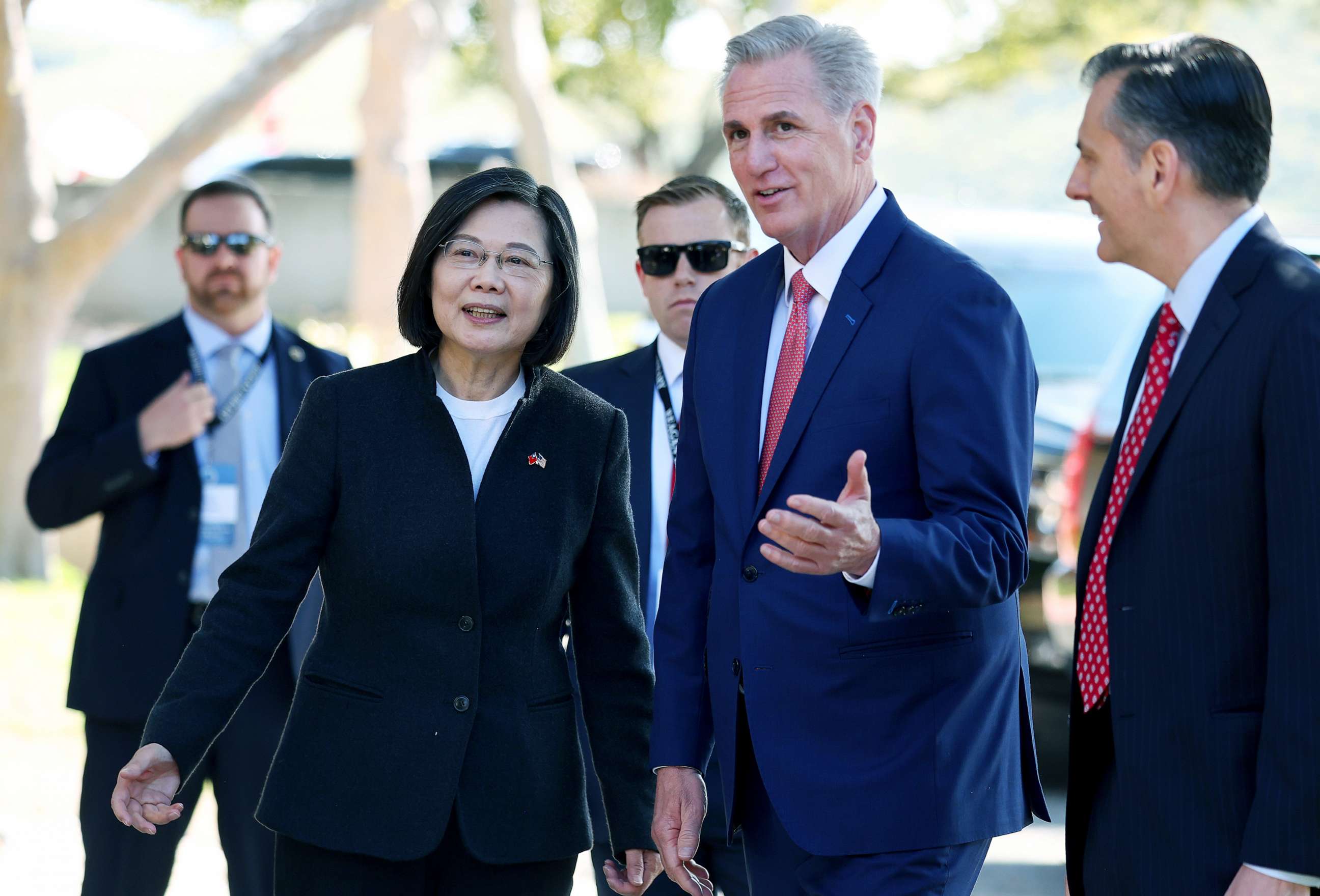 Tsai's Wednesday meeting with the bipartisan delegation comes on the heels of a meeting with House Minority Leader Hakeem Jeffries last week during her transit through New York City ahead of a tour of Taiwan's last remaining Latin American allies, Belize and Guatemala.
"We had a very productive conversation about the mutual security and economic interests between America and Taiwan," Jeffries said in a statement confirming the visit. "We also discussed our shared commitment to democracy and freedom. I wish President Tsai a safe return as she transits through California and travels back to Taiwan."
While McCarthy told reporters that "the relationship between the people of the United States and Taiwan has never been stronger in my lifetime" following his Wednesday meeting, the White House has taken pains to walk a delicate diplomatic line ahead of Tsai's visit, reiterating that the trip was perfectly routine and consistent with the U.S.'s policy toward Taiwan amid deteriorating relations between Beijing and Washington.
On Wednesday, the Chinese government blasted the meeting between Tsai and U.S. lawmakers, with the Chinese Embassy in the U.S. calling it a " serious mistake." The foreign ministry said that China "will take resolute and forceful measures" to defend its territorial integrity in response.
"The Taiwan issue is the core of China's core interests and the first red line in Sino-US relations that cannot be crossed," the Chinese Foreign Ministry said. "'Taiwan independence' is incompatible with cross-strait peace and stability, and it is a dead end."
Back in August, Tsai and then-House Speaker Nancy Pelosi saw firsthand the impact such trips could have on cross-Strait relations. Following Pelosi's arrival in the island's capital city of Taipei -- the first of her rank in three decades to visit -- the Chinese military staged massive war games around Taiwan, firing off nearly a dozen ballistic missiles into the sea in one of the largest demonstrations of force in the region to date.
At the time, McCarthy expressed support for Pelosi's trip and reiterated Wednesday that while he has no current plans to visit the island, "that doesn't mean I will not go."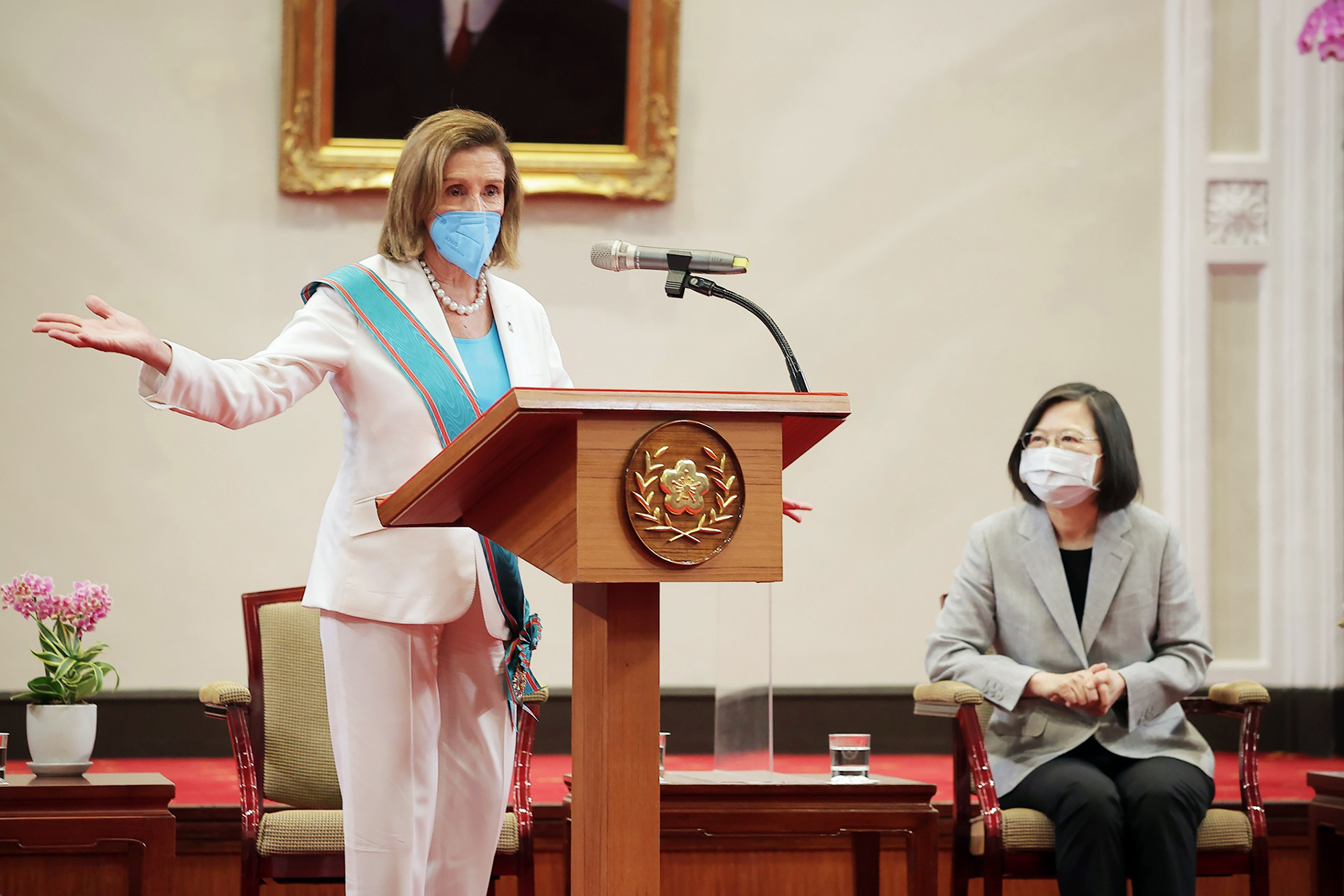 But on Monday, the Chinese Consulate in Los Angeles warned McCarthy against meeting Tsai, saying that such an interaction would "greatly hurt the national sentiments of the 1.4 billion Chinese people" and undermine relations between Beijing and Washington.
McCarthy shot back on Wednesday that there "is no place that China is going to tell me where I can go or who I can speak to, whether you'd be foe or whether you be friend," but he added that the meeting was not meant to escalate tensions.
"We want to continue to build and foster democracy and freedom," McCarthy said, "and there should be no fear."
When asked on Tuesday whether China would again hold drills following Tsai and McCarthy's meeting, a spokesperson for the Chinese Foreign Ministry said that China would "closely monitor the situation as it develops" and defend the integrity of its territory.
"Pretty much every year in the last seven years, the President of Taiwan has transited the United States," White House Principal Deputy Press Secretary Olivia Dalton said in a press gaggle on Monday. "And so there's just no reason for there to be any sort of overreaction or for the PRC to react any differently this time around."
U.S. intelligence has indicated Chinese President Xi Jinping is instructing his military to "be ready by 2027" to invade Taiwan.