McConnell calls for Obamacare repeal vote after replacement plan fails
Four Republican senators have announced opposition, leaving GOP short.
— -- Senate Majority Leader Mitch McConnell has called for a vote to repeal Obamacare with a two-year delay after the plan to replace the law failed to win enough Republican support.
Two more Republican senators announced their opposition to the Republican health care bill on Monday night, leaving the party leadership short of the required votes to move the legislation forward.
"Regretfully, it is now apparent that the effort to repeal and immediately replace the failure of Obamacare will not be successful," McConnell said in a statement. McConnell said that "in the coming days," the Senate would vote on "a repeal of Obamacare with a two-year delay to provide for a stable transition period to a patient-centered health care system that gives Americans access to quality, affordable care."
The lack of support from within his own party left the majority leader with few options to make good on what has been a top Republican priority since the law was passed in 2010.
In a pair of identical tweets, Sens. Jerry Moran of Kansas and Mike Lee of Utah announced they would vote against a procedural measure needed to advance the health care bill to the floor for consideration.
Lee said in a statement, "In addition to not repealing all of the Obamacare taxes, [the bill] doesn't go far enough in lowering premiums for middle class families; nor does it create enough free space from the most costly Obamacare regulations."
"We must now start fresh with an open legislative process," Moran urged in his statement.
Lee's and Moran's simultaneous announcements delivered a apparent body blow to the bill, which would have required the support of at least 50 of the Senate's 52 Republicans. Two other Senate Republicans, Rand Paul of Kentucky and Susan Collins of Maine, had already announced their opposition. With Lee's and Moran's declarations, the bill appears to be dead on arrival.
Senate Minority Leader Chuck Schumer was quick to comment on the defection of two more GOP senators, saying in a statement, "This second failure of Trumpcare is proof positive that the core of this bill is unworkable."
President Trump, in an apparent response to the announcements by Moran and Lee, urged Republicans to vote to repeal Obamacare first and then "attempt to craft" a replacement.
McConnell previously delayed the vote until the return of Sen. John McCain of Arizona, after his surgery to remove a cranial blood clot. But the opposition from four Republicans and all Democrats renders his support irrelevant to the bill's future.
Earlier Monday, a fifth Republican senator indicated that his support for the procedural vote was also at risk.
Sen. Ron Johnson, R-Wis., told reporters that he was upset over comments Senate Majority Leader Mitch McConnell reportedly made to some moderate Republican senators last week in his office after the release of the revised health care draft.
In a meeting with senators from states that expanded Medicaid under the Affordable Care Act, McConnell reportedly told them that the GOP bill's cuts to Medicaid would likely never happen.
The Washington Post first reported McConnell's comments last week.
"I did find the story about Leader McConnell's comments about Medicaid reforms — just too far in the future, probably never be enacted — troubling," Johnson told ABC News. "That may put the motion to proceed vote in jeopardy."
In a statement, McConnell said, "I prefer to speak for myself, and my view is that the Medicaid per capita cap with a responsible growth rate that is sustainable for taxpayers is the most important long-term reform in the bill. That is why it has been in each draft we have released."
Johnson was no fan of the original health care draft and cautioned Senate leaders to hold off on voting last month.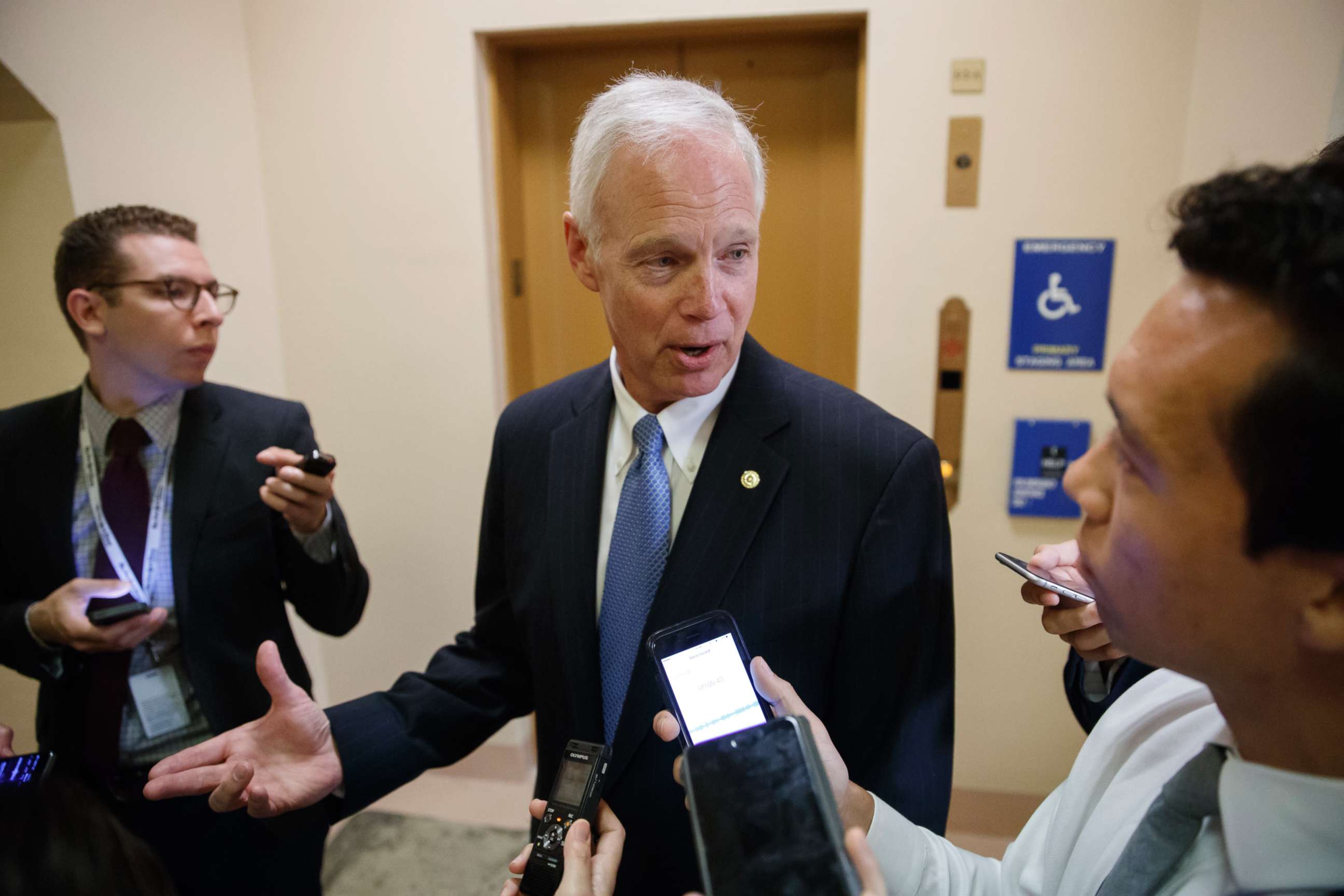 But in recent days, Johnson had warmed up to the bill and said he was on board with a key vote on a motion to proceed, which would have opened up the bill for debate on the Senate floor.
"I was strongly for motion to proceed," he said. "After I read those comments again, I found those rather troubling."