— -- While President Trump is busy today in Saudi Arabia with bilateral meetings and summit events, first lady Melania Trump and the president's daughter and adviser, Ivanka, have been engaged in activities of their own.
Ivanka Trump attended a roundtable on women's economic empowerment while the first lady visited a school and an all-women business center.
Both women have accompanied the president on several of his official activities in Saudi Arabia. And when they have, they have stood out from the crowd as some of the only women in the room.
At events they have gone to on their own, both Ivanka and Melania Trump have engaged with mostly female audiences and have stood out in their western clothing from Saudi counterparts dressed in the traditional Saudi abaya and hijab.
Human rights concerns have so far been absent from the president's official agenda and public discussion in Saudi Arabia, but Ivanka Trump at the roundtable today applauded their host nation for recent progress in empowering women and said, "There's still a lot of work to be done."
"Saudi Arabia's progress, especially in recent years, is very encouraging but there's still a lot of work to be done and freedoms and opportunities to continue to fight for," she said.
"The stories of Saudi women, such as yourselves, catalyzing change, inspire me to believe in the possibility of global women's empowerment," she said, noting that the government has taken strides to advance women's participation in the workforce and politics.
Ivanka Trump's comments come, however, as Freedom House ranks Saudi Arabia as the 10th worst in the world in political and civil rights.
The president's daughter and adviser referred to herself as a "female leader within the Trump administration" in discussing her work on women's issues in the United States and globally.
She introduced Jim Yong Kim of the World Bank, who announced that Saudi Arabia and the United Arab Emirates have pledged a combined $100 million to a women's empowerment fund spearheaded by Ivanka Trump along with German Chancellor Angela Merkel.
Kim said that with that funding commitment and other pledges from the U.S. and other countries, the World Bank is set to announce at the G-20 Summit in July a $1 billion fund for women's economic empowerment through the Women's Entrepreneurship Facility, which he described as a first.
"This is really a stunning achievement. I've never seen anything come together so quickly, and I really have to say that Ivanka's leadership has been tremendous," he said.
Melania Trump meanwhile earlier today went to the American International School of Riyadh where she visited classrooms and gave several Dr. Seuss books to a preschool class. A chorus at the school sang the song "Lean on me" to the first lady and she clapped along.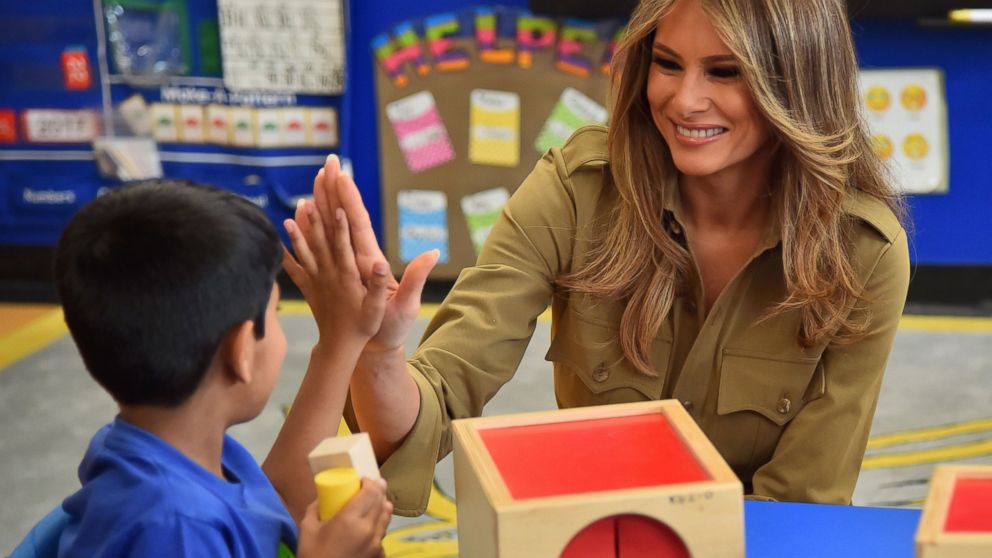 The first lady also visited an all-women GE business center in Riyadh where she spoke to women there about the center's work and work-life balance in general.
She was at one point asked how she balances her family responsibilities with her life as first lady and responded: "You need to balance and find the time."
She also said to a woman at the center, "I love children. It's my passion," and in speaking about children and mothers said, "They are our future ... We need to stick together, support each other."
To one woman at the center, the president's wife said: "I'm very proud of you, very, very proud of you." And on a wall at the front of the room where visitors write messages, she wrote: "I am so proud of what you are doing! Thank you for hosting me here! Best wishes, Melania Trump."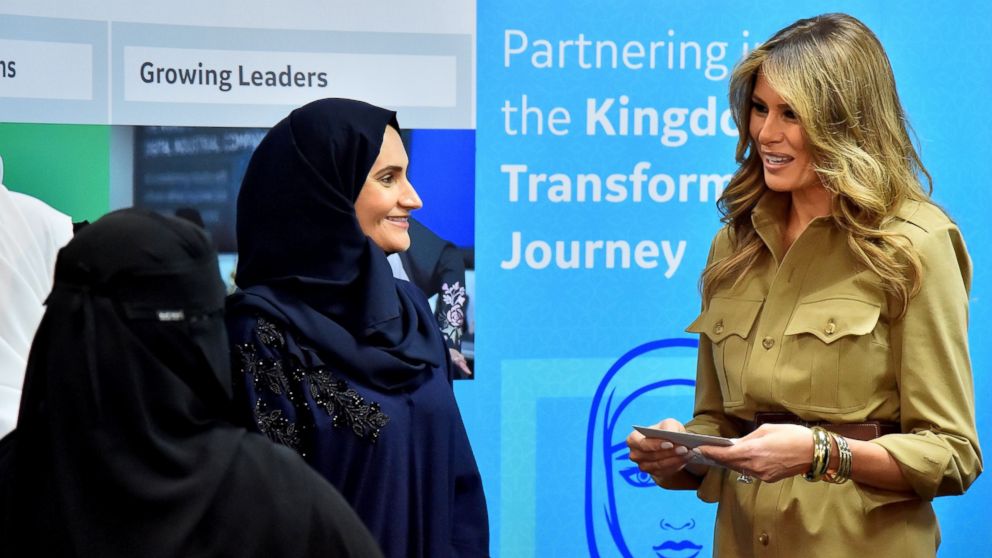 On the next stop of the president's foreign trip, in Israel, Ivanka Trump is to go to the Western Wall with the president given "her personal connection to Judaism," a White House official said.
In Rome, the first daughter will turn her attention to one of her key issues as an adviser to the president and one also of great importance to the pope: human trafficking.
She will participate in a focus group discussion with The Community of Sant'Egidio, a Vatican-affiliated organization and also meet privately with a few female victims who have been helped by the group's support program.
Ivanka Trump has previously held meetings on human trafficking in the United States, and the focus of the Rome meetings will be on the global dimensions of the problem, according to the White House.
"Ivanka's meetings in Rome are part of the administration's ongoing commitment to combating human trafficking both domestically and abroad," said a White House official.
The first daughter is slated to remain on the trip through Rome, while the first lady will remain with the president for the entirety of the trip.