Michelle Obama on third-grader's project about the former first lady: 'This gets an A+ in my book!"
The girl's mother said the former first lady inspires her daughter Alexandra.
February 1, 2018, 2:32 AM
— -- Former first lady Michelle Obama on Wednesday channeled her inner school teacher and graded -- virtually -- a third-grader's school project.
"Today my 9 year old was @MichelleObama for her 3rd grade Open House project," California mom Audrey Dow tweeted Monday, along with a photo of her daughter Alexandra standing in front of her project, "Michelle Obama: First lady of the United States." Affixed on a large piece of cardboard were various photos of Obama from different stages of her life.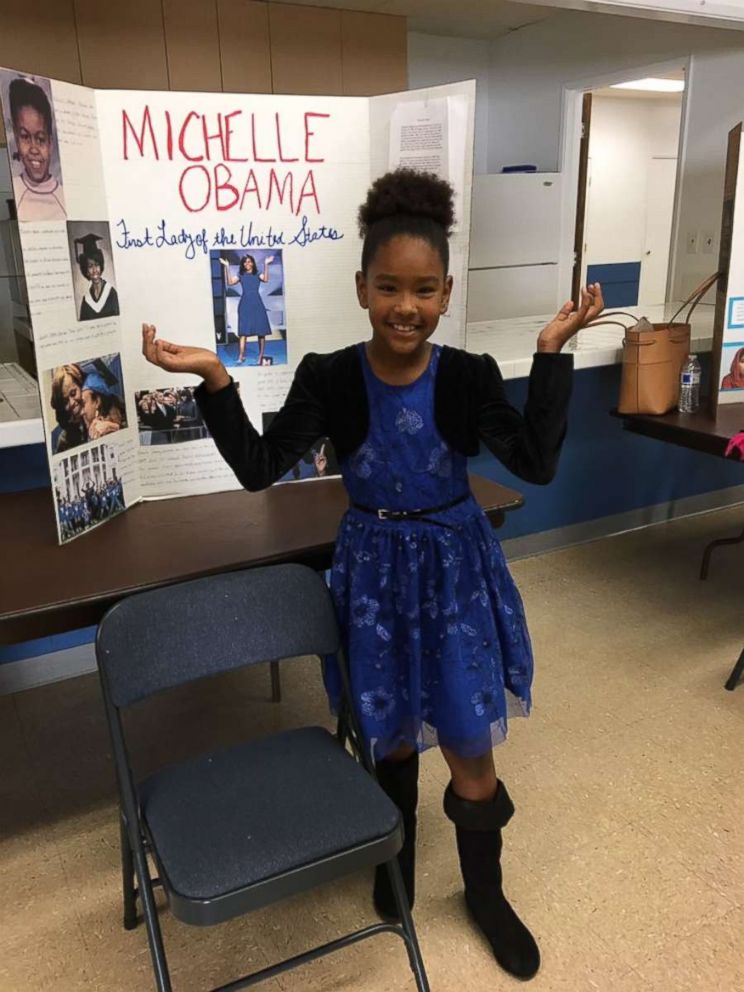 "She was inspired by her work to make sure more kids go to college & #ReachHigher," Dow's tweet continued, explaining Alexandra's inspiration. "She loves that Mrs Obama is brown & has hair like hers #ISawMyself."
In the photo her mother tweeted, Alexandra is striking a pose that is similar to Obama in a photo behind her from the Democratic National Convention in Philadelphia in July 2016. She's also wearing a similar blue dress.
Fast forward three days and Alexandra got the shock of her life: The former first lady tweeted back at her mother.
"This just made my day," Obama tweeted Wednesday afternoon. "I may not be a 3rd grade teacher, but this gets an A+ in my book!"
"Alexandra is so overwhelmed with all the positive attention," Dow tweeted following Obama's response. "She got so teary-eyed when she read Mrs. Obama's reply. She couldn't believe that she would write something to her. Dreams come true baby girl! #ReachHigher #BetterMakeRoom #goals #isawmyself."
A subsequent tweet by Dow read, "The class project was so empowering and Alexandra knew from day one that @michelleObama was her choice!!!"