Mike Huckabee Leaves Fox News as He Weighs 2016 Bid
Former Arkansas governor says leaving Fox is "honorable thing to do."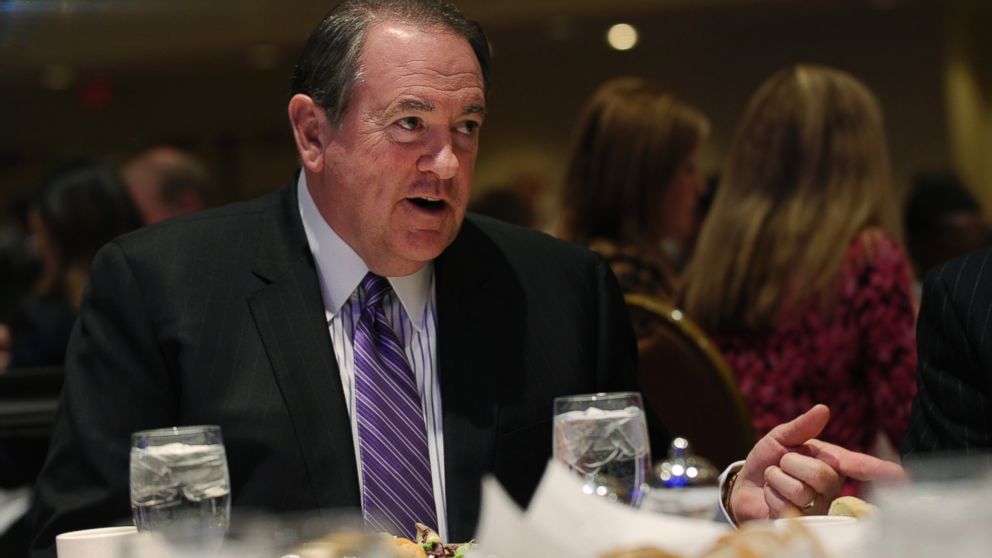 — -- Mike Huckabee announced Saturday night that he is leaving Fox News as he weighs a potential presidential run in 2016 saying, "As much as I have loved doing the show, I cannot bring myself to rule out another presidential run."
"Oh be clear, I'm not making that announcement right now and my timetable is still just what wait was before, later this spring, but I agree with Fox this is the right thing and now is the right time," he said.
The former Arkansas governor and television personality made the announcement on his Saturday evening show, "Huckabee," and told his viewers "If I were willing to absolutely rule out" a presidential run "I could keep doing this show, but I can't make such a declaration."
He said he won't "make a decision about running until late in the spring of 2015."
He said he's not going to "disappear" and said he "hope(s)" to make guest appearances on Fox News, but "not as staff."
He also thanked his viewers, show staff, and Fox News chairman Roger Ailes for what he called the "ride of a lifetime."
Huckabee initially made the announcement on his Facebook page earlier this evening, saying he was leaving his show so he can "openly talk with potential donors and supporters and gauge support."
"There has been a great deal of speculation as to whether I would run for president ... the continued chatter has put Fox News into a position that is not fair to them," Huckabee wrote on his Facebook page. "The honorable thing to do at this point is to end my tenure here at Fox so I can openly talk with potential donors and supporters and gauge support.
"I feel compelled to ascertain if the support exists strongly enough for another presidential run. So as we say in television, stay tuned!" he added.
A spokesperson for Fox News confirmed Huckabee's departure from the network was amicable
Huckabee's decision to leave Fox News, where he hosts a popular weekend evening program, gives him the flexibility to speak with donors and more seriously weigh a presidential run.
Huckabee joined Fox News in 2008, months after his first presidential campaign ended. Huckabee secured an early victory in the Iowa caucuses in 2008 before bowing out of the Republican presidential primary in March of that year.
Huckabee has plans to be in the presidential testing grounds of Iowa later this month. He is scheduled to speak at the Rep. Steve King and Citizens United-sponsored event, the Iowa Freedom Summit on Jan. 24 in Des Moines. A day later, he is scheduled to be in Cedar Rapids for an event on his book tour.
In May 2011 he also teased an announcement on his Saturday evening program, but that time he announced he would not be entering the 2012 presidential race saying, "All the factors say go, but my heart says no."