— -- Former presidential candidate Mitt Romney and boxing legend Evander Holyfield faced off Friday night in a charity boxing match in Salt Lake City.
As for the victor of the bout ... Romney, 68, was a good sport but Holyfield, 52, "keeps his world heavyweight title," the charity said on Twitter.
"Great action and some good swings," they said later.
The match was created to benefit CharityVision, a nonprofit that works with physicians in developing countries to eradicate curable blindness, and managed to raise more than $1 million.
According to the Associated Press, Romney gave up to the five-time heavyweight champion after just two rounds.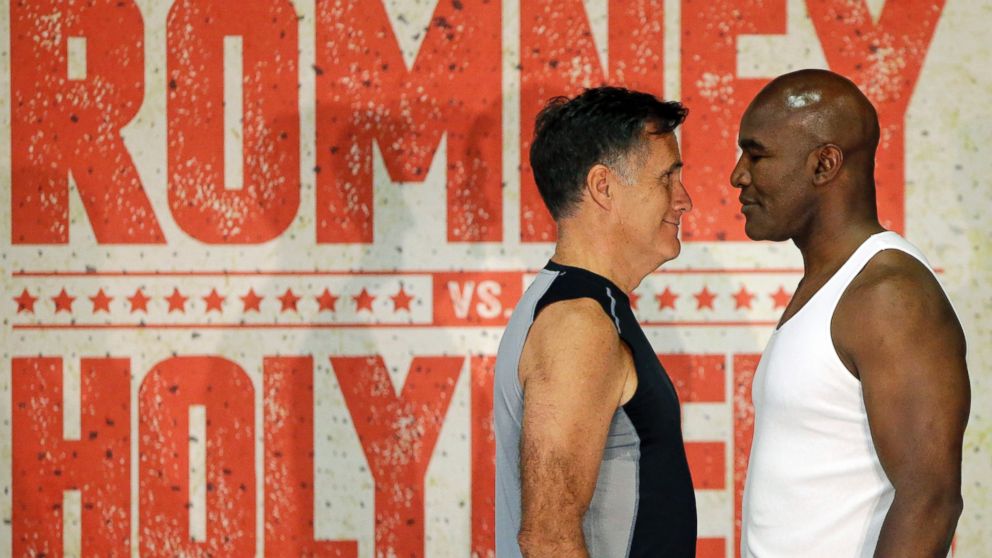 Before the political and athletic heavyweights entered the ring, there was plenty of hype and trash talk. On Thursday night - in classic boxing fashion - the two had a weigh-in. Romney came in at 179 pounds to Holyfield's 236.
Before the match both parties also sent each other some not-so-subtle messages.
"Mitt, you can't run, you can't hide. Come and get your whuppin,'" Holyfield said in a hilarious video.
"It's true, I don't have much of a right hook, but when I get somebody's ear, I can be pretty formidable," Romney warned the boxing champ, who had part of his ear bitten off by Mike Tyson in in 1997.