PHILADELPHIA — -- An emotional moment during the Democratic National Convention came when the mothers of African-Americans who were the victims of gun violence or police-involved deaths made a plea to voters to choose Hillary Clinton in November because she "isn't afraid to say black lives matter."
The women, called Mothers of the Movement, took turns speaking of their anguish of losing their children.
"I lived in fear my son would die like this," said Lucia McBath, the mother of 17-year-old Jordan Davis, who was fatally shot by man who was upset about the volume of the music in the car her son was in. The man who shot Davis, Michael Dunn, was sentenced to life in prison in 2014.
"I even warned him that because he was a young, black man, he would meet people who didn't value his life. That is a conversation no parent should ever have with their child. Hillary Clinton isn't afraid to say that black lives matter," McBath said. "She isn't afraid to sit at a table with grieving mothers and bear the full force of our anguish."
The crowd broke into chants of "Black lives matter" during the speech.
The third and final mother to speak was Sybrina Fulton, the mother of Trayvon Martin, an unarmed teen who was fatally shot in Florida by neighborhood watchman George Zimmerman in 2012. Zimmerman was acquitted of murder and manslaughter in the case.
"I am an unwilling participant in this movement. I would not have signed up for this or any other mother that's standing here with me today. But I am here today for my son, Trayvon Martin, who is in heaven," Fulton said.
"I didn't want this spotlight. But will I do everything I can to focus some of that light on a path out of this darkness," she said.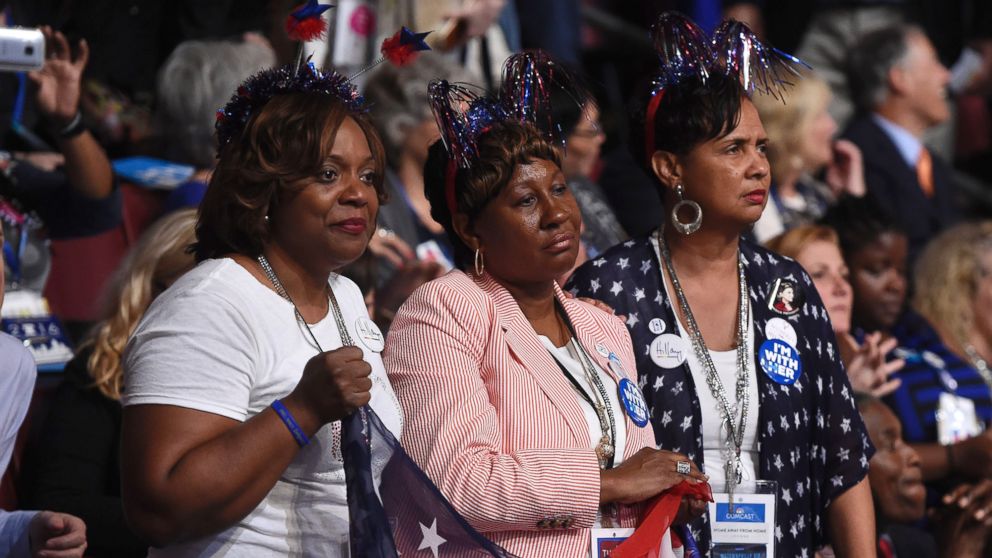 Fulton was the first to specifically say that Clinton has the "courage to lead the fight for common-sense gun legislation."
A visibly emotional Geneva Reed-Veal, the mother of Sandra Bland, who was found dead in a Texas jail cell days after she was arrested during a traffic stop, ended her speech on an optimistic note.
"What a blessing tonight to be standing here, so that Sandy can still speak through her mama," she said, noting that its was one year and one day after her daughter's burial. "And what a blessing it is for all of us if we seize it, we gotta seize it, to cast our votes for a president who will help lead us down the path toward restoration and change.