— -- As the charges of sexual misconduct against Alabama GOP Senate candidate Roy Moore continue to plague his campaign and have driven most national Republicans to call for him to leave the race, the embattled candidate is still receiving support from two critical sources: Steve Bannon and Alabama Republicans.
Moore has maintained that the allegations against him, which first came to light in a report by The Washington Post, are not true, and has begun to mount a legal defense against news outlets he claims have published false allegations against him.
"I know a lot of good men, a lot of good women. But from who I know in Roy Moore, I know no better man," said Trenton Garmon, a lawyer representing Moore, told MSNBC today.
Garmon also added that he believes Moore's denials of any sexual misconduct, and alluded to evidence that he said could exonerate Moore of any wrongdoing. He did not provide any evidence to support his claims but indicated he would present his defense in court.
In the same MSNBC interview, while Garmon stated a relationship between a 32-year-old man and a 14-year-old would be wrong, he also suggested that relationships with young women are acceptable in other cultures around the world.
Top Republicans from Senate Majority Leader Mitch McConnell to House Speaker Paul Ryan have joined the growing chorus of national party leaders demanding that Moore drop out of the race, with McConnell suggesting last night at an event hosted by the Wall Street Journal that Attorney General Jeff Sessions should be considered for a potential write-in candidacy.
Despite the outcry, Bannon, who supported Moore over Trump's favored primary candidate, Sen. Luther Strange, R-Ala., has publicly defended Moore since the accusations were published in the Washington Post last week.
The Daily Beast reported Tuesday night that Bannon has been "revisiting" his support for Moore, but three sources close to him denied this account to ABC News.
"Every time I talk to him, it's 'when are we saving Judge Moore?' None of this is true," said one source close to Bannon.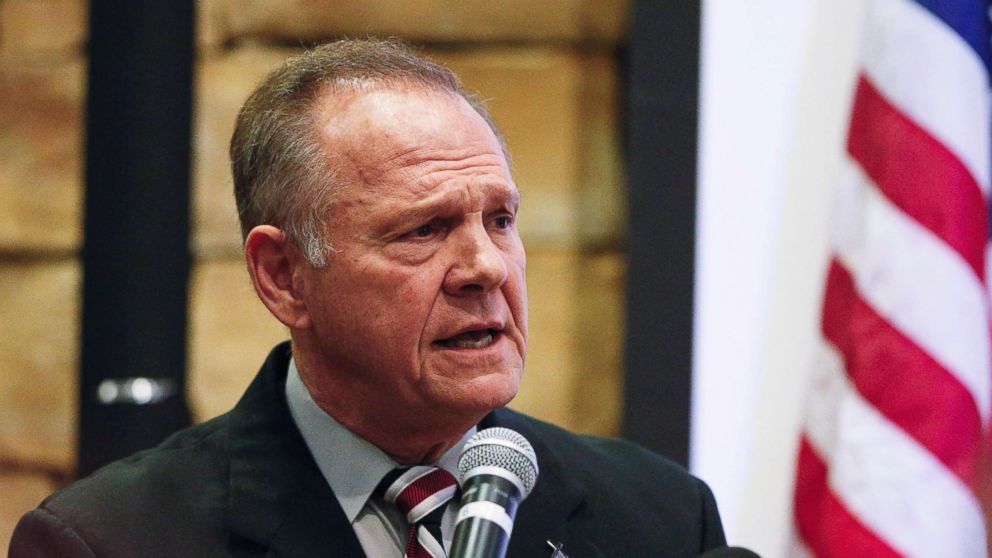 Another source close to the conservative firebrand and Breitbart founder added: "He's still with him."
Moore has been campaigning for the Senate seat vacated by Attorney General Jeff Sessions and managed to win the party nomination against Strange, who was endorsed by many Republicans in Washington, D.C., including the president.
Bannon has been on the record defending Moore since the story broke and has supporters on the ground in Alabama campaigning for Moore. News reports of Bannon's reservations toward Moore surfaced on Tuesday while he was in Japan for a speaking event.
"The Bezos-Amazon-Washington Post that dropped that dime on Donald Trump, is the same Bezos-Amazon-Washington Post that dropped the dime this afternoon on Judge Roy Moore," Bannon said at a speech in Manchester last week.
Bannon declined to comment today.
Alabama Republicans thus far have stood staunchly behind Moore, and the state party chairwoman released a statement earlier this week discouraging any talk of a write-in challenge to Moore.
"It would be a serious error for any current elected GOP official or candidate to publicly endorse another party's candidate, an independent, a third party or a write in candidate in a general election as well. I have heard of no Alabama GOP elected official or candidate that is even considering this option," Alabama GOP Chairwoman Terry Lathan said in a statement.
Alabama Congressman Mo Brooks also defended Moore, telling ABC News on Tuesday, "I believe that the Democrats will do great damage to our country."
In another show of local support for Moore, the Shelby County Republican Party passed a resolution of support for his candidacy last night and urged other Republicans in the state to unite around Moore to defeat his Democratic rival Doug Jones.
"Roy Moore has been a consistent proponent of the positions of the Alabama Republican Party, including conservative fiscal policy, pro-life and traditional family values, less government regulations and interference -- with an emphasis on personal freedoms," the resolution read in part.
Moore himself has remained defiant in the face of the accusations against him, and shows no signs that he is leaving the race anytime soon, announcing on Twitter today, "We will not quit."