Vast and untouched, North Dakota has been the sacred land of several Native American tribes for thousands of years -- and most recently, a political flashpoint plunging Native Americans into a highly publicized conflict over the Dakota Access Pipeline.
Their plight has been championed by advocates and celebrities like actor Mark Ruffalo and musician Dave Matthews.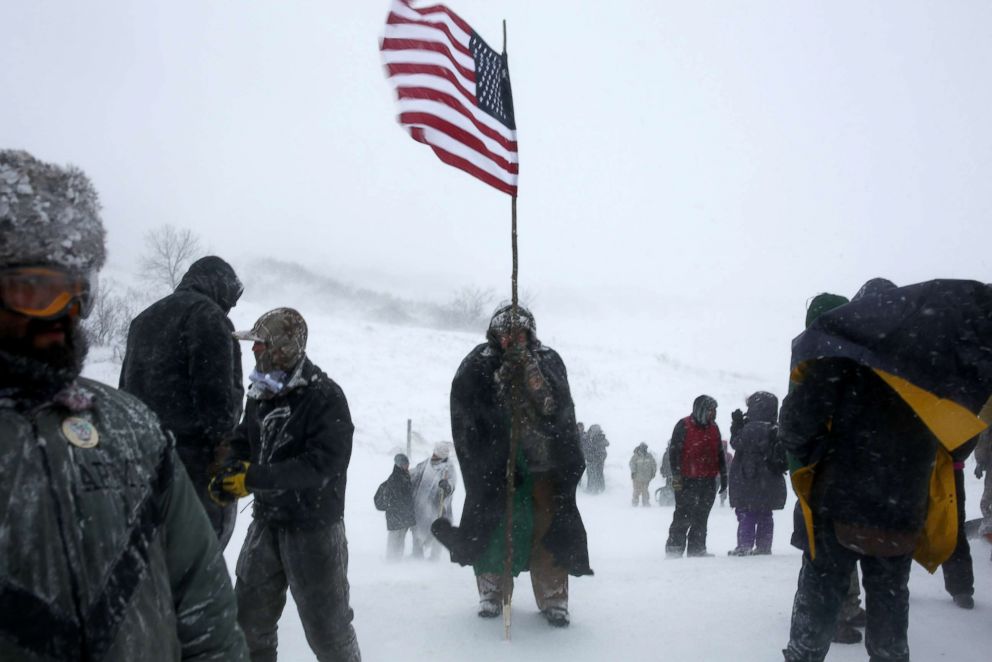 Now once again, the Native American community here is under the spotlight -- this time, in the form of an ID law some are calling voter suppression -- just before the midterm elections.
About 60 percent of Native Americans in North Dakota live on reservations -- where many residents lack street addresses because the U.S. Postal Service does not provide them residential delivery services.
So, many Native Americans use a P.O. box to receive their mail.
But, in order to vote in any election, you have to have a residential address. That wasn't a problem in years past because there were other ways to prove your residency, like signing an affidavit or having a poll worker vouch for you.
But in 2013, the state legislature did away with those options -- making it harder to vote, especially for Native Americans who live on reservations.
"We have not been fully colonized to put everything in square streets and boxes," said Phyllis Young, a Native American rights activist. "We live openly. So now we're being forced to create streets and name addresses for our voting rights."
A legal battle over the new law ensued, with the U.S. Supreme Court upholding it on Oct. 9 and leaving the communities scrambling to ensure voters have the proper identification they need.
A judge rejected a challenge to the law by the Spirit Lake Sioux tribe on Thursday.
Young says the tight knit community is prepared for the latest battle.
"It's a critical election nationwide," Young said. "It's going to make a difference in the Congress and in the leadership in this country."
Critics say it smacks of voter suppression, but North Dakota Secretary of State Alvin Jaeger says the law was necessary because he says his office had difficulty verifying voter identities.
"We went back to see if we could match the name on the affidavit with an address. There was about 3,600 that we couldn't," Jaeger said. "It could be that all 3,600 are valid votes, but I could not swear that they are."
Jaeger says on Election Day that 97 to 98 percent of voters "will have a state-issued ID and will be able to vote with no problem."
"That last 2 to 3 percent -- we're going everything we can to let their options be known," he added.
The 2 to 3 percent affected are in part Native American voters and because this group tends to vote for Democrats, the new voter ID law matters a lot to Sen. Heidi Heitkamp, who is in a tough re-election fight with Republican Kevin Cramer.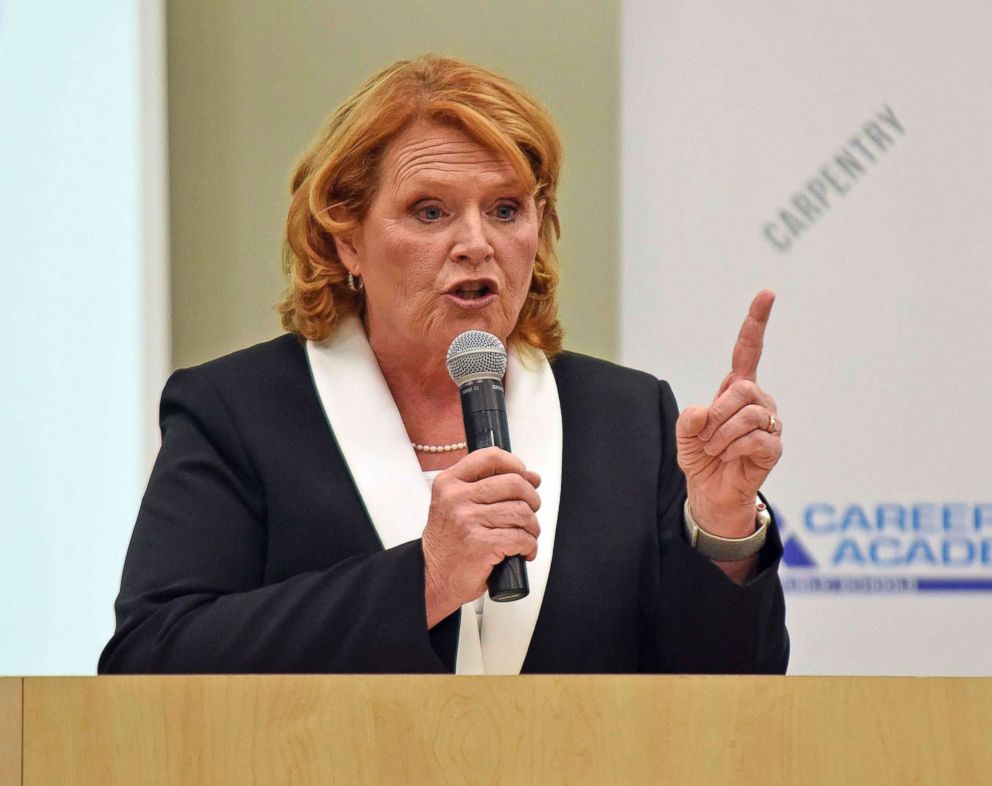 She is the only elected Democrat statewide in a deeply red state that went for Trump by a whopping 36 points in 2016.
Heitkamp faced backlash for voting against the confirmation of Supreme Court nominee Brett Kavanaugh.
"I made a judgment based on what I saw and what I heard," Heitkamp tells ABC News' Mary Bruce. "This is a judgment that's not just about the voters today. This is about 30 years of voters in North Dakota, 30 years of people. And to me, I have no regrets."
She won her seat in 2012 by about 3,000 votes, so she's keenly aware that every vote counts.
"The first thing you have to be concerned about is that people who have the right to vote won't be able to vote," Heitkamp says of the voting law.
Jaeger denies that voter ID law was designed to disenfranchise Native Americans.
"I can look you straight in the eye and I will tell you nothing has ever happened in this office to target anybody," Jaeger said.
But just this week, one of the tribes -- along with six individuals -- took emergency legal action to seek relief from the proof of residential address requirement for Native Americans who live on or near reservations.
And across the state, activists are trying to rally local and national support.
Prairie Rose Seminole, a Native American rights activist addressed voters in the state: "What we want to do is really inform people about their power as voters here ... and the effect of this law really has created disparity for American Indian voters."
Seminole is helping raise awareness about the new ID requirements with a massive "Get Out The Vote" concert headlined by Matthews.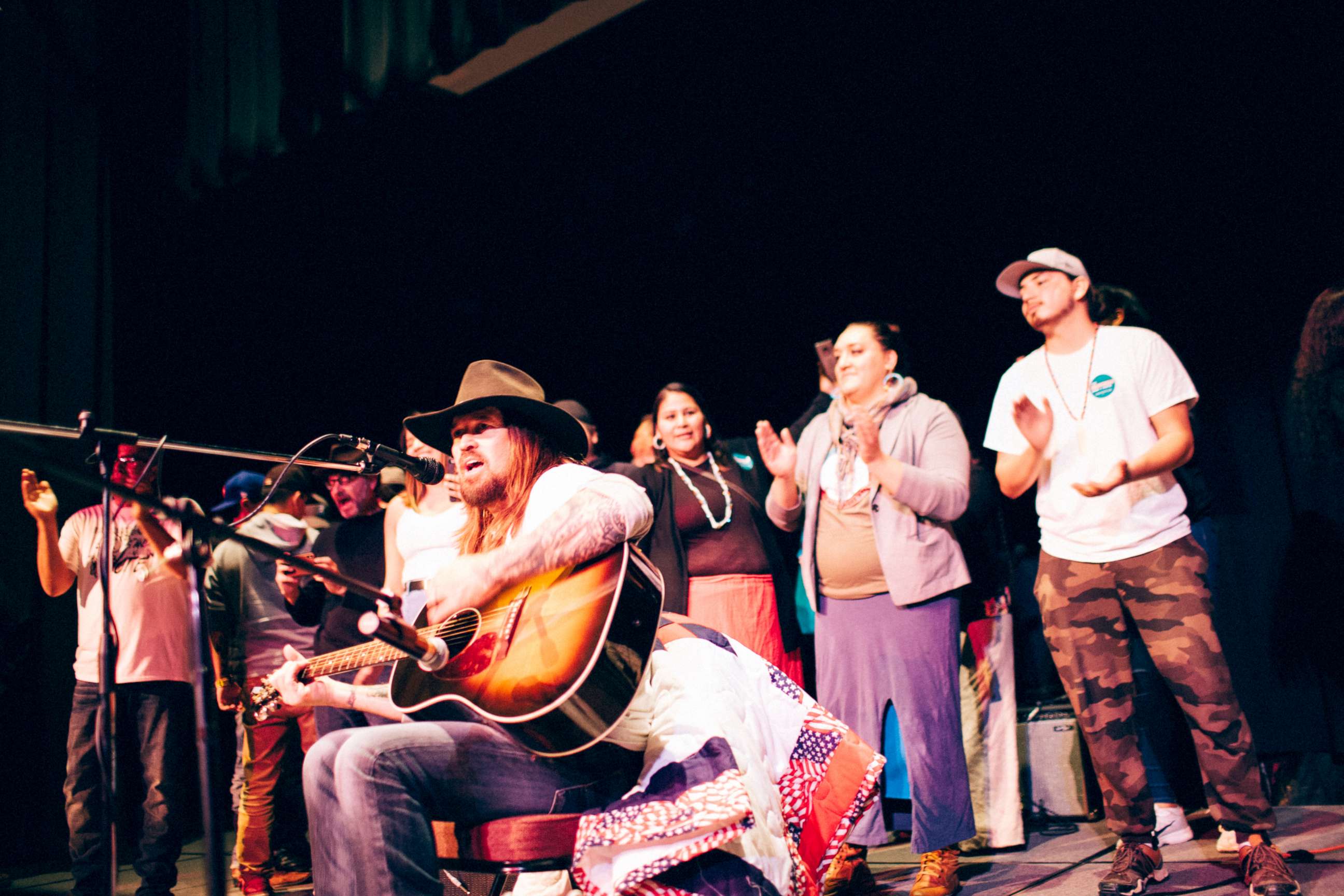 "People brought their disappointment and their hopelessness here to stand with them," Matthews said. "It's remarkable how successfully they've, and how gracefully they've, come out that so far."
Matthews, the two-time Grammy winner, began working with Standing Rock before the Dakota Access Pipeline conflict, adopting the local elementary school through a Kennedy Center Arts program.
He says the community has had to lead by example twice in recent years.
"I'm very grateful to have witnessed that," Matthews said. "It was a very difficult thing for this community to be so much in the spotlight of the world, and have so much hope thrust upon them and to be the bearers of so much anguish from all over the world -- because people brought their disappointment and their hopelessness here to stand with them. ... It's remarkable how successfully they've, and how gracefully they've, come out that so far."
Ruffalo, who stars in Marvel's cinematic universe as Bruce Banner, is also putting his star power behind the issue.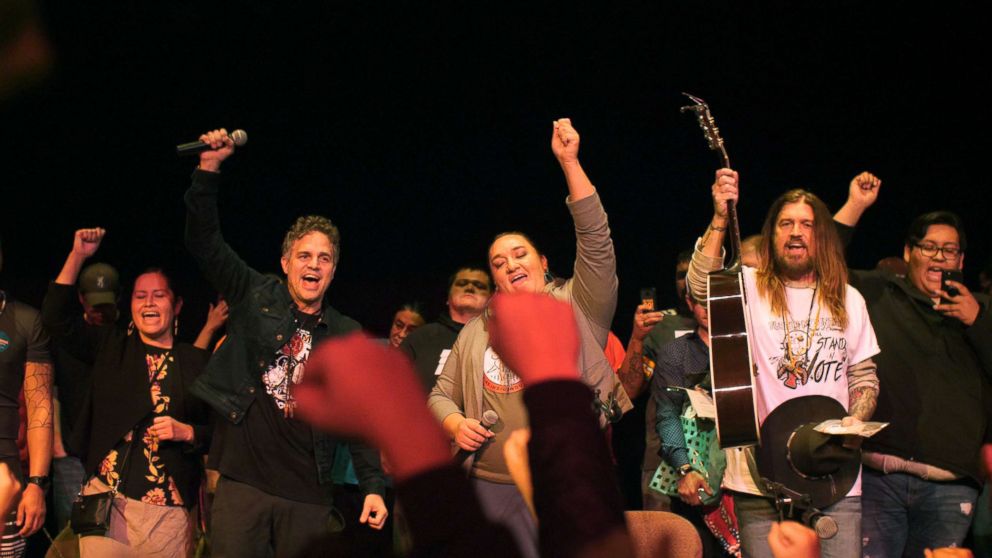 "I happen to have a little spotlight that follows me around whether I like it or not, whether it's fair or not," Ruffalo explained. "Sometimes I get to put the most beautiful people in that spotlight to tell the truth, and for the world to hear from the people that need to be heard from right now. So that's why I'm here.
"We've been screaming and hollering for a long time," he added.
Seminole weighed in on Ruffalo's presence at the protests: "For Mark and others to use their agency to amplify our voices -- that's powerful and we feel then we're valued and we're heard and we can actually move the dial into a better future for all of us."
Seminole says "the system has failed" the Native American population of North Dakota, but says "we can't change it unless we show up. ... When we start showing up, nothing apparently stops us all. That's what gives me hope and I'm going to keep fighting for."