— -- Trump's first 100 days with ABC's RICK KLEIN and SHUSHANNAH WALSHE
Day No. 64
The big story: So there is a law of political physics that applies to Donald Trump after all. Actually, this one is basic math, in that House leaders and the White House have never had the majority they assumed they could get, as we approach today's showdown. It's the biggest moment of the young Trump presidency for a cascading and daunting series of reasons. This vote is about basic promise-keeping, President Trump's deal-making reputation, House Speaker Paul Ryan's policy command, Republican unity and legislative momentum that's critical for big-ticket items to come: tax reform, infrastructure, you name it. For all that, everyone with something on the line enters the day with extreme uncertainty. Trump is asking House members to take a leap of faith with him – a president with sagging popularity and no legislative achievements -- on a cobbled-together and unpopular compromise with no final cost estimate and a real chance of never passing the Senate anyway. And yet, if there's ever a moment designed for Donald Trump's showmanship, this is it.
The sleeper story: Want to really blow up the Senate – and fast? A new proposal is emerging that would likely do just that, and it has nothing to do with Senate Democrats' vow to filibuster Supreme Court nominee Neil Gorsuch. A proposal is being pushed by some Senate Republicans that would seek to ensure that a House-passed bill could be passed intact by only a simple majority of senators. How would that work? Well, the vice president, of course, is the president of the Senate. The thinking goes that if the Senate parliamentarian ruled that parts of the bill can't be folded into budget reconciliation, Vice President Mike Pence could simply overrule that. Sen. Rand Paul wants the White House to make that commitment now: "That alone, I think, would break the logjam," he told reporters Thursday. Perhaps, but that's not all it would break. This would be the executive branch's changing the rules of the upper legislative body. Filibusters could be broken, perhaps in any circumstance, at the whim of the vice president. In honor of a certain former veep, that would be a BFD.
The shiny story: Such drama, such intrigue. President Trump dispatched his top aides and advisers to the Capitol late Thursday to say it's do-or-die time in the House. His main messengers? OMB Director Mick Mulvaney – until very recently a member of the same Freedom Caucus that's frustrating leadership – and Steve Bannon, who spent a chunk of his pre-White House career as House Speaker Paul Ryan's nemesis over at the anti-establishment Breitbart News. Their message – that Trump is ready to move on if the vote doesn't happen today – might be a little too believable to any House members skeptical of their true motives. All of this happens as anonymous Trump associates gripe to The New York Times about Ryan's leadership, hardly helpful in the run-up to the vote. And, of course, the vote may not happen today at all. Rep. Tom Cole, R-Okla., a veteran lawmaker who is close to leadership, told us in the "Powerhouse Politics" podcast that the vote could be as late as Monday, and that House members will stay in Washington as they wait. "They won't be going home," Cole said of his colleagues. "I think it would be a huge mistake to let members out before you resolve this."
TLDR: It's do-or-die day for the House health care bill and, if you believe President Trump's ultimatum, there won't be another chance for Republicans to "repeal and replace."
Photo of the day: The president took a break Thursday from trying to persuade members of Congress to back the AHCA to meet with truck drivers and trucking CEOs at the White House. Before that meeting, he got into the driver's seat of this 18-wheeler on the South Lawn, pulled the horn and really seemed to enjoy himself with the photo becoming an instant meme. Check it out here: (Jim Lo Scalzo/EPA)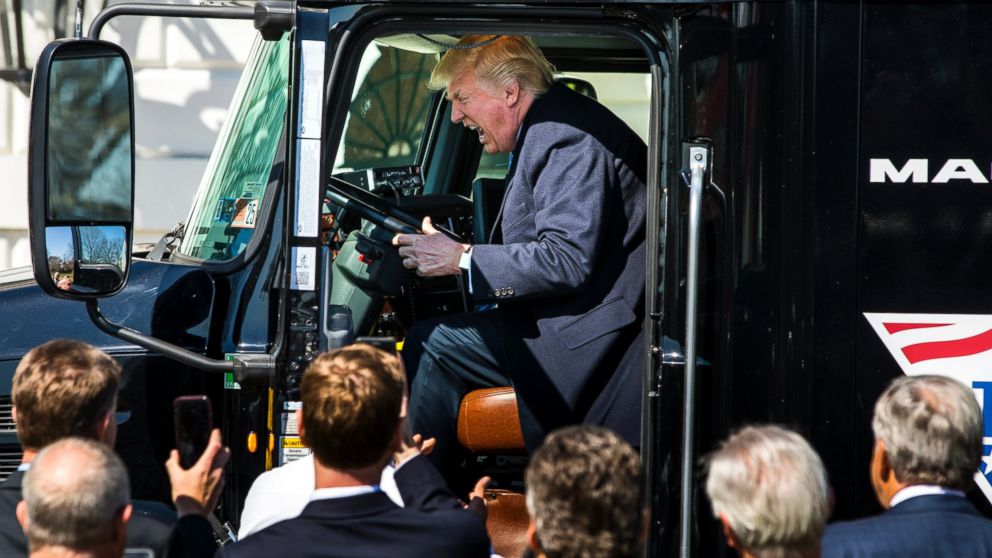 Notables
--Health bill vote set for today as Trump draws line in the sand: The Republican plan to repeal and replace Obamacare, a central promise of GOP leadership, is set for a showdown today as President Donald Trump issued an ultimatum, demanding that the House of Representatives move forward. The American Health Care Act is being pushed full steam ahead by both Speaker Paul Ryan and the White House, despite heavy criticism from a group of moderate and conservative Republicans, explains ABC's MARY BRUCE and DEVIN DWYER. http://abcn.ws/2nWN0ME
--Revised GOP health bill still leaves 24m more uninsured after decade, CBO says: A new report from the Congressional Budget Office (CBO) on the GOP's health care bill says that the revised version would have similar effects on health insurance coverage and premiums, and a smaller effect on reducing the federal deficit than initially predicted. The CBO's initial estimate, released last Monday, projected that 14 million people more people would be uninsured next year than would be under the Affordable Care Act, or Obamacare, note ABC's MARYALICE PARKS and JENNIFER HANSLER. http://abcn.ws/2ni0Smm
--Schumer says Dems will filibuster Trump SCOTUS nominee Gorsuch: The Senate's top Democrat promised to deal a critical blow to the confirmation process of President Donald Trump's nominee to the Supreme Court, Judge Neil Gorsuch, saying Democrats will invoke a filibuster, forcing Republicans to garner at least 60 votes to end debate in the Senate before he can be confirmed, reports ABC's MARIAM KHAN. "His nomination will have a cloture vote. He will have to earn 60 votes for confirmation," Sen. Chuck Schumer, D-N.Y., said Thursday. http://abcn.ws/2my4DoY
--Intel chair Nunes unsure if Trump associates were directly surveilled: The chairman of the House Intelligence Committee, Devin Nunes, R-Calif., does not know "for sure" whether President Donald Trump or members of his transition team were even on the phone calls or other communications now being cited as partial vindication for the president's wiretapping claims against the Obama administration, according to a spokesperson. "He said he'll have to get all the documents he requested from the [intelligence community] about this before he knows for sure," a spokesperson for Nunes said Thursday. ABC's MIKE LEVINE has more: http://abcn.ws/2mWXLgs
Speed read with ABC's ADAM KELSEY
GOP health care plan would hit people in counties Trump won hardest. Areas that voted for Donald Trump in the 2016 election by the widest margins could see significantly larger cuts in health care subsidies than other Americans, according to a new ABC News analysis of data provided by the Kaiser Family Foundation and the 2016 election results. The numbers show that voters who are older and low-income would get hit hardest by the American Health Care Act, but those aren't the only reasons many Trump voters could fare worse than other Americans if the bill becomes law, reports ABC's RYAN STRUYK. http://abcn.ws/2obnz9z
Why 'essential benefits' are sticking point in Obamacare overhaul. Republicans are scrambling on Capitol Hill to rewrite their health care bill ahead of an anticipated vote on the measure, which could come as early as Friday morning after it was postponed Thursday. Some Conservatives want -– among other things –- language included in the law to scrap "Essential Health Care Benefits," a key provision in the Affordable Care Act, which mandated that all insurance plans sold on the individual marketplaces had to cover "essential" items. ABC's MARYALICE PARKS has more: http://abcn.ws/2mxEg2y
Rep. Nunes apologizes for briefing the White House before Rep. Schiff. Chairman Devin Nunes, R-Calif., apologized to his full House Intelligence Committee Thursday for failing to inform the committee's Democratic ranking member of his findings — that the intelligence community "incidentally collected" surveillance of Trump's transition team and possibly Trump himself — before he briefed the White House and held a press conference yesterday, note ABC's MARYALICE PARKS and VERONICA STRACQUALURSI. "I am not confident that he can run this committee," said Rep. Jackie Speier, D-Calif. http://abcn.ws/2mYT9ap
GOP congressman Duncan Hunter under investigation for potential campaign finance violations. The Department of Justice is investigating Rep. Duncan Hunter, R-Calif., for potentially violating campaign finance laws by using tens of thousands in those funds for personal use, according to the House Committee on Ethics. In a statement released Thursday, Rep. Susan Brooks, R-Ind., and Ted Deutch, D-Fla., the chairwoman and ranking member of the committee, explained that they are deferring their investigation at the request of the DOJ, ABC's MERIDITH MCGRAW writes. http://abcn.ws/2ob5Nn5
Trump hotel in DC not in violation of government lease, GSA says. The General Services Administration (GSA) announced Thursday that President Donald Trump's lease of a luxury hotel from the government in Washington, D.C. -- which raised eyebrows among some ethics watchdogs -- is in good standing. The lease of the Old Post Office property prohibits government officials from profiting from the agreement. In a letter released Thursday, the GSA said that Trump International Hotel has not violated the terms of that agreement. ABC's JUSTIN FISHEL and JENNIFER HANSLER have more: http://abcn.ws/2ninC62
In case you missed it
President Trump climbs in 18-wheeler, pretends to be trucker. Donald Trump, trucker in chief? That's the role the president briefly assumed Thursday when he climbed into the driver's seat of a Mack 18-wheeler parked on the South Lawn of the White House, writes ABC's DAVID CAPLAN. Trump, who wore an "I Love Trucks" button on his lapel, enthusiastically pumped his fists, made a series of facial expressions that lit up the Twittersphere, and excitedly tooted the big rig's horn at least six times. http://abcn.ws/2n0793M
Who's tweeting?
@rickklein: Healthcare havoc - @TomColeOK04 tells us vote may not come til Monday. Anger rising w freedom caucus. http://abcn.ws/powerhouse - @jonkarl
@benyc: Do R's have votes to pass GOP health care plan? "Don't know, that's up to the House," OMB Director Mick Mulvaney tells @GStephanopoulos.
@maggieNYT: A number of raised eyebrows that Kushner and Ivanka Trump are not here as this is all taking place, but instead are on vacation.
@Elizabeth_McLau: WASHINGTON (AP) -- Trump administration issues presidential permit to TransCanada to build #KeystoneXL pipeline.
@sarahwhit10: Hamilton fans troll Trump on Twitter after Obamacare replacement vote postponed » http://cnb.cx/2ncxi0d