— -- The TAKE with Rick Klein
President Donald Trump was the president the Republican Party wanted him to be at his State of the Union address.
He was also the president the Democratic Party expected him to be.
What you wanted to see is what you saw in Trump, who seemed to outline an idealized version of his own presidency last night. He sketched a portrait of economic and political success that Republicans will want to rally behind this midterm year.
It's also, to Democrats, a fantasy they can't wait to disprove. The image of the House chamber featuring a raucous right, and a subdued left, will only solidify opinions in both directions.
It serves as a reminder that, while Trump is a standalone political figure, he remains a creature of these divided times. Both sides feel as if they are right.
The RUNDOWN with MaryAlice Parks
President Donald Trump has been known to play footsie with falsehoods and be lax with facts from time to time, but during his first State of the Union he mostly kept to his prudent, strident talking points.
The one big exception? Immigration. The president painted a grim picture, exaggerated what we know to be true and made some dubious claims.
He said under current law a single immigrant can bring in virtually unlimited numbers of distant relatives.
In fact -- today, citizens and green card holders can only petition for immediate family members, not an unlimited number.
And there was this: "In recent weeks, two terrorist attacks in New York were made possible by the visa lottery and chain migration. In the age of terrorism, these programs present risks we can just no longer afford."
This was mostly spin. The two men involved in those attacks did come to the country legally through those programs but seem to have been radicalized here in the U.S. years after they arrived.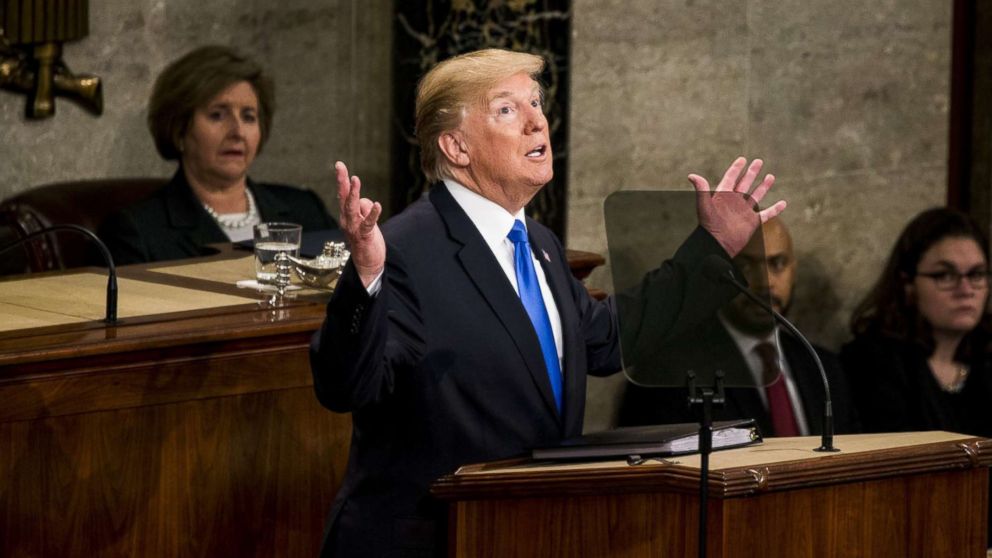 The president also said the Republican tax cut was the largest in American history – that's false.
He also said the U.S. was now an energy exporter, though the country has been for a long time.
He did correctly take credit for the most judicial appointments to the circuit courts.
In the end, in the State of the Union, Trump's penchant for truthiness held true to form.
The TIP with John Verhovek
A source with knowledge of the decision confirms to ABC News that Todd Ricketts, co-owner of the Chicago Cubs and previously President Trump's nominee to be deputy commerce secretary, could be named the next finance chairman of the Republican National Committee.
Ricketts could be replacing casino magnate Steve Wynn, who stepped down from the position of RNC finance chairman over the weekend after allegations of sexual misconduct surfaced against him.
Ricketts was Trump's nominee to be the deputy commerce secretary, but had to withdraw his nomination last April after he was unable to untangle himself from his business dealings.
Ricketts was a very strong supporter of President Trump's presidential campaign and has been a big GOP donor for years.
WHAT YOU NEED TO KNOW TODAY
Rep. Joe Kennedy III will be on ABC's "Good Morning America" around 7 a.m. to discuss his State of the Union rebuttal last night. Check back with ABC News for coverage.
President Trump will hold a closed press tax reform meeting with American workers and in the afternoon he will meet with Secretary of Treasury Steve Mnuchin.
Lawmakers will weigh in on the president's first State of the Union today at Axios News Shapers event at 8 a.m. We'll hear from Rep. Steny Hoyer, D-Md., and Sen. Susan Collins, R-Maine.
Vice President Mike Pence will discuss tax reforms in White Sulphur Springs, West Virginia. Pence will also stop by the Republican congressional retreat at the Greenbrier Resort and deliver remarks.
The Republican National Committee (RNC) will hold a winter meeting today in Washington, D.C. The quarterly meeting comes on the heels of the recent resignation of casino magnate Steve Wynn, who resigned over sexual misconduct allegations.
QUOTE OF THE DAY
"Here is the answer the Democrats offer tonight: we choose both. We fight for both. Because the greatest, strongest, richest nation in the world shouldn't leave anyone behind," Rep. Joe Kennedy, D-Mass., in the Democratic response to the State of the Union.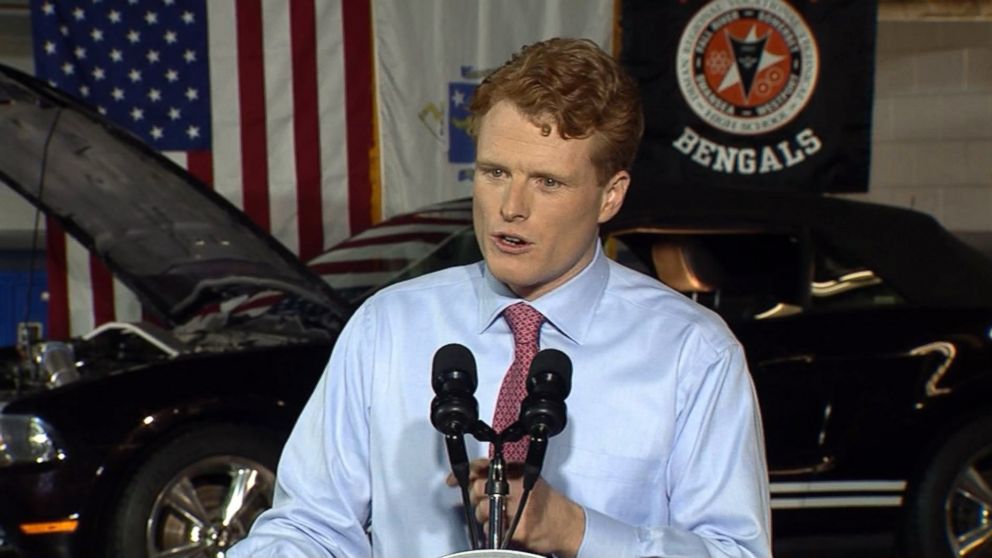 NEED TO READ
Lawmakers on both sides react to Trump's State of the Union speech. Some praised the president for his smooth and relaxed tone throughout the 80-minute speech, which centered around the theme of securing "a safe, strong and proud America." (Karma Allen) http://abcn.ws/2FvPU2X
Trump State of the Union avoids controversies but divides chamber on immigration reform. Before a starkly divided Congress and with the cloud of the Russia investigation continuing to hang over his administration, President Donald Trump delivered his first State of the Union address Tuesday, claiming to have fulfilled a number of his key promises while charting the course for the second year of his presidency at the start of what he called a "new American moment." (Adam Kelsey) http://abcn.ws/2DYOZLs
State of the Union fact check: What Donald Trump is claiming. After a tumultuous and busy first year in office, President Donald Trump delivered his first State of the Union address to Congress and the country. Our team of journalists from ABC News investigated some of those statements, looking for additional context, detail and information. (ABC News) http://abcn.ws/2DY9uYN
Analysis: In State of the Union, Trump's contradictions were on display. It was part victory lap, part rallying cry, part bragging session, and part call for unity. And it was all Trump. (Rick Klein) http://abcn.ws/2E3CwGc
TRANSCRIPT: President Trump's 2018 State of the Union address. http://abcn.ws/2E35OVx
7 standout lines from Trump's 2018 State of the Union speech.President Donald Trump's first official State of the Union address included remarks on immigration, the opioid epidemic, tax reform and foreign affairs. (Stephanie Ebbs) http://abcn.ws/2ErLtam
In State of the Union speech, Trump offers GOP campaign lines, themes for 2018 midterm election. President Donald Trump's State of the Union speech touched on themes Republicans can use on the campaign trail in the next 11 months and reiterated his "America First" message. (Emily Goodin) http://abcn.ws/2nnOfpz
Kennedy stresses Democratic inclusion in State of the Union rebuttal. A Kennedy was chosen to be the face of the Democratic party once again Tuesday. Rep. Joe Kennedy, the grandson of former Attorney General Bobby Kennedy and grandnephew of former President John F. Kennedy, gave the Democratic response to the State of the Union. (Meghan Keneally) http://abcn.ws/2nnG38Q
TRANSCRIPT: Read Joe Kennedy's Democratic response to the State of the Union. http://abcn.ws/2rX8Y8G
Elizabeth Guzman slams Trump, vows to 'keep up the fight' in Spanish-language SOTU response. Virginia Del. Elizabeth Guzman immigrated to the United States from Peru as a single mother, hoping to offer her daughter a better life, and Tuesday, Guzman offered the Spanish-language Democratic response to the State of the Union. (Paola Chavez) http://abcn.ws/2Er46uK
Democrats make political statement wearing black, while FLOTUS makes fashion statement wearing white. First lady Melania Trump, arriving at the State of the Union separately from President Donald Trump, made a statement -- a fashion statement, that is -- dressed in a white pantsuit, among a sea of Democratic women sporting black attire, who were making a significantly more political statement. (Benjamin Siegel) http://abcn.ws/2nsRSde
In a lengthy facebook post just minutes before the State of the Union, Hillary Clinton admitted that she should have fired an aide on her 2008 presidential campaign after he was accused of sexual harassment, The New York Times reports. http://nyti.ms/2Eu5tJv
The top public health official in the country held stock in a tobacco company until a month into her tenure, according to Politico. http://politi.co/2DOEESR
The Note is a daily ABC News feature that highlights the key political moments of the day ahead. Please check back on Monday for the latest.