— -- TRUMP'S FIRST 100 DAYS with RICK KLEIN and SHUSHANNAH WALSHE
Day No. 46
THE BIG STORY: This is not normal, and this cannot be viewed as acceptable, or just another Twitter rant. The accusations leveled by President Trump over the weekend, suggesting that his predecessor committed a federal crime for political purposes by ordering him wiretapped, has troubling implications no matter the ultimate facts. In the (apparently unlikely) event that Trump is proven right about something President Obama did, the consequences are obvious enough. If it turned out there were properly obtained surveillance efforts – without Obama's involvement – at Trump Tower and of Trump associates, that means a federal intelligence judge thought there were important national-security reasons for those wiretaps. And if Trump is wrong – if the president just falsely accused an ex-president of a "sick" effort to rig an election – how can those who need to or even want to trust the president's word do so going forward? Now, with a real crisis developing out of North Korea and who knows what's next, is one of those times where it's critical that the president's words be taken literally, if he ever hopes to be taken seriously when it counts.
THE SLEEPER STORY: Forget Trump vs. Obama, which was really always there, even if 45 claimed to know that 44 actually likes him. The fights that matter in this episode are between President Trump and his erstwhile loyalists – at least those who would like to be loyal to him, and whose loyalty a president might reasonably rely on. FBI Director James Comey has let it be known that he wants the Justice Department to rebuke the president publicly, as he leads an agency under siege from the commander in chief. White House staffers are now (again) in the position of explaining the inexplicable, if not defending the indefensible, all in a climate where the bosses are ready to accuse them of leaking out of disloyalty. Then there's Congress, where the turn toward conservative lawmaking was supposed to heal GOP wounds. These are not the questions Republican committee chairs and prominent senators hoped to be answering. What happens when their answers don't meet White House approval?
THE SHINY STORY: Policy can be a distraction, particularly if the alternative is contemplating a constitutional crisis. Between a revised, scaled-back version of the temporary travel ban, and the first congressional votes on Obamacare, this is a critical week in the Trump presidency's policy agenda. But these fights can only really matter if the Trump administration can move past the latest mess the president has created. It's going to be another hot week in Trump's Washington – in the White House briefing room, on Capitol Hill, and surely even inside the Oval Office.
TLDR: The president accused his predecessor of wiretapping Trump Tower and has provided no evidence to back up the claim.
PHOTO OF THE DAY: President Trump lands Sunday night back at the White House after his weekend at his Palm Beach, Florida, club, Mar-a-Lago. Here's the image of the president walking across the South Lawn back to the White House just days after those bombshell accusations and still providing no proof to back up his claims. (Photo by Erik S. Lesser-Pool/Getty Images)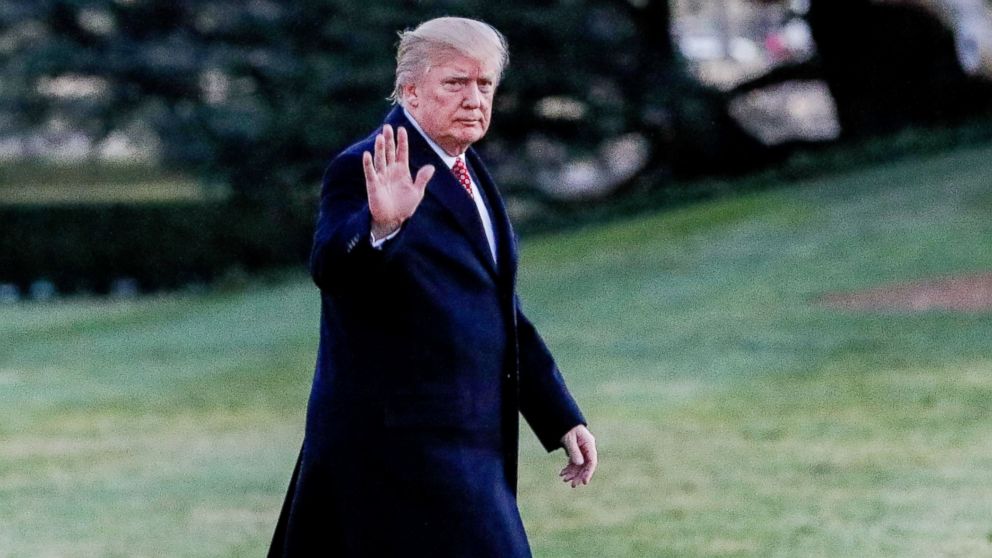 NOTABLES
--THIS MORNING ON GMA: WH SPOKESWOMAN 'DOESN'T THINK' TRUMP ACCEPTS FBI'S REPORTED DENIAL OF ALLEGED WIRETAPPING. Sarah Elizabeth Huckabee Sanders, Deputy White House Press Secretary, said today that she "doesn't think" President Trump would accept the FBI's denial of his claims about being wiretapped at Trump Tower, adding she didn't know whether he had spoken to the law enforcement agency about the matter, reports ABC's MICHAEL EDISON HAYDEN. FBI Director James Comey told the Justice Department to publicly refute Trump's assertion that his predecessor, President Obama, ordered a wiretap of Trump's phones prior to the November 2016 election, government sources familiar with Comey's thinking told ABC News Sunday. http://abcn.ws/2mLCDhw
--WATCH THE FULL INTERVIEW: http://bit.ly/2msNQCO
--COMING UP TODAY: PRESIDENT TRUMP EXPECTED TO SIGN NEW TRAVEL BAN EXECUTIVE ORDER. The Trump administration is expected to unveil a new travel ban executive order Monday, sources tell ABC News. The new executive order officially revokes and replaces the controversial order signed by President Trump in January and blocked by the 9th Circuit Court of Appeals last month. The new order has been crafted to withstand legal challenges, exempting permanent legal residents and applying only to future visa applicants, not those who already hold valid visas, report ABC's JONATHAN KARL and JOHN SANTUCCI. http://abcn.ws/2mcJL4R
--TODAY AT THE WHITE HOUSE: President Trump will receive his daily intelligence briefing this morning. He'll meet Vice President Mike Pence for lunch, followed by meetings with Secretary of State Rex Tillerson, Chairman of the Federal Communications Commission Aijit Pai and Secretary of Veterans Affairs David Shulkin. He will also hold a National Economic Council meeting this afternoon. President Trump will have dinner with Director of the Office of Management and Budget Mick Mulvaney and the Secretary of Health and Human Services Tom Price.
--ICYMI: OBAMA DENIES UNSUBSTANTIATED ACCUSATION THAT HE WIRETAPPED PHONES IN TRUMP TOWER. A spokesman for former President Obama issued a strong denial to President Trump's unsubstantiated accusation that the former commander-in-chief wiretapped Trump Tower phones during the election campaign. "A cardinal rule of the Obama administration was that no White House official ever interfered with any independent investigation led by the Department of Justice," Obama spokesman Kevin Lewis said in a statement Saturday, reports ABC's JORDYN PHELPS. "As part of that practice, neither President Obama nor any White House official ever ordered surveillance on any U.S. citizen. Any suggestion otherwise is simply false." http://abcn.ws/2lHVQvt
SPEED READ with ABC's ADAM KELSEY
TRUMP FLASHES ANGER OVER SESSIONS RECUSAL, RUSSIA STORIES IN OVAL OFFICE MEETING. Before heading off to his so-called "winter White House" in Palm Beach, Florida, on Friday, President Donald Trump summoned some of his senior staff to the Oval Office and went "ballistic," senior White House sources told ABC News. The president erupted with anger over the latest slew of news reports connecting Russia with the new administration -- specifically the abrupt decision by Attorney General Jeff Sessions to recuse himself from investigations into Russian meddling in the 2016 campaign. ABC's JONATHAN KARL and CHRIS VLASTO have more: http://abcn.ws/2m8BKy1
WITH TWEETSTORM, TRUMP MAY HAVE EXERCISED EXCLUSIVE DECLASSIFICATION AUTHORITY. In tweeting accusations that former President Barack Obama ordered surveillance of his campaign, President Donald Trump potentially made public the existence of Top Secret wiretaps – a move that would be a federal crime, if performed by anyone other than the commander-in-chief, explain ABC's BRIAN ROSS, JAMES GORDON MEEK and MATTHEW MOSK. Trump's stunning allegation came in an early morning tweetstorm, in which he wrote in part: "Terrible! Just found out that Obama had my 'wires tapped' in Trump Tower just before the victory." http://abcn.ws/2mREjmf
WHITE HOUSE SPOKESPERSON QUALIFIES TRUMP WIRETAP ASSERTION. A White House spokesperson qualified President Trump's assertion that former President Obama wiretapped Trump Tower during the 2016 election campaign, saying "if this is accurate, this is the biggest overreach and the biggest scandal." "All we're saying is let's take a closer look. Let's look into this. If this happened, if this is accurate, this is the biggest overreach and the biggest scandal," White House principal deputy press secretary Sarah Huckabee said on ABC's "This Week" Sunday, ABC's NICKI ROSSOLL notes. http://abcn.ws/2msKfEX
FRANKEN: 'WE DON'T KNOW WHAT THE RUSSIANS HAVE ON DONALD TRUMP.' Democratic Sen. Al Franken said President Trump's assertion that former President Obama tapped his phones at Trump Tower during the 2016 election campaign are "just ridiculous and a distraction," writes ABC's RILEY BEGGIN. "This is just a distraction, to distract from this very, very serious interference by a foreign power on our democracy and the question of whether Trump world -- his campaign, his business associates -- had anything to do with it and colluding with them," the Minnesota senator told ABC's MARTHA RADDATZ on Sunday. http://abcn.ws/2mbp6hX
FORMER OBAMA SPOKESMAN: TRUMP 'WORKING VERY HARD' TO DISTRACT FROM 'GROWING SCANDAL.' Former White House press secretary Josh Earnest said President Trump's claim that his boss, President Obama, wiretapped phones at Trump Tower is an attempt to divert attention from questions over contacts between Trump associates and Russia, ABC's ALI DUKAKIS notes. "President Trump is working very hard to try to distract the American public and the news media from the growing scandal about why his administration and why he himself has, at best, not been forthcoming about their talks and their ties with Russia," Earnest, who was former President Obama's press secretary, told ABC's MARTHA RADDATZ. http://abcn.ws/2lOPBa6
FORMER BUSH AG: WIRETAP WOULD MEAN SUSPICION OF SOMEONE ACTING AS RUSSIAN 'AGENT.' A former Republican attorney general said that while he disputes President Trump's claim that former President Obama ordered a wiretap of phones at Trump Tower, he believes "there was surveillance" carried out at the request of the Justice Department – which would mean "there were some basis to believe that somebody in Trump Tower may have been acting as an agent of the Russians, for whatever purpose." Michael Mukasey told ABC's MARTHA RADDATZ, "This is the difference between being correct and being right. I think the president was not correct certainly in saying that President Obama ordered a tap on a server in Trump Tower." ABC's NICKI ROSSOLL and QUINN SCANLAN have more: http://abcn.ws/2msZDkH
WHO'S TWEETING
@chrisdonovan: Donald Trump on Barack Obama: As PEOTUS in November in Oval Office: "very good man" As POTUS on Saturday on Twitter: "bad (or sick) guy!"
@matthewjdowd: Here is fundamentally what the WH is now saying: ignore what the President is saying and tweeting, just pay attention to staff. Wow.
@karentravers: After a very explosive, controversial 48 hours - no public events for President Trump today & @PressSec briefing is OFF camera
@benyc: Chaffetz on CBS re:Trump unsubstantiated wiretapping charges: I've not seen anything directly that would support what the president has said
@jonkarl: The last time @PressSec held an on-camera press briefing was a week ago today. The streak continues today