— -- Trump's First 100 Days with ABC's RICK KLEIN and SHUSHANNAH WALSHE
Day No. 20
THE BIG STORY: "Some things are law," President Trump said Tuesday, on his travel ban that's now stalled in court," "and some things are common sense." While that may serve as a useful distillation of the president's legal philosophy, it won't stand up by itself in court, as the judges hearing his administration's appeal made clear in asking for evidence. Just as telling was the scene that played out on Capitol Hill, where Homeland Security Secretary John Kelly said there's no proof that someone is coming to the US with an intent to do harm "until the boom." Leaving aside the law, that's a rather impossible political hurdle to overcome. And that's the context for Trump's inaccurate statements about under-covered terrorist attacks. Common sense dictates that the Trump administration wants fear, based on hypotheticals, to drive policy.
THE SLEEPER STORY: The immediate focus is on Elizabeth Warren and Jeff Sessions and the decades-old words of Ted Kennedy and Coretta Scott King. Sessions will still be confirmed as attorney general on Wednesday, and Warren will be allowed to speak on the Senate floor again after that happens. The lasting impact of this week in the Senate, however, may be massive. For starters, lamentations of fierce partisanship resulted in the formal rebuke and silencing of a liberal hero – and with no apparent larger reason. (Senators have said worse of each other, and Republicans have the ultimate silencing weapon – the majority.) More broadly, the organizing energy that began outside of Washington now has outlet inside of it. Between Betsy DeVos, Sessions, and now Andrew Puzder, the Trump Cabinet has woken up the left without even actually doing anything.
THE SHINY STORY: "The First Lady has no intention of using her position for profit and will not do so," read the statement from the office of First Lady Melania Trump Wednesday morning. That was in response to a new lawsuit where her lawyers argue that a news article they claim to be inaccurate cost her "the unique, once-in-a-lifetime opportunity" to have "multi-million dollar business relationships for a multi-year term during which plaintiff is one of the most photographed women in the world." That the first lady would re-emerge in the news in this way – as part of an attempt to effectively shut down a media organization, no less – is interesting by itself. What matters here is not her marketing opportunities. It's that the lawsuit's stipulations paid no apparent regard to ethics laws. Imagine if Michelle Obama had stated something similar. Think there might have been a congressional investigation of that?
TLDR: President Trump's travel ban is now in the hands of the court, although a ruling on the future of that controversial executive order could come down this week. It's clear from testimony and tweets that the Trump Administration is relying on fear and especially fear of the unknown to drive policy. And last night on the Senate floor Elizabeth Warren was formally silenced by the Republicans in power, after repeating Ted Kennedy and Coretta Scott King's own words against Jeff Sessions. A hashtag quickly followed: #LetLizSpeak.
PHOTO OF THE DAY: Here's progressive hero Elizabeth Warren speaking on the Senate floor last night before she was formally rebuked and silenced.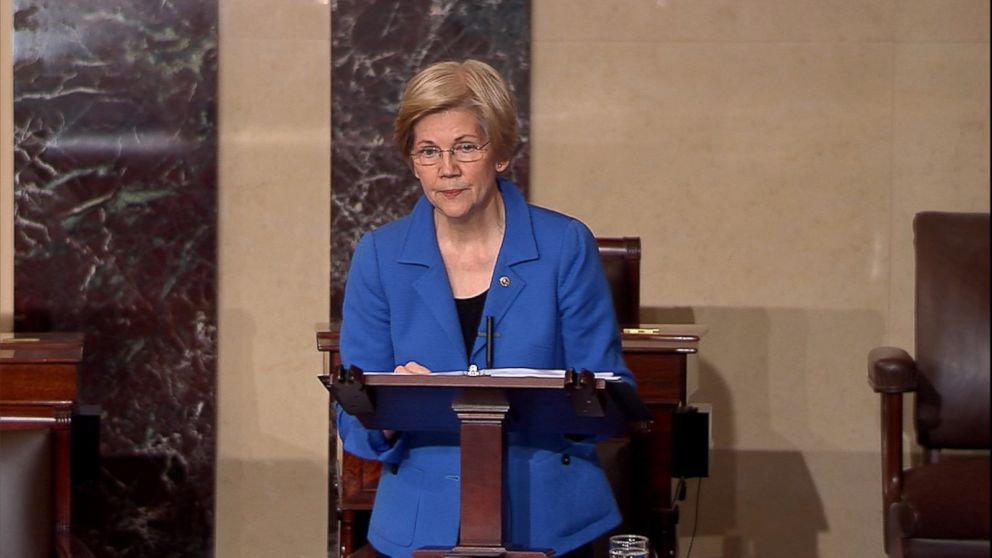 NOTABLES
--JUDGES FOCUS ON WHETHER TRUMP'S IMMIGRATION ORDER IS MUSLIM BAN: Judges from the 9th Circuit Court of Appeals grilled lawyers from the Department of Justice and Washington state Tuesday afternoon over a challenge to Donald Trump's controversial immigration executive order -- questioning whether it constituted a Muslim ban. The hearing, which was conducted by phone, started with the federal judges pressing the DOJ for evidence that would justify reinstating the order, which curtailed immigrants and refugees from seven majority Muslim countries and banned Syrian asylum seekers indefinitely. ABC's MERIDITH MCGRAW has more: http://abcn.ws/2lgZh0m
--ELIZABETH WARREN SILENCED IN SENATE AFTER READING QUOTE CALLING SESSIONS 'DISGRACE': Democratic Sen. Elizabeth Warren was silenced on the Senate floor Tuesday night for surfacing critical comments about Sen. Jeff Sessions, who is Donald Trump's nominee for attorney general. Warren, D-Massachusetts, had been quoting the late Sen. Ted Kennedy's remarks from Sessions' 1986 hearing for a federal judgeship -- part of a series of round-the-clock speeches during the confirmation process of Trump's nominees. ABC's ALI ROGIN and TOM LIDDY have more: http://abcn.ws/2kLr4FI
--8 ATTACKS ON WH TERROR LIST INVOLVE RESTRICTED COUNTRIES: Only eight of the 78 attacks that appeared on a White House list of terrorist incidents over the past two years were committed by individuals from the seven countries affected by Donald Trump's immigration order, ABC's JUSTIN FISHEL and ELIZABETH MCLAUGHLIN report. The White House released the list -- which includes attacks such as those in Nice, France, which killed 84 as well as those in which there was only one injury, for instance -- to bolster its argument that the media was under-reporting on terror. http://abcn.ws/2kGbuZx
--HAPPENING ON THE HILL: Donald Trump's controversial pick for attorney general is expected to be confirmed today over Democratic opposition, ABC's AVERY MILLER and ALI ROGIN note. The Senate is expected to vote on confirmation of Sessions for attorney general around 7 p.m. House Democrats begin their three-day policy retreat in Baltimore Wednesday, where they'll examine the 2016 election results and plot their strategy for the upcoming year.
--TODAY AT THE WHITE HOUSE: President Trump will speak at the Major Cities Chiefs Association's winter conference. Trump receives his daily intelligence briefing and, then later in the afternoon, he'll participate in a legislative affairs strategy session.
SPEED READ with ABC's ADAM KELSEY
DEPARTMENT OF DEFENSE SEEKS SPACE AT TRUMP TOWER. The U.S. military is planning to lease space at Trump Tower in Midtown Manhattan in order to support President Donald Trump when he is in New York City at his residence. "In order to meet official mission requirements, the Department of Defense is working through appropriate channels and in accordance with all applicable legal requirements in order to acquire a limited amount of leased space in Trump Tower," said Lt. Col. J.B. Brindle, a Department of Defense spokesman. ABC's LUIS MARTINEZ has more. http://abcn.ws/2lqe7yC
GOVERNMENT'S OWN WARNINGS TO LAW ENFORCEMENT OFTEN CITE MEDIA REPORTS TRUMP SAYS DON'T EXIST. President Trump claims the media have failed to cover terror attacks against the West, but the U.S. government's own private warnings to federal, state and local law enforcement across the country have largely pulled from press coverage of such terror attacks, ABC's MIKE LEVINE notes. http://abcn.ws/2ln7jlc
DONALD TRUMP CLAIMS US MURDER RATE 'HIGHEST' IN '47 YEARS' DESPITE FBI DATA SHOWING OTHERWISE. President Donald Trump made the claim Tuesday that the murder rate in the U.S. is the highest it's been "from 45 to 47 years" -- a claim that isn't backed up by data from the Federal Bureau of Investigation (FBI). "And yet the murder rate in our country is the highest it's been in 47 years, right? Did you know that? Forty-seven years," President Trump said during a listening session at the White House today with county sheriffs from across the country. ABC's VERONICA STRACQUALURSI has more: http://abcn.ws/2k0AeyH
BETSY DEVOS CONFIRMED AS EDUCATION SECRETARY, WITH PENCE CASTING HISTORIC TIE BREAKING VOTE. Michigan billionaire education activist Betsy DeVos was confirmed yesterday to serve as the secretary of education in President Trump's administration, after Vice President Mike Pence cast a tiebreaking vote in the Senate. The Senate voted on DeVos' highly contentious nomination Tuesday afternoon, and the tally was split evenly, requiring Pence to use his authority as president of the upper chamber of Congress to break the impasse. This was the first time that a vice president has broken a tie to confirm a Cabinet nominee, ABC's ALI ROGIN reports. http://abcn.ws/2jXkqYC
KELLYANNE CONWAY DEFENDS WHITE HOUSE'S CREDIBILITY: WE HAVE 'HIGH REGARD' FOR FACTS. Counselor to the President Kellyanne Conway defended the White House's credibility on CNN Tuesday after she came under fire last week for referring to a Bowling Green "massacre" or "attack" that never actually happened, ABC's LISSETTE RODRIGUEZ writes. "Let me just say we have a very high respect for the truth and I can only speak for me and I'm sorry that I misspoke," Conway told CNN's Jake Tapper. "We have a high regard for the facts." Conway added: "I regretted it tremendously because I used the wrong word to describe something several times. I felt badly about that and I apologize and I rectify." http://abcn.ws/2kQWUAn
HOUSE OVERSIGHT CHAIR SAYS TRUMP DIDN'T WANT TO DISCUSS 'OVERSIGHT' IN MEETING. Rep. Jason Chaffetz, R-Utah, the chairman of the House Oversight Committee, said President Donald Trump told him not to discuss "oversight" during a meeting Tuesday. "Before my bum even hit the chair the president said, 'No oversight, you can't talk about anything that has to do with oversight,'" he told reporters on Capitol Hill Tuesday afternoon after the 30-minute meeting. Chaffetz said his committee's investigation into Hillary Clinton's use of a private email server as secretary of state didn't come up in the Oval Office meeting, ABC's BENJAMIN SIEGEL reports. http://abcn.ws/2kFtcwf
NO LONGER IN OFFICE, OBAMA HANGS LOOSE AND LEARNS TO KITESURF. Even under a helmet, behind dark sunglasses and clad in a pair of swim trunks, the man is unmistakable, ABC's ADAM KELSEY writes. In a scene that would've made Secret Service agents cringe if it took place just over two weeks ago, former President Barack Obama took up kitesurfing while on vacation with billionaire businessman Richard Branson. http://abcn.ws/2jYNRcC
TRUMP: I GET 4-5 HOURS OF SLEEP. Is President Donald Trump the nation's workaholic in chief? Judging by his sleeping habits, he may have a rightful claim to that title, ABC's DAVID CAPLAN writes. "I am working long hours, long hours, and right up till 12:00 a.m. or 1:00 a.m.," Trump, 70, told Fox News' Bill O'Reilly during an interview on "The O'Reilly Factor" that aired Tuesday night. http://abcn.ws/2k1uujh
WHO'S TWEETING?
@kenvogel: SCOOP: Ala Gov Bentley set to fill Sessions seat with state AG conducting Bentley-related probe. #HouseOfCards IRL.http://politi.co/2lm7FIe
@Acosta: White House ramping up search for communications director after Spicer's rocky start http://cnn.it/2kEZ6sE
@betsy_klein: MEANWHILE, @tedcruz's fmr running mate @CarlyFiorina on VA Senate run: 'I'm certainly looking at that opportunity' http://cnn.it/2k2BKjK
@Peterbakernyt: "So far, looks good to me," McConnell tells @hillhulse of opening of Trump presidency. "High level of satisfaction." http://nyti.ms/2k2Uk6o
@BrettLoGiurato: Good story by @akarl_smith on the ramifications of the Trans-Pacific Partnership's death http://read.bi/2lnGMmW