NYC Mayor Eric Adams takes shot at Florida Gov. Ron DeSantis ahead of visit to Staten Island
The two have previously feuded over sending migrants to New York.
New York City Mayor Eric Adams greeted Florida Gov. Ron DeSantis with a sarcastic tweet Monday morning ahead of the GOP star's visit to the borough of Staten Island.
Adams, a Democrat, has feuded with the Florida governor repeatedly over DeSantis sending migrants to the Northeast and the state's so-called "Don't Say Gay" law. Adams singled out several GOP talking points in his tweet as he "welcomed" the governor -- a possible presidential candidate in 2024.
"Welcome to NYC, @GovRonDeSantis, a place where we don't ban books, discriminate against our LGBTQ+ neighbors, use asylum seekers as props, or let the government stand between a woman and health care," Adams wrote.
"We're happy to teach you something about values while you're here," he added.
DeSantis met with local law enforcement in Staten Island on Monday morning. He was joined by Lee Zeldin, the former New York congressman who lost a heated battle for governor to Democrat Kathy Hochul.
"We're doing it right in Florida, and my message is -- if you're disenchanted, if you don't think things are gonna turn around wherever you are, not just in New York, wherever, just know that there's a state that that's doing it right," DeSantis said Monday. "There's a state that that will value your service and more importantly than just someone like me going out there and doing it."
Last April, Adams and DeSantis got into a war of words over the Parents Rights in Education bill, known as the "Don't Say Gay" bill for its ban on teaching young students about LGBT+ issues. Adams said he planned to put up billboards in Florida to encourage people to move to the city if they were offended by the then-bill, which DeSantis has since signed into law.
DeSantis said Adams was wasting taxpayer dollars, though Adams clarified the billboards would be donated by private individuals.
"I like rivalries with other states," Adams said last April. "Florida can bring it on. ... New York is the place to be, specifically with the 'Don't Say Gay.'"
Adams also made pointed criticism of DeSantis last September when he labeled the busing of migrants to the Northeast as "a political stunt."
"I thought what really personified that political stunt is the governor of Florida," Adams said at an unrelated press conference when asked about the issue. "He had nothing to do with it. I mean, what was his purpose of sending a planeload to Martha's Vineyard. He just felt as though he wanted to get into this horrendous action."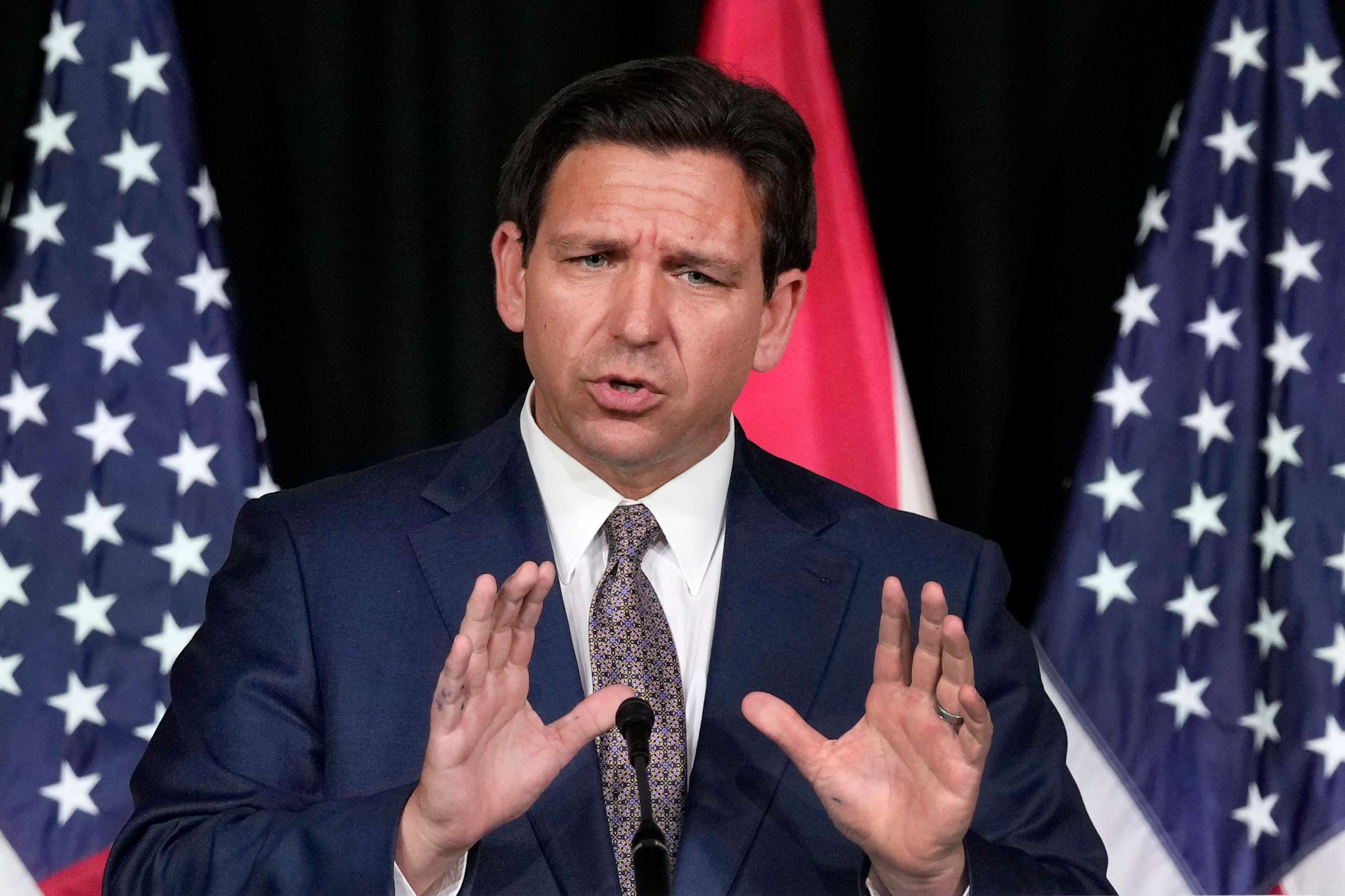 Staten Island is the one borough in New York City that regularly leans right on the political spectrum. The island, off the coast of New Jersey, is represented by Nicole Malliotakis, a strong supporter of former President Donald Trump.
Malliotakis also ran for mayor in the race that immediately preceded Adams' election to head up the biggest city in the country. She lost handily to incumbent Bill de Blasio.

While he has yet to announce a run, DeSantis is generally assumed to be Trump's top rival for the GOP nomination in 2024.
ABC News' Kelly Livingston and Ben Stein contributed to this report.