House Speaker Nancy Pelosi on Thursday accused Attorney General William Barr of committing a crime by lying to Congress about his handling of special counsel Robert Mueller's report and charged that President Donald Trump has obstructed justice by blocking administration officials from testifying on Capitol Hill.
"The attorney general of the United States did not tell the truth to the Congress. That's a crime," Pelosi said angrily, one day after Barr testified before the Senate Judiciary Committee.
"He lied to Congress. If anybody else did that, it would be considered a crime," Pelosi added. "Nobody is above the law. Not the president of the United States and not the attorney general. Being attorney general does not give you a bath to go say whatever you want and it is the fact because you are the attorney general. It just isn't true."
The Justice Department shot back within minutes.
"Speaker Pelosi's baseless attack on the Attorney General is reckless, irresponsible, and false," Kerri Kupec, a DOJ spokesperson, said in a statement.
A senior aide to Pelosi said that the speaker's allegation stemmed from testimony Barr delivered in an exchange with Rep. Charlie Crist at a House Appropriations subcommittee hearing on April 9.
"Reports have emerged recently, general, that members of the special counsel's team are frustrated at some level with the limited information included in your March 24th letter, that it does not adequately or accurately necessarily portray the report's findings. Do you know what they're referencing with that?" Crist, D-Fla., asked.
"No, I don't," Barr answered. "I think I suspect that they probably wanted more put out, but in my view I was not interested in putting out summaries or trying to summarize because I think any summary regardless of who prepares it not only runs the risk of, you know, being underinclusive or overinclusive but also would trigger a lot of discussion and analysis that really should await everything coming out at once."
Barr has also been accused of lacking candor in response to a question from Sen. Chris Van Hollen on April 20.
Van Hollen asked Barr, "Did Bob Mueller support your conclusion?"
Barr answered, "I don't know whether Mueller supported my conclusion."
In a March 27 letter to Barr made public just before Barr's testimony before the Senate Judiciary Committee on Wednesday, Mueller complained that Barr's initial four-page summary of the probe's findings led to "public confusion about critical aspects of the results of our investigation."
Pelosi also charged that Trump's resistance to congressional subpoenas amounts to "obstruction of justice."
"The statements being made by the president of the United States [who] has given a blanket statement that he's not going to honor any subpoenas is obstruction of justice," Pelosi said. "I think that many of the statements that the administration has made has been about obstruction of that justice. We are in a very, very, very challenging place."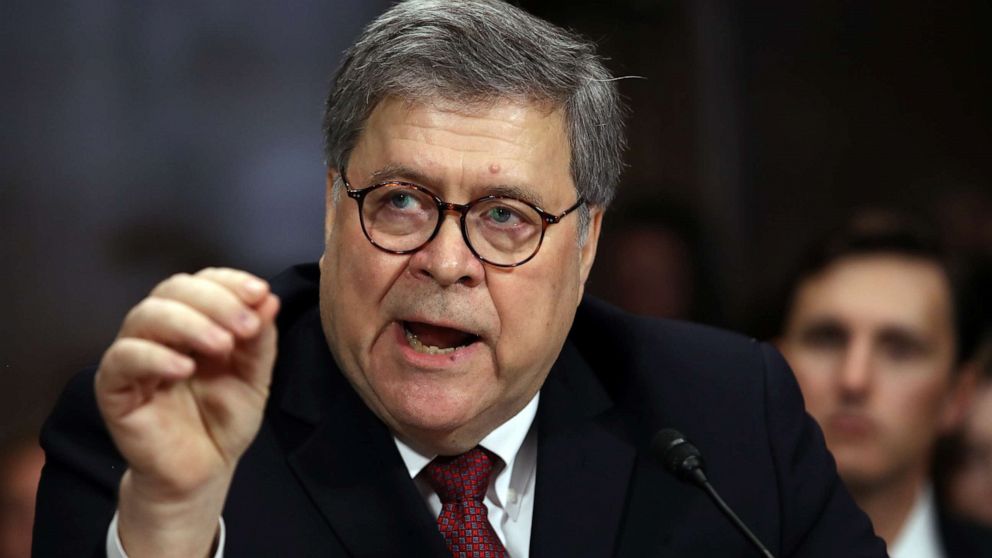 Asked what consequences she is considering for administration officials who don't comply with congressional oversight, Pelosi indicated she will follow the lead of her committee chairs, but pointed out that one of the articles of impeachment against President Richard Nixon was drafted because he ignored congressional subpoenas.
"This is very, very serious. But my judgment will spring from the judgment of our committee chairs," Pelosi said.
Pelosi said that as she watched the hearing, she wondered what motivated Barr "to disrespect the Constitution" and Congress' power to conduct oversight. Then she says she came to the realization that it's part of the administration and congressional Republican strategy to fight for special interests that oppose the Democratic agenda.
"I really lost sleep last night after watching over and over again the testimony of the attorney general of the United States," Pelosi said. "How sad it is for us to see the top law enforcement officer in our country misrepresenting, withholding the truth from the Congress of the United States."
Pelosi also blasted Senate Majority Leader Mitch McConnell, who has dubbed himself the "Grim Reaper" of Democratic legislation, because he refuses to allow Senate votes on several bills passed by the House.
And she accused the Justice Department of simultaneously "intensifying its assault on the Affordable Care Act."
"What possible motivation could the attorney general have to dishonor the office that he holds right there for the whole world to see? Then I began to connect the dots," she said. "His motivation, his loyalty is not to his oath of office and it is to Donald Trump. But all of it and the Republicans in Congress is to the special interests."
"I have news for Mitch McConnell: He may consider them dead on arrival and the Grim Reaper for all these actions taken by the House of Representatives. They are alive and well among the American people," she said.
"The connecting of the dots between Mitch McConnell, the Republican agenda in Congress such as it is, the special interests agenda fueled by dark special interest money, that's what that hearing was about," she said, referring to Barr's testimony on Wednesday.