Pence: Trump, first lady will be 'out with the families' in Texas
"I think the scope is truly breathtaking," Pence said of storm's devastation.
—CORPUS CHRISTI, TEXAS -- On his first visit to Texas after it was ravaged by Hurricane Harvey, Vice President Mike Pence hugged survivors, prayed with them, even pitched in to help haul away debris from a damaged home.
"I think the scope is truly breathtaking," Pence told ABC News Chief White House Correspondent Jonathan Karl in an interview in Rockport, Texas. "We're gonna be here today, tomorrow, until it's done. It's not months, it's years."
Pence added that President Donald Trump will take his turn this weekend.
"The president and first lady will be back here [in Texas] on Saturday, out with the families," Pence said. The White House said Trump plans to visit the Houston area as well as parts of southern Louisiana, also hit by severe floods.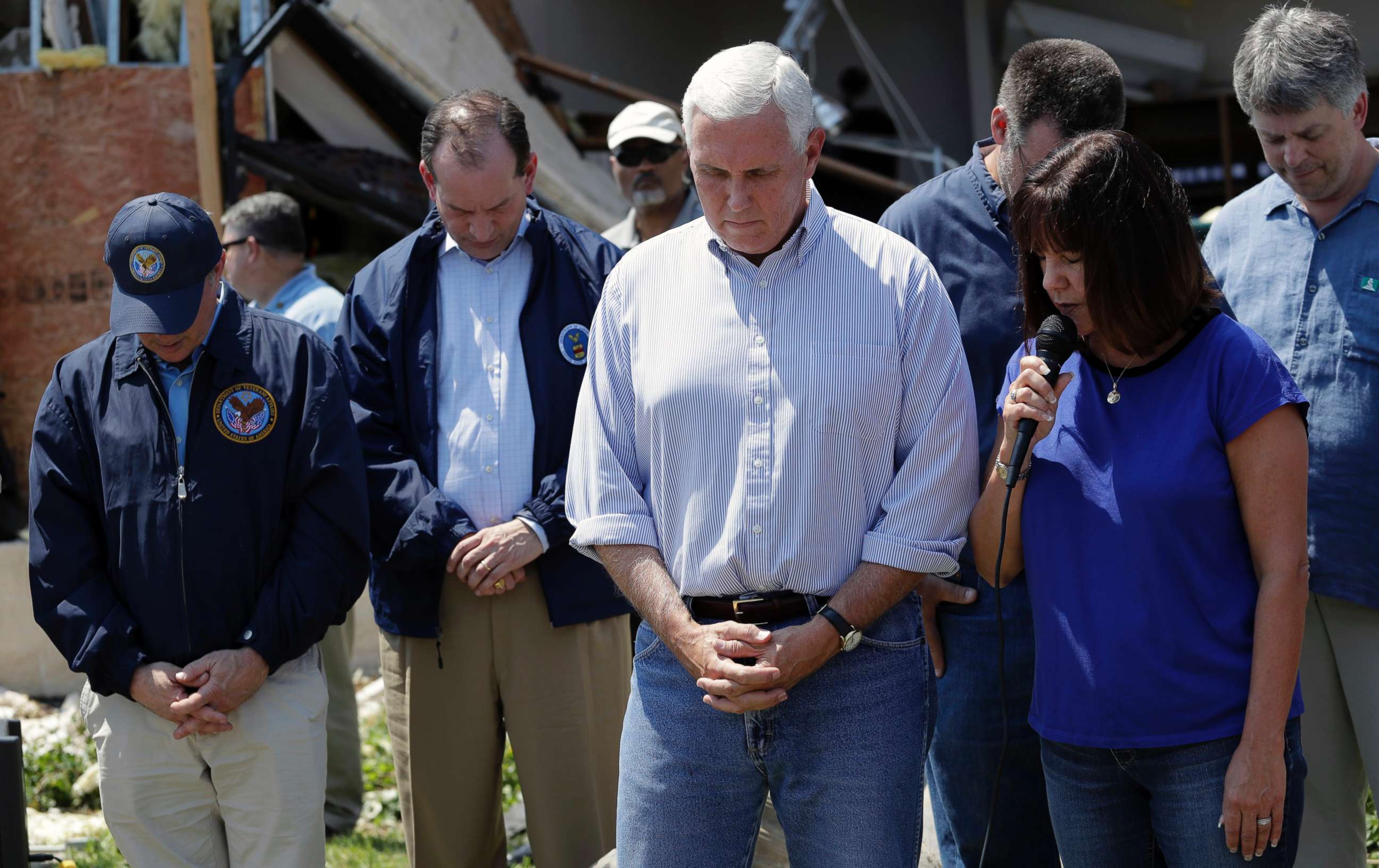 Trump took some heat when he visited Texas earlier this week, spending his time with state and local officials rather than surveying the damage firsthand or meeting with residents.
While Pence pledged unwavering federal government support, he notably stood by the president's threat of forcing a government shutdown later this month if Congress does not approve funding for a new border wall.
"If we have to close down our government, we're building that wall," Trump said during a campaign rally last week in Arizona. "We're going to have our wall. The American people voted for immigration control. We're going to get that wall."
Pence said today, "The president's made clear that we're going to stand firm and we're going to build a wall and secure our border.
"But I will tell you, President Trump's made it very clear that our top priority right now is dealing with Hurricane Harvey and its aftermath," Pence added, "and making sure that people of Texas and this region have the resources and the support that they need to rebuild their lives."
Congress has until the end of the month to come up with a plan to raise the debt ceiling to avoid a government default, and pass a spending budget.
Pence's visit came just two days after Trump visited Corpus Christi and Austin, meeting with state and local officials but foregoing any tour of damage or in-person meetings with those now homeless because of Harvey.
The vice president landed today in Corpus Christi -- near where the storm made landfall Friday night as a Category 4 Hurricane -- joined by his wife, Karen Pence, and several Cabinet members. They traveled to the town of Rockport and did an aerial survey of Victoria. The small coastal city of Rockport has a population of around 10,000 people and received a nigh-direct hit from Harvey when it first made landfall, leveling some structures entirely.
"You've inspired the nation by your resilience and by your courage and we just came here to commend you and to encourage you and to assure you that we will be there," Pence told residents of Rockport.
The visit was just the latest in a full-court press by the Trump administration to show engagement in responding to the historic storm, as the president faces low job approval ratings.
Gulf Coast residents struggle to recover after Hurricane Harvey
Members of First Baptist Church of Loeb chain saw pews and clean up the church on U.S. 69 that had eight feet of water in it due to Hurricane Harvey flooding in Lumberton, Texas, Sept. 7, 2017.
But a more significant task lies ahead as the administration considers how it will reach a deal with Congress to approve funding to support the state and local response.
Trump himself acknowledged the gravity of the situation in his Tuesday visit, telling officials in Austin, "Probably there's never been anything so expensive in our country's history."
Listen to the full conversation between Vice President Mike Pence and ABC News' Jonathan Karl on the "Powerhouse Politics" podcast.