Vice President Mike Pence visited the Calexico border wall Monday where he received a briefing on the construction of the barrier, got a tour and delivered remarks to Customs and Border Patrol employees.
Interested in
Mike Pence?
Add Mike Pence as an interest to stay up to date on the latest Mike Pence news, video, and analysis from ABC News.
The construction Pence visited is a reconstruction project to replace the original wall which was built in the 1990s and is not part of the new border project that President Donald Trump wants, although he did seem to conflate the two in a tweet last month, tweeting pictures of the Calexico project.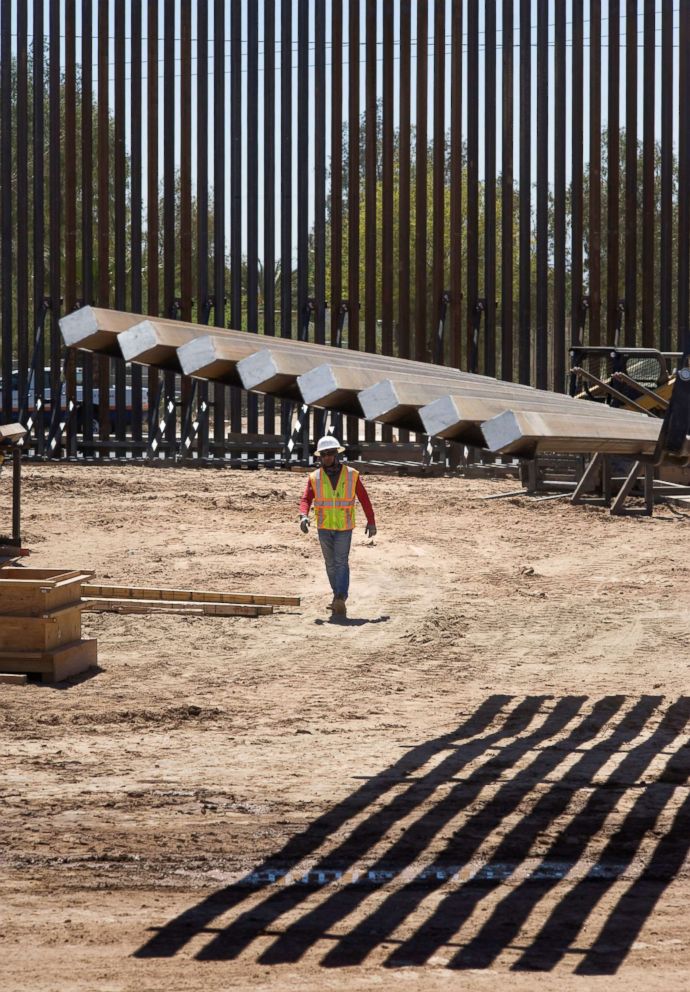 The original Calexico border wall was built in the 1990s out of recycled scraps of metal and old landing mat, CBP said in a statement in February, when work on the replacement began.
Pence acknowledged that the barrier at the Calexico border existed prior to Trump's calls for a more massive wall but said the repairs, which will increase the height of the wall by several feet, underscores the need for stronger reinforcements everywhere.
"This is the beginning of keeping our promise to the American people that we're going to build a wall," Pence said.
The Calexico project funding was allocated in FY2017 before Congress passed its current spending bill which included $1.6 for border construction, but much of which is for replacement building and technological advancements, not the construction of the border wall itself.
About 120 miles west of Imperial, Calif., where Pence was visiting, a caravan of upwards of 100 people from Central America seeking asylum in the United States were on the Mexican side of the border, outside a port of entry in San Diego.
As of Monday morning, none of the travelers had been processed by U.S. Customs and Border Protection. On Sunday evening, Border Patrol commissioner Kevin McAleenan released a statement saying that the San Ysidro port of entry had "reached capacity."
During his border visit, Pence said the caravan's participants, who had been seeking asylum in the United States, were proof that the U.S. needs to reform its immigration laws beyond a physical wall.
People who come to the border seeking asylum are often sent to detention centers elsewhere in the United States, a process that immigration hawks have come to call "catch and release."
Pence said the U.S. must end that practice in order to stop "enticing" people to make the long and often dangerous trip to the United States, a lucrative business for human traffickers, even if they do not fit the definition of a legitimate asylum-seeker.
"This caravan, and caravans that have come before, are the result of individuals who are attempting to exploit the suffering of the people of Central America," he said.
But Pence was asked why the U.S. continues to cut the number of refugees it allows into the country and is trying to reduce the number of people who can be considered for asylum overall, even though they may have legitimate asylum cases and are not simply victims of human trafficking. The AP reported last month that the U.S. will take in about 21,000 refugees this fiscal year, well below the administration's 45,000-refugee cap and roughly a quarter those granted entry in the final year of Barack Obama's presidency. The administration's ban on people from six Muslim-majority countries is being debated in the Supreme Court, which just heard the case last week.
"I think we always have to put the interest of America first, and our immigration policies come from a broad range of considerations," Pence said.
He added that the U.S. can do more to help people who are struggling in Central American countries so that they do not have as much as an incentive to come to the United States.
President Trump, who has also openly critical of the caravan, was asked about it at a press conference Monday, before Pence's remarks. He said that it had dwindled in numbers, from over 1,000 people to around 100 now, and appeared to attribute that to Mexican immigration laws. He noted that the activists had walked "all through Mexico," remarking that people don't know how big Mexico is as a country.
He used the caravan question to make a call for tougher immigration laws, skirting the actual question being asked, of what percentage of the migrants deserved asylum.
"We need a change in the law. Catch and release is ridiculous. If they touch our country, you catch them and release them into our country. That's not acceptable to anybody," he said.
Previously, Trump had mentioned the caravan during his rally on Saturday night in Michigan.
"Are you watching that mess that's going on right now with the caravan coming up? Are you watching this and our laws are so weak, they're, so pathetic," he said.
ABC's Meghan Keneally contributed to this report.