Comey weighs in on 5 key political players in his exclusive interview with ABC News
The former FBI director gave his read on some key political players.
The surprise firing of former FBI Director James Comey rocked the political world, and now he's re-entering the fray with some revelations that could send shockwaves of their own.
Comey weighed in with comments about some key political players, from ret. Gen. Petraeus to Attorney General Jeff Sessions, in an exclusive interview with ABC News chief anchor George Stephanopoulos ahead of the April 17 release of his book "A Higher Loyalty: Truth, Lies, and Leadership."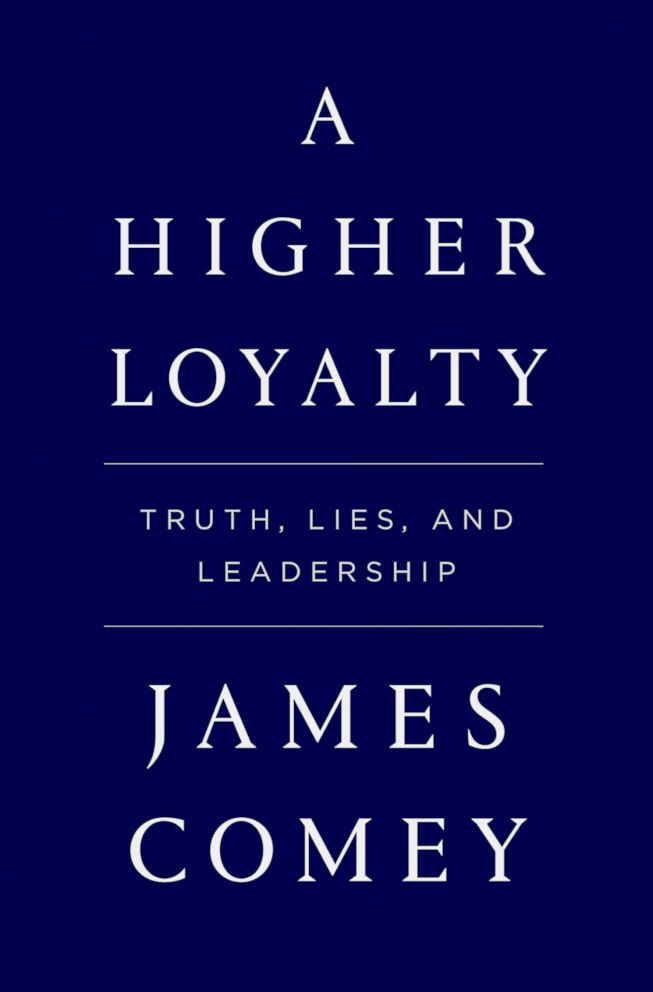 Here are some of the most interesting opinions Comey shared on political figures.
1. Sounding off on ret. Gen. David Petraeus' missteps
Comey spoke at length about the Hillary Clinton email saga, and when he was asked at one point to compare that situation to the case of Gen. David Petraeus, he said he felt the charges filed against the former general didn't go far enough.
Petraeus resigned in 2012 after revelations that he had an affair with his biographer, Paula Broadwell, and shared classified secrets with her.
"He was the director of the CIA," Comey said. "He was having a romantic relationship with a woman who was also an author, going to write a book about him."
"He had taken home and stored in a backpack notebooks full of notes about some of the government's most sensitive secrets. Classified at the top level in the government, including conversations with President Obama about special access programs, some of our-- our most closely guarded secrets. And he had given these notebooks to this person who had neither a need to know, nor the appropriate clearance. And he'd actually allowed her to photograph pages containing top secret information. And then, when the F.B.I. interviewed him about it, he lied about it," Comey said.
Petraeus pleaded guilty to a misdemeanor charge for mishandling classified information in 2015. (link to our previous reporting: http://abcnews.go.com/Politics/cia-head-david-petraeus-plead-guilty/story?id=29340487)
"I thought David Petraeus should've been prosecuted not just for the mishandling of the classified information, but also for lying to the F.B.I. because lying is-- strikes at the heart of our rule of law in this country."
2. Rosenstein viewed as 'dishonorable'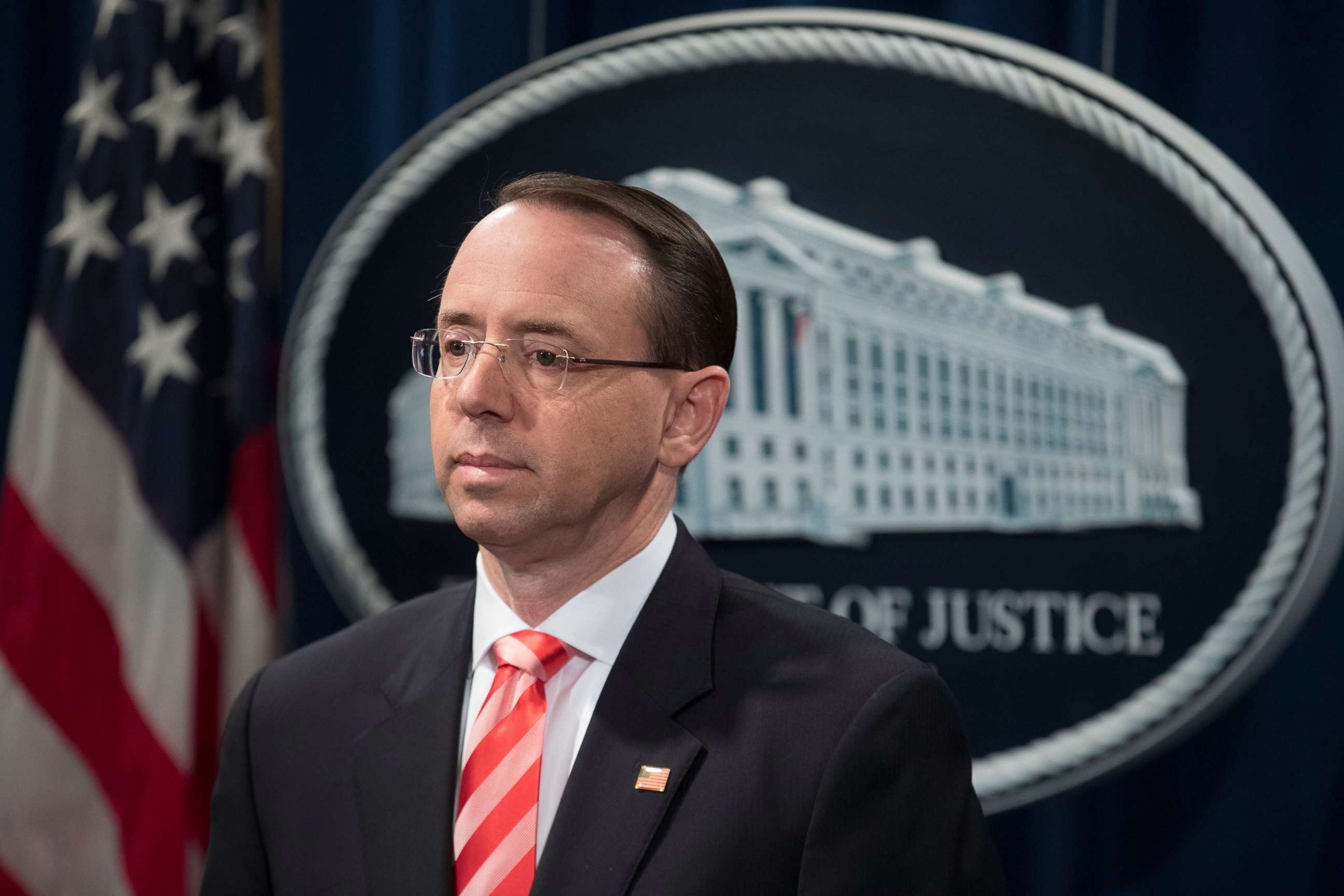 Comey said his view of Deputy Attorney General Rod Rosenstein is colored by a memo Rosenstein wrote to Attorney General Jeff Sessions that was cited by the White House as the reasoning for Comey's firing in May 2017. The memo criticized Comey for his handling of the Hillary Clinton email investigation – specifically for his July 2016 press conference at which he announced the findings of the FBI investigation, and his Oct. 28, 2016, letter to Congress stating that the investigation had been reopened due to the discovery of additional emails.
"The way [Director Comey] handled the conclusion of the email investigation was wrong, " Rosenstein wrote. "As a result, the FBI is unlikely to regain public and congressional trust until it has a Director who understands the gravity of the mistakes and pledges never to repeat them."
Comey told Stephanopoulos, "The deputy attorney general, in my view, had acted dishonorably by putting out this pretext about why I was fired."
The former FBI chief further said that Rosenstein is now too much in Trump's orbit.
Comey told Stephanopoulos that he sees Trump and his team as acting similarly to mafia families in making people feel as if they are part of the family, and in turn, expecting these people to act according to the families' best interests.
"He's part of the family now. I can't trust him," Comey said of Rosenstein.
Rosenstein is the one at the Department of Justice who now has authority over special counsel Robert Mueller's team and their investigation into Russian interference in the election, since Attorney General Jeff Sessions recused himself. There has been much speculation as to whether President Donald Trump will decide to fire Mueller. If he does, most legal experts believe that order would have to go through Rosenstein.
When asked by Stephanopoulos is he believes that Rosenstein would carry out such an order, Comey said that he may not in an effort to make up for Comey's firing.
"I think, given his experience with me, that he has an opportunity in overseeing Bob Mueller to restore some of his professional reputation. And I'm highly confident that he would refuse to abide that order," Comey said of Rosenstein.
3. Sessions seen as 'over matched'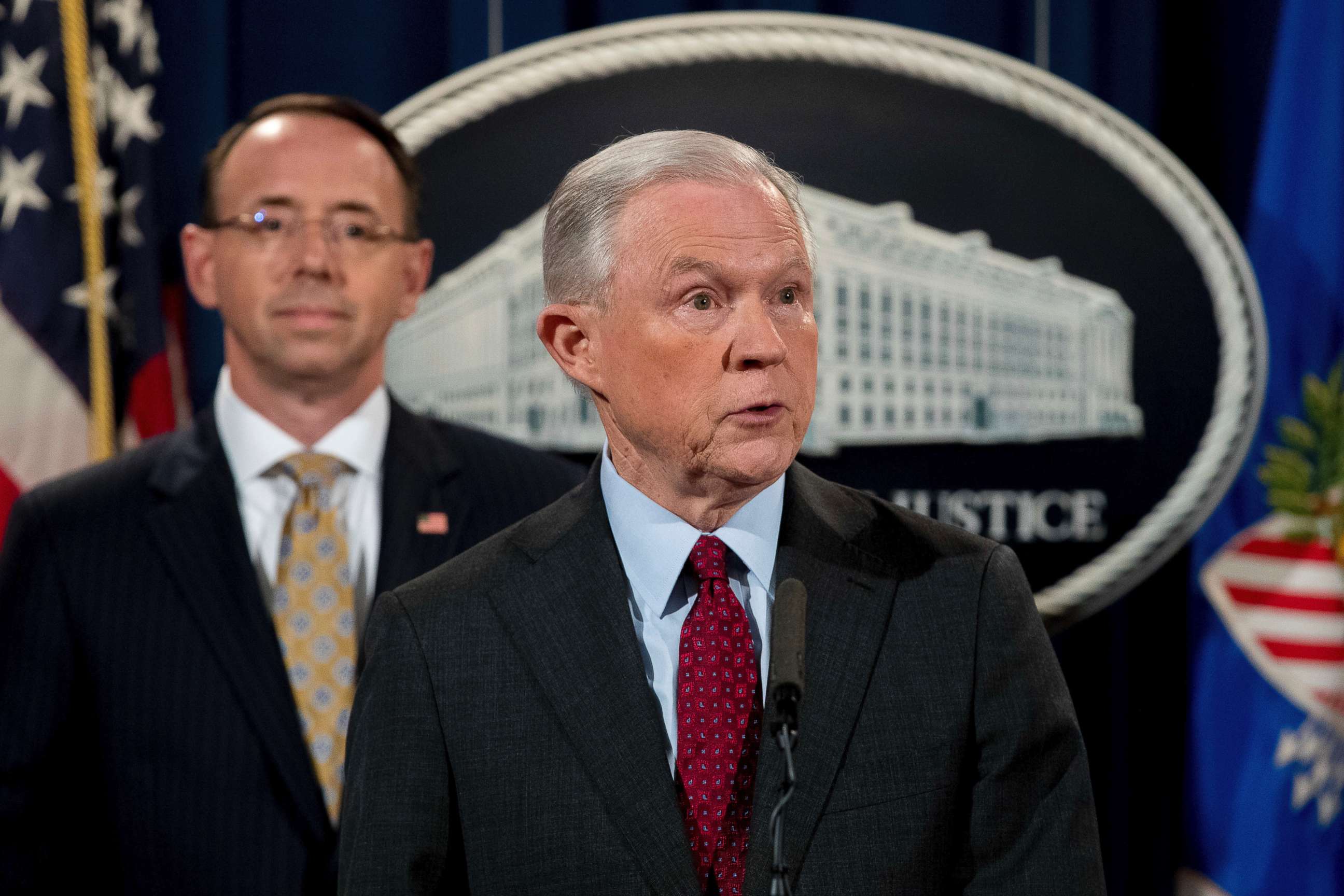 Comey told Stephanopoulos that he was unsure of his views on Attorney General Jeff Sessions.
"I don't know what to make of him. I mean, I only worked with him very briefly before I was fired. My sense of him, maybe it's unfair to him, was that he was over matched for the job. And that the job was much, much bigger than he was. And that he was gonna struggle in it. That's my sense," Comey said.
4. Obama's comments about Clinton's emails were "inappropriate"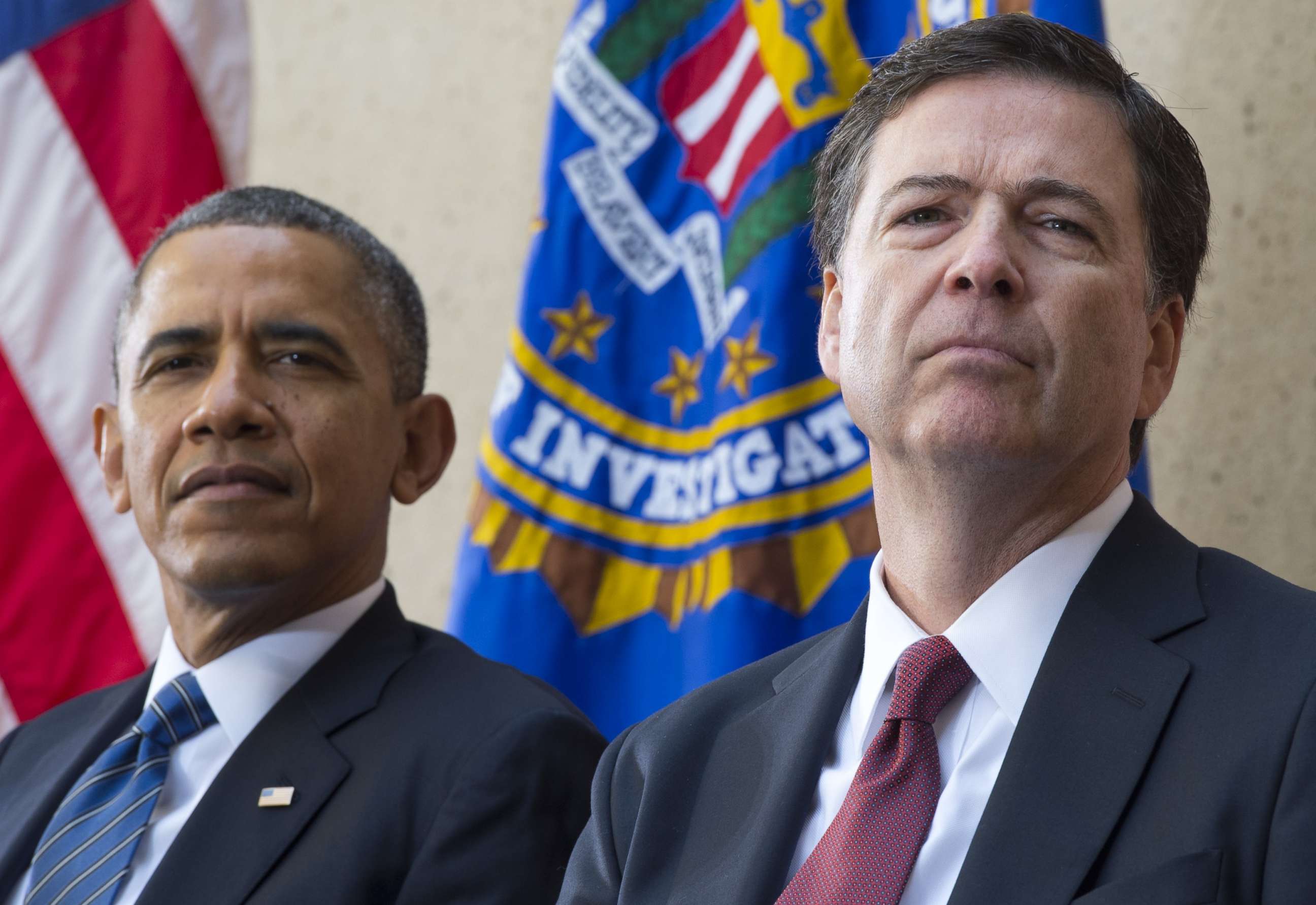 Comey didn't limit his criticisms to Republicans, saying that some of President Obama's behavior surrounding the Clinton email scandal baffled him as well.
"We had the problem that President Obama had twice publicly basically said, 'There's no there, there' in an interview with-- on Fox, an interview on 60 Minutes I think, both times he said that," Comey said.
"It really did surprise me. He's a very smart man and a lawyer. And so it surprised me. He shouldn't have done it. It was inappropriate," Comey said.
When asked by Stephanopoulos if Obama was trying to "color the case" against Clinton, Comey said "I don't know. I don't think so."
"He didn't have any insight into the case, at least as far as I know, more than anybody readin' the newspaper did, which was zero 'cause there were no leaks," Comey said. "I think he felt a pressure in the political environment because he wanted Hillary Clinton to be elected, to give her a shot in the arm."
5. Comey would be fine with Kelly quitting now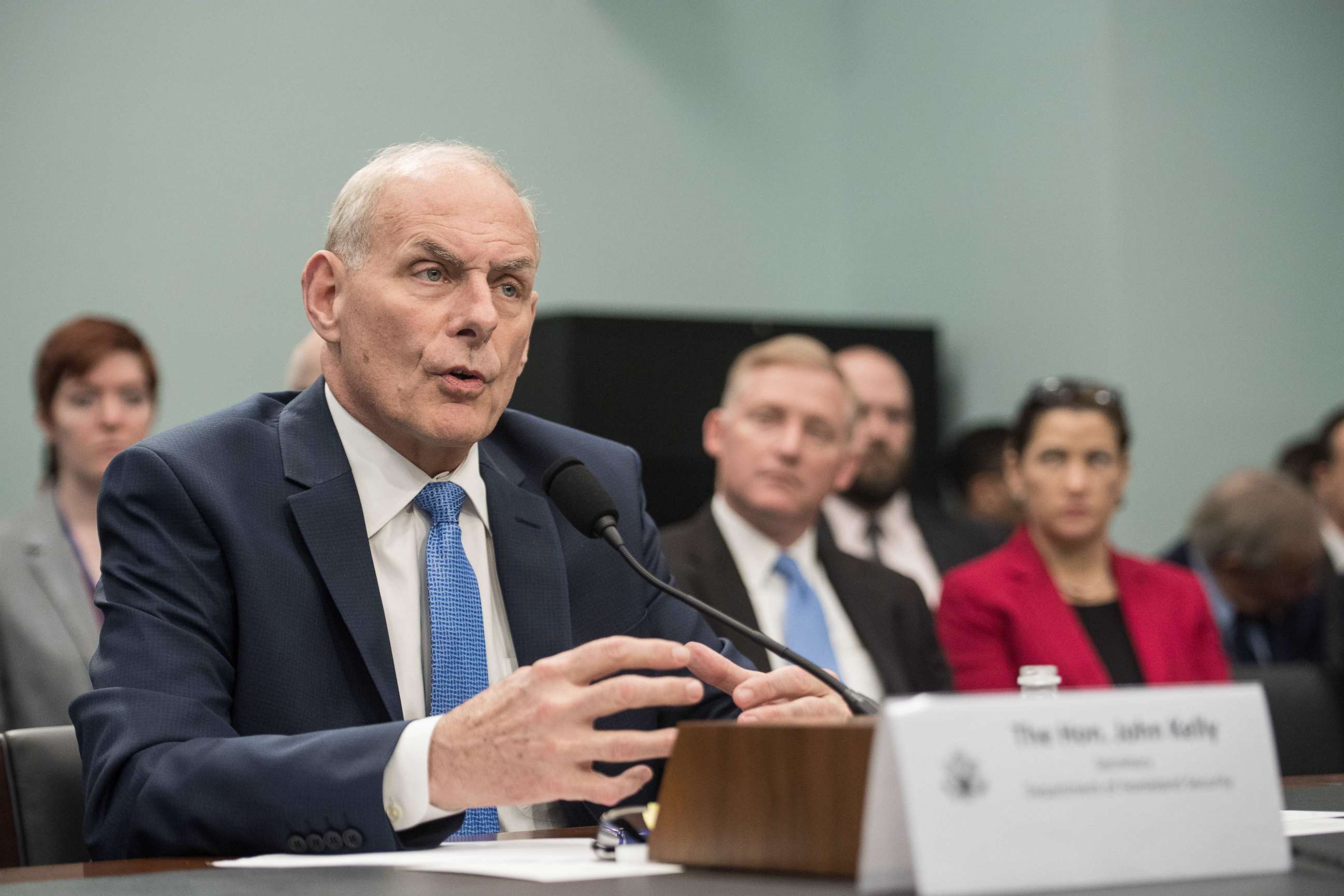 In the immediate wake of his sudden firing by Trump, Comey received several concerned phone calls. In addition to receiving a confused call from his wife Patrice, who had heard that he was fired before hearing it from Comey directly, and then getting a call from a different friend, Comey says he also got a call from then-Secretary of Homeland Security John Kelly, who now serves as Trump's chief of staff.
Kelly "was very upset," Comey said. "He was very emotional and said he had seen the news and that he intended to resign because he wouldn't work for people who would treat someone like me in such a dishonorable way and that he was gonna quit."
Comey said he urged Kelly to remain in the administration.
"Please don't do that, John," Comey recalled telling Kelly. "And I knew him well and still… thought highly of him then, still think highly of him, and I said, 'Please don't do that. This president needs people of character and principle around him, especially this president. Please don't do that.' And I said, 'We need you to stay and serve for the country.'"
"If he called you today saying he intended to quit, what would you tell him?" Stephanopoulos asked.
"I understand. I think you've sacrificed as much as you really can of yourself for the country. And no one would begrudge you leaving. You've done your absolute best. It's come at a cost to you, but that no one can blame you," Comey said.
The White House referred ABC News to the Republican National Committee for comment from Kelly.
"What's dishonorable is that James Comey lied about leaking information to the media, consistently contradicted himself in testimony, and made a series of bizarre decisions as FBI director. That's why Republicans and Democrats alike have said he has no credibility," RNC spokesman Michael Ahrens said in a statement to ABC News.