President Donald Trump's brand new secretary of state, Mike Pompeo, on Friday revealed new details about his secret meeting with Kim Jong Un – saying Kim is "serious" about getting rid of his nuclear weapons – and that he's doing so because of the president's "global pressure campaign" to isolate North Korea economically and diplomatically.
It was all part of Pompeo's busy first full day on the job, already overseas and meeting with European allies at a NATO summit in Brussels, Belgium. Just over 24 hours into his new role, it's clear that given his relationship with Trump, his extensive time in Washington, and his views on pressing foreign policy challenges, he will be a different top diplomat from his predecessor.
Just weeks before he was confirmed as secretary of state, Pompeo met one-on-one in a secret meeting with Kim Jong Un in Pyongyang, helping to prepare for Kim's summit with Trump in May or early June.
In his first news conference, Pompeo refused to go into great detail about the meeting, but he was asked if after meeting Kim, he thinks he is unstable or if he's serious about talks.
"Yes, I did get a sense that he was serious," he said, adding praise for Trump, "The economic pressure that has been put in place by this global effort that President Trump has led him to believe that it's in his best interest to come to the table and talk about denuclearization."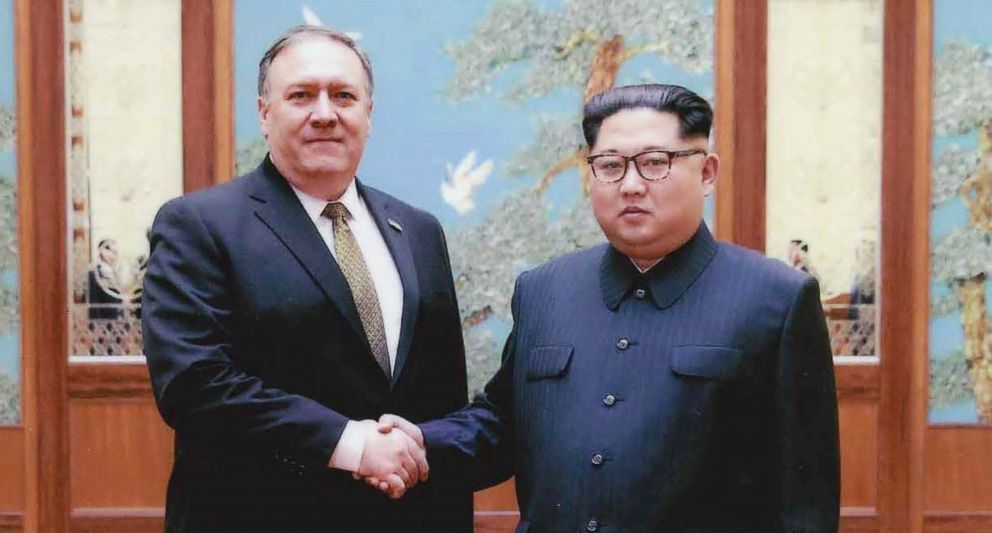 The Trump administration helped pass three rounds of sanctions at the United Nations Security Council in 2017 and has lobbied countries around the world to break off economic and diplomatic ties with North Korea as it tightens pressure on the regime. Deemed the "global pressure campaign," it was led by former Secretary of State Rex Tillerson and his team, a project that now falls to Pompeo.
Pompeo said that pressure will remain until North Korea takes action, cautioning that he's "always careful" given the country's record of duplicity. Trump said Thursday that he will walk away if the talks fail, with the sanctions regime still in place.
"But in the event we reach a resolution, it would be a wonderful thing for the world," Pompeo added.
DIPLOMATIC 'SWAGGER'
Pompeo appeared confident and comfortable with his foreign counterparts at NATO, not just smiling for photos and sharing laughs, but also commanding a press conference with the ease of a former member of Congress.
But one of the most important challenges Pompeo faces in his new role is back home in Washington -- boosting an agency that has been described as "gutted," with several top positions vacant and rank-and-file members infuriated by hiring and promotion freezes and by proposed budget cuts.
Pompeo had his first meeting with overseas personnel at the U.S. mission to NATO and told reporters, "They may have been demoralized, but they seemed in good spirits."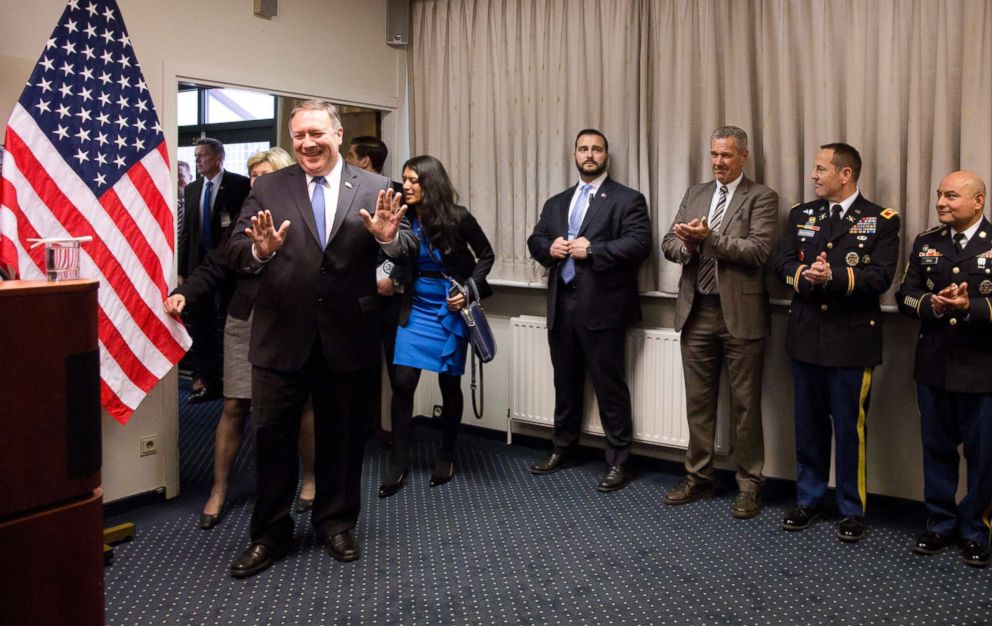 "They're hopeful that the State Department will get its swagger back, that we will be out doing the things that they came on board at the State Department to do," he said. "That's my mission set, is to build that esprit [de corps] and to get that team on the field so we can effectuate American diplomacy."
Pompeo will start at the department in Washington on Tuesday.
After a week of lobbying by French President Emmanuel Macron and German Chancellor Angela Merkel, the fate of the Iran nuclear deal still rests in Trump's hands after he threatened to withdraw the U.S. if there was not a supplemental agreement to address what he called the deal's flaws. The deadline is May 12, when Trump must re-sign sanctions waivers as part of the U.S.'s commitments under the six-party agreement or let them snap back and breach the agreement, possibly destroying it.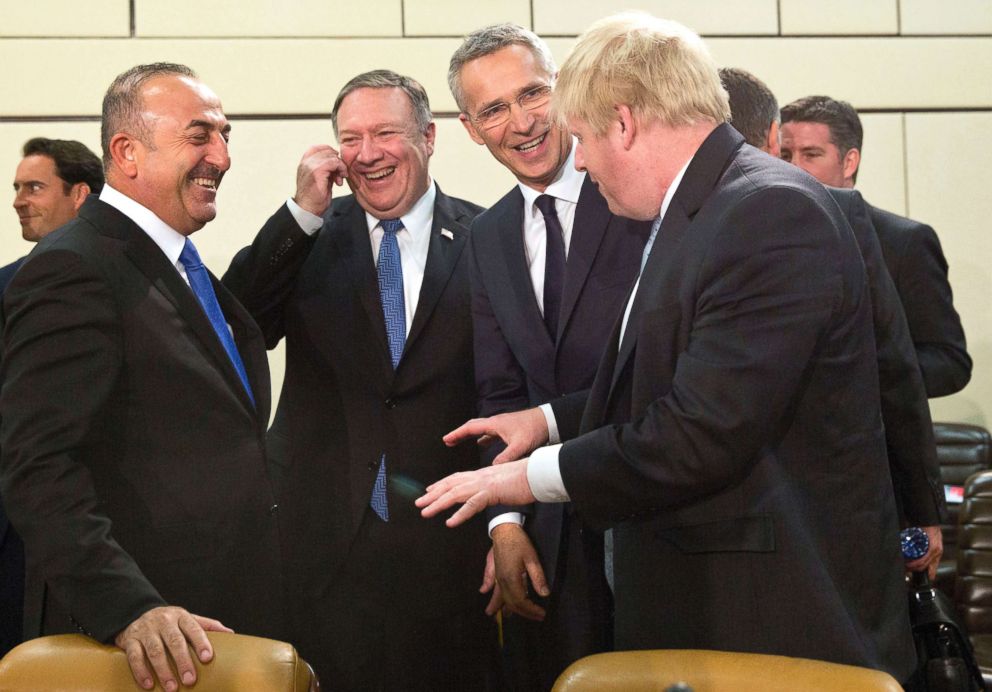 "There's been no decision made," Pompeo said. But the former Ccngressman who once called for tearing up the deal said Trump has been clear: "Absent a substantial fix, absent overcoming the shortcomings, the flaws of the deal, he is unlikely to stay in that deal past this May."
The issue was discussed with European allies during his time at NATO, he said, and he plans to talk about it on his stops in the Middle East Saturday and Sunday, too. Pompeo will visit Saudi Arabia, Israel, and Jordan, where he and his counterparts will also discuss "ways to potentially address those shortcomings," he said.