— -- President Obama has had some illustrious golfing buddies on his vacation this summer on Martha's Vineyard, but perhaps no one who understands the pressures of his job as well as former President Bill Clinton, who joined him today at the Farm Neck Country Club.
The president also had former U.S. Trade Representative Mark Kirk and Clinton confidante Vernon Jordan along for the day. Later Saturday evening, the Obamas and the Clintons (wife Hillary was coming in from her visit to the Iowa State Fair) were expected to celebrate Jordan's 80th birthday at his annual party, held at his rental home here.
The foursome seemed relaxed, with Kirk and Obama giving each other a side-hug at one point -– and Clinton even picking up a flag that had fallen at the first hole, then having to catch up with the other three who had walked ahead of him.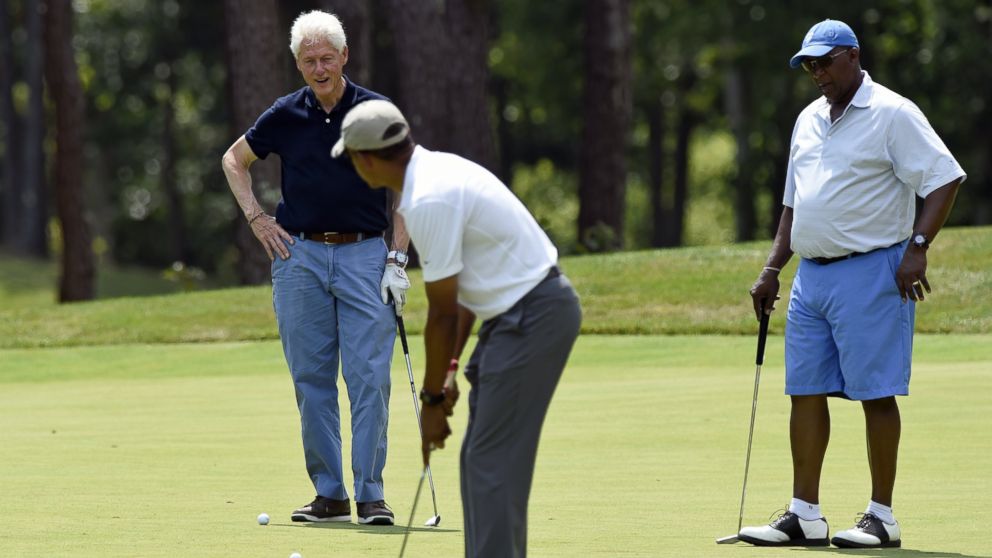 President Obama has golfed almost every day of his week on the island so far -– a habit that in the past has gotten him jeers from political opponents. But Clinton recently defended the need for leaders of the free world, like him and Obama, to have a way to relax.
"One of the reasons I think presidents like golf is that it takes too much time. And you cannot think about anything else," Clinton said on a late-night talk show in January. "Every mind needs some release. So I think it's a good thing."