— -- President Barack Obama took aim at the 2016 presidential field at the White House Correspondents' Association dinner on Saturday, hitting Republican front-runner Donald Trump the hardest during his humorous speech and leaving the audience waiting until the end for the punchiest lines.
Obama faked that he was finishing his speech before doing an about-face and proceeded to say, "Nah. I'm just kidding you. You know I've got to talk about Trump. Come on."
"I am a little hurt that he's not here tonight," the president said. "It's surprising. You got a room full of reporters, celebrities, cameras, and he says no."
He added, "Is this dinner too tacky for the Donald?"
Obama said he wished Trump attended, mainly because the real estate tycoon knows a lot about shutting down waterfront properties, which would come in handy when it comes to closing the military prison at Guantanamo Bay.
He went on to joke about the Republican presidential race.
"Things are a little more loose," Obama said. "Just look at the confusion over the invitations to tonight dinner. Guests were asked to check whether they wanted steak or fish. But instead a whole bunch of you wrote in Paul Ryan," a reference to the wishes of some establishment Republicans for the House Speaker to become the nominee.
"You may not like steak or fish, but that's your choice," Obama said.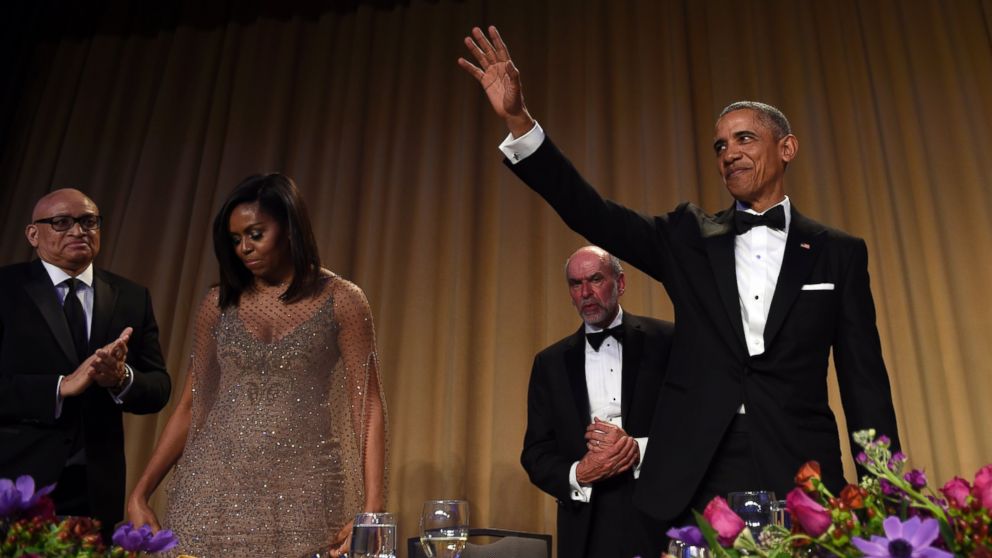 Obama also poked fun at the media for the amount of coverage Trump has received.
"I hope you all are proud of yourselves," Obama told the audience. "The guy wanted to give his hotel business a boost and now we're praying that Cleveland makes it through July."
The annual event brings together politicians, journalists, and celebrities and features a humorous address by the president. This year Obama highlighted Vice President Joe Biden, who was making his first appearance at the event since the 2008 election.
"I love Joe Biden, I really do," he said, thanking the vice president for not "shooting anyone in the face," a nod to a hunting accident involving former vice president Dick Cheney. On a serious note, Obama thanked Biden for his dedication to public service, his friendship and his counsel.
Obama was joined by headline entertainer Larry Wilmore, a comedian that many watching in the audience and at home said on social media fell flat delivering his jokes. At times, those sitting in the crowd sat stone-faced during his routine.
"My eighth and final appearance at this unique event," Obama said, at the beginning of his routine. "I'm excited if this material works well I'm going to use it at Goldman Sachs next year."
"Earn me some serious Tubmans," he said poking fun at the recent announcement that abolitionist Harriet Tubman will soon be the face of the $20 bill.
Taking more shots at the Republican presidential field, Obama mocked Senator Ted Cruz and his recent appearance in Indiana where he called a basketball hoop a ring. "What's next? Is baseball sticks or football hats, but sure I'm the boring one," he said to the laughter in the audience.
He showed more deference toward Democratic front-runner Hillary Clinton, setting the stage for her as the presumptive president when next year's dinner rolls around.
"Someone else will be in this spot and it's anyone's guess who she will be," he said.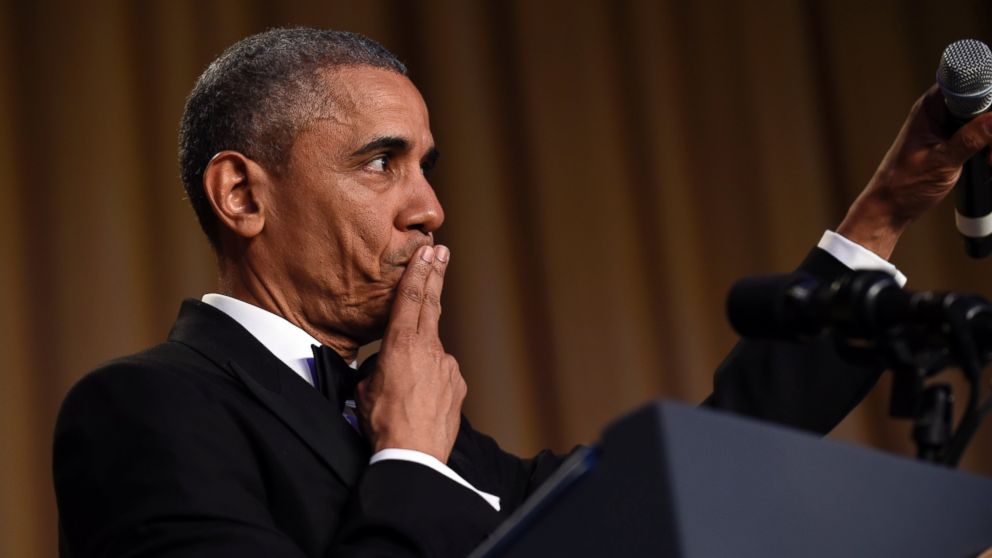 Obama also made fun of Bernie Sanders, Clinton's rival for the Democratic nomination who attended the dinner, noting the Democratic senator from Vermont has sought to keep his distance from the president's record at times.
"I am hurt, Bernie, that you've been distancing yourself from me," he said. "That's just not something you do to your comrade."
Obama said Clinton didn't have quite as exciting a slogan as Sanders' "Feel the Bern," joking Clinton's is: "Trudge up the Hill."
Obama seemed to have fun at the expense of Washingtonians.
At one point, he alluded to his pick to take over the vacant Supreme Court justice spot, who Republicans are blocking, calling for the doors to be locked in the banquet in order to get a vote by the senators in attendance on nominee Merrick Garland "right here, right now."
"But it's not just Congress, even some foreign leaders have been looking ahead and anticipating my departure," he said. "Last week, Prince George showed up to our meeting in his bathrobe. That was a slap in the face. A clear breach of protocol."
As his speech came to a close, Obama grew serious, thanking the assembled journalists for their work and advocating that they point out when facts are being skewed or ignored.
"With that I have only two things to say," he said in closing. "Obama out!"
He then, literally, dropped the mic.