President Obama Lends a Hand to Rahm Emanuel in Chicago Mayoral Race
The president appeared alongside Emanuel in Chicago twice on Thursday.
February 19, 2015, 6:03 PM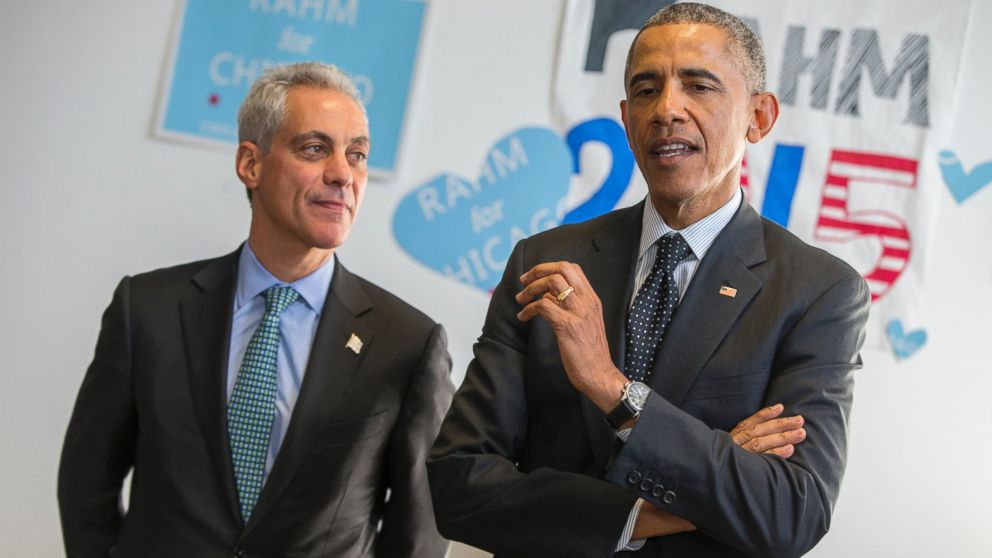 — -- During his trip to the frozen city of Chicago today, President Obama squeezed in some time to help out an old friend who is locked in a tight re-election battle -- Chicago Mayor Rahm Emanuel.
The president first appeared alongside Emanuel, who served as White House Chief of Staff from 2009 to 2010, at an event designating three new national parks, including the Pullman District in Chicago.
"Rahm hasn't just fought for a National Park in Pullman, he's fought for new opportunity and new jobs in Pullman, and for every Chicagoan, in every neighborhood, making sure every single person gets the fair shot at success that they deserve," the president said in a speech at Gwendolyn Brooks College Preparatory Academy. "I could not be prouder of him and the extraordinary service that he's provided."
Later in the afternoon, the president and Emanuel visited a campaign office in Kenwood, where the president thanked volunteers for their efforts to re-elect Emanuel.
Speaking to volunteers who were manning the phones, the president described Emanuel as "somebody who cares deeply about this city."
"Everybody knows that he is passionate and he is tough and he is dogged in making sure the city of Chicago is not just the coldest city but also the greatest city," he said. "I have confidence as a voter and as a resident of Chicago that he's going to continue to do a good job."
The president's visit comes just five days before Chicagoans cast their ballots for mayor. Emanuel, who is facing off against four other candidates, is leading in the polls, but the incumbent Chicago mayor may not reach the 50 percent threshold needed to avoid a run-off.
If the mayoral race were to head into the run-off, Emanuel's position as mayor could be at risk if voters whose candidate did not reach the run-off decide to solidify behind another candidate.
A Chicago Tribune poll released earlier this week found Emanuel at 45 percent support, with Cook County Commissioner Jesus "Chuy" Garcia trailing him with 20 percent support. Alderman Bob Fioretti and businessman Willie Wilson each received 7 percent support in the poll while community activist William "Dock" Walls garnered about 2 percent, with about 18 percent of those polled saying they were undecided.
The White House said the trip to Chicago was conducted as official White House business and not intended to be a campaign event for Mayor Emanuel.
"Today's [national park] designations are the latest of 16 that we've done around the country," White House Deputy Press Secretary Eric Schultz told reporters aboard Air Force One. "This is not something out of the ordinary for us."
Before today, the president had recorded a radio ad for Emanuel, but it's unknown if that ad has aired.