NAIROBI, Kenya -- It was a big family reunion when President Obama arrived here in Kenya today.
Obama, who is visiting his father's homeland for the fourth time but for the first time as president, sat down with three-dozen members of his Kenyan family for dinner at his hotel.
He sat next to his half-sister Auma and step-grandmother Sarah Obama, who was the third wife of the president's paternal grandfather. She's affectionately known to many as Mama Sarah, but to President Obama, she's just Granny.
Obama's half-sister Auma was among the first people to greet President Obama as he walked off Air Force One at Jobo Kenyatta International Airport on Friday evening, local time.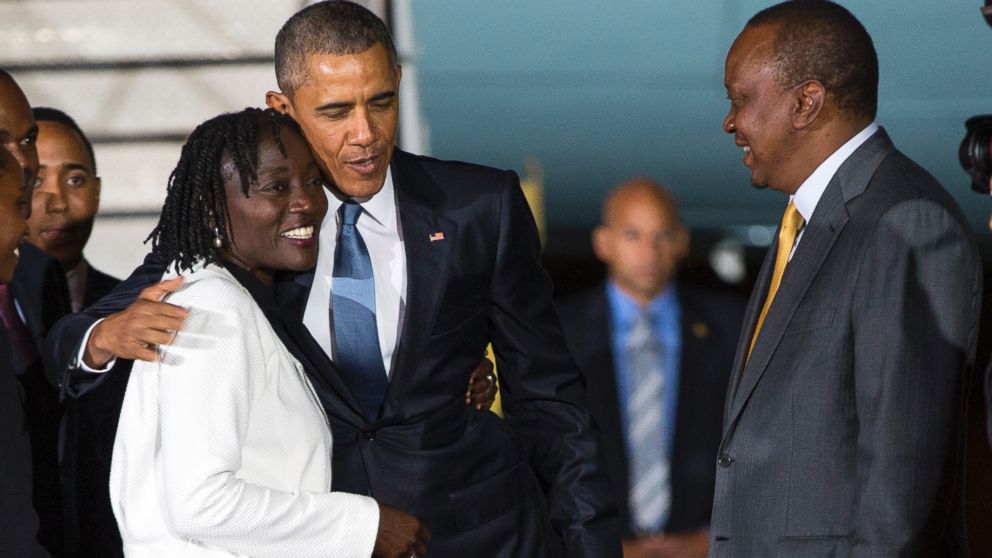 When Obama first visited Kenya in 1988, Auma picked him up at the airport in a sputtering baby-blue Volkswagen Beetle that was missing a muffler. Tonight, it was a much different scene as the president treated Auma to a ride in the presidential motorcade on his fourth visit to Kenya.
Due to logistical constraints, Obama will not travel to Kogelo, the village where his father was born and buried, during this trip, officials said. Instead, Mama Sarah and others traveled to Nairobi to accompany the president on his official trip to Kenya.
The president last visited Kogelo in 2006 when he traveled to Kenya as a U.S. senator.
President Obama will spend two days in Kenya before traveling to Ethiopia on Sunday. It is the first time a sitting U.S. president had visited either country.