— -- Ahead of his historic trip to Cuba this weekend, President Obama made a little history of his own, sending one of the first letters to Cuba via direct mail in nearly 50 years.
Direct mail service between the U.S. and Cuba resumed Wednesday when a U.S. Postal Service plane carrying a batch of letters left the U.S. for the island nation located 90 miles south of Florida, the White House said.
That collection of letters included one from President Obama to 76-year-old Cuban Ileana Yarza, who wrote to the president in February.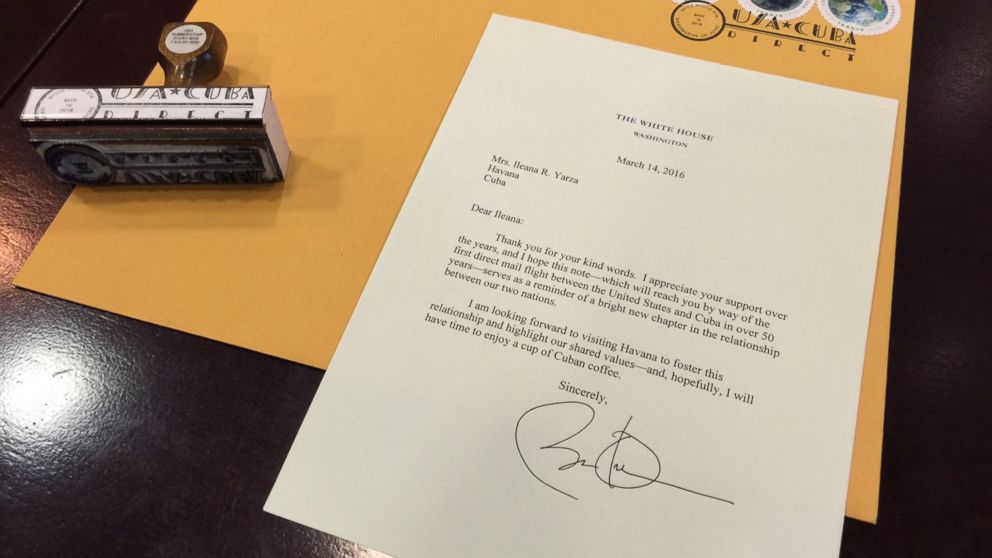 "I have invited you to a cup of Cuban coffee at my place in Vedado, if and when you would finally come," Yarza wrote in a letter posted on the White House blog. "I think there are not many Cubans so eager as I to meet you in person not as an important American personality but as a charming president whose open smile wins hearts."
The president, who will travel to Cuba on Sunday for a two-day trip, replied in a letter that was also posted on the blog.
"I hope this note -- which will reach you by way of the first direct mail flight between the United States and Cuba in over 50 years -- serves as a reminder of a bright new chapter in the relationship between our two nations," Obama wrote in a letter dated March 14.
He added: "I am looking forward to visiting Havana to foster this relationship and highlight our shared values -- and, hopefully, I will have time to enjoy a cup of Cuban coffee."