On the no-year anniversary of his 2008 election, President Obama is heading back to school and encouraging America's educators to think big in order to obtain more federal money.
At Wright Middle School in Madison, Wis., today, Obama and Education Secretary Arne Duncan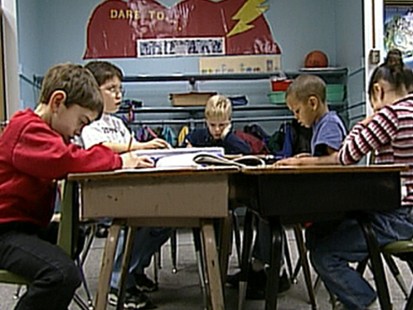 will meet with students and the president will speak about education reform and strengthening the nation's schools.
Obama will promote his administration's "Race to the Top" initiative, a $4.35 billion education program funded through the Recovery Act. The program is a national competition among states that the Obama Administration hopes will inspire bold action for education reform.
In the next few weeks the Department of Education will begin accepting applications for grant money.
The awards will start to go out in January, but there will be two rounds of funding, so states that do not qualify or win grants in this first round will be able to apply again later in 2010.
Yesterday the White House said the onus was on states to make the best case for why they deserve funding.
"He's going to talk about his education reform plan and he's going to highlight the importance of innovation and excellence in our public education system," White House Director of the Domestic Policy Council Melody Barnes told reporters on Tuesday. "This competition is not based on politics or ideology or interest group preferences. It's based on whether or not a state is ready to do what actually works."
Programmed Designed to Innovate, Inspire
The controversial "Race to the Top" program offers one of the first glimpses into how far the Obama administration is willing to go to create reform.
Through "Race to the Top," Duncan aims to prop up states that innovate and inspire those that have not.
The program centers on four basic "assurances" that states must meet to qualify for a piece of the pie -- turning around low-performing schools, in part by expanding charter schools; enacting rigorous, common academic standards; improving teacher quality and beefing up state data systems.
In July, Duncan told ABC News that while this program "isn't about winners and losers," it is a competition so some states will be left out in the cold.
But Duncan said he hoped that tapping into the competitive spirit of educators and administrators will drive reform.
"I think there'll be tremendous pressure on states, state legislatures where things aren't happening, by parents saying exactly that: 'Our children deserve a slice of the pie, and we want that pressure,'" Duncan said in July. "This isn't about winners and losers... This is about challenging the status quo as a country, getting dramatically better and giving every child in this country a chance they desperately need to have a great, great quality education."
Winners and Losers in Funding Competition
In this race, however, there will be clear winners and losers. States will be judged based on their progress in each of the four areas and -- given the way several states have been using education stimulus money to fill budget gaps rather than to innovate -- it is clear that not all states will be awarded funding.
When the parameters on the funding were first announced, several states were immediately identified as already out of the running because of existing state laws.
California's state legislature quickly acted to change its laws to qualify by allowing teacher pay to be linked to student performance.
The White House's Barnes said on Tuesday that a number of other states, including Illinois, Tennessee, Ohio, Connecticut and Rhode Island have raised their charter caps or defeated proposed cuts to charter school funding, so that they too can compete.
Wisconsin's state legislature will vote on Thursday on legislation similar to California's that would allow student performance to impact teacher pay. If the measure does not pass, Wisconsin will not be eligible for Race to the Top dollars.
"Ultimately, this idea is really simple," Barnes said, "We want to support strategies that are working and replicate them all over the country. We will subject every application that we get to a rigorous review. And we will only award grants to those that demonstrate real commitment and real results. That's the president's ultimate goal."
Duncan admitted in July that he worries about students who may suffer if their states do not adopt the requirements, and he hopes the grants will serve as a large incentive for reform.
"We're going to do this in two rounds so districts that aren't doing the right things, that aren't serious about reform, will have a chance to come back," Duncan said. "This is not a federal mandate, this is really just an incentive.
"You'll see some folks who will be sort of business-as-usual and not challenge the status quo," he added, "and you'll see other places where they're really willing to innovate, really willing to push the envelope and get dramatically better -- and that's who we want to invest in."
Critics Say Funding Is Not Enough for the Reform the White House Wants
Some, however, claim that the program is not using nearly enough money to create the kind of reform that this administration is hoping to see.
"It's $5 billion, which sounds like a whole lot of money," the American Enterprise Institute's Andrew Smarick said. "There's about $100 billion in the whole stimulus plan for education. This is just a small chunk, so we really have to manage our expectations about what it's going to be able to accomplish."
Smarick voiced concerns that states ultimately may do what they wish with the one-time cash infusion.
"There is this concern that maybe a state gets $200 million and then, at the end of a year or two, they have nothing to show for it other than preserving jobs and programs," he said. "But this is a problem when you give away big sums of money and just give it to states for things that they promise to do."
Duncan did not offer clear specifics on how the Department of Education would monitor how the money was being spent, but promised "unparalleled transparency."
"We want to work with these states on a forward-going basis to make sure we're all learning from each other," he said. "I'm sure states will make some mistakes. This won't happen perfectly. But there's going to be a lot more good that can come out of this."