— -- President Obama stepped into the doorway and, in the late morning light, took in the nine-by-ten foot prison cell, the cot and the bunk bed, the flip-flops and hanging khaki uniforms, the toilet and sink tucked in the corner and small metal night stand with some magazines, books and a dictionary.
Obama stood there for a minute as corrections officer Ronald Warlick and Bureau of Prisons director Charles Samuels pointed and explained -- noting that three men lived in this crammed space.
In a presidential first, Obama visited a federal penitentiary today, a medium-security prison in El Reno, Oklahoma. The trip caps a week-long effort by the White House to highlight the need for criminal justice reform.
After touring Cell Block B, a two-story brick building that houses the prison's drug abuse prevention unit, the president addressed reporters, offering praise for El Reno, but also calling attention to issues it and other prisons face as well.
"This is an outstanding institution within the system," he said, "and yet they've got enormous overcrowding issues."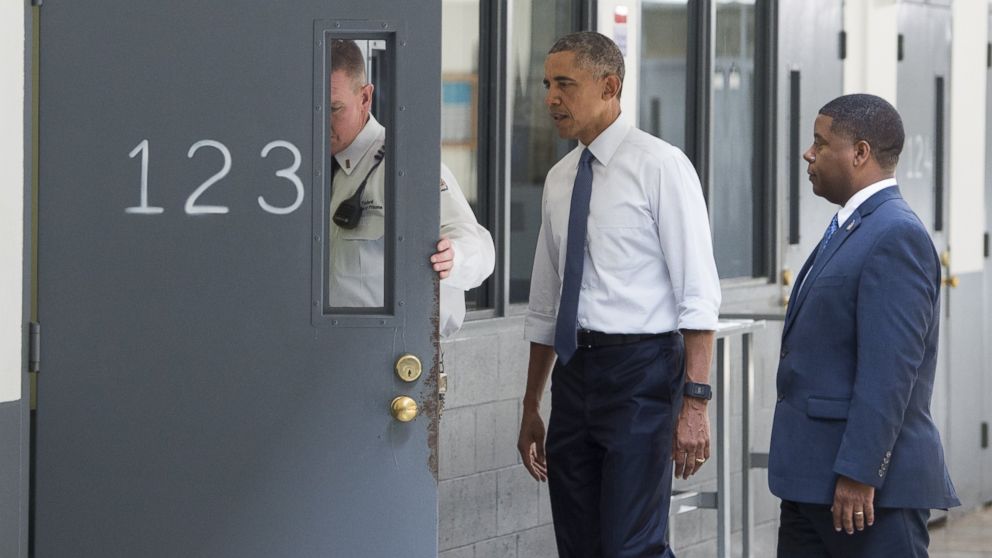 Noticeably absent from the president's tour of the building were the prisoners. It had been emptied -- all inmates moved to a different location.
Obama did meet with six of them prior to the tour. He held a roundtable discussion with them, all the prisoners convicted of drug offenses.
"Every single one of them emphasized the fact that they had done something wrong, they are prepared to take responsibility for it, but they also urged us to think about how society could've reached them earlier on in life to keep them out of trouble," Obama said.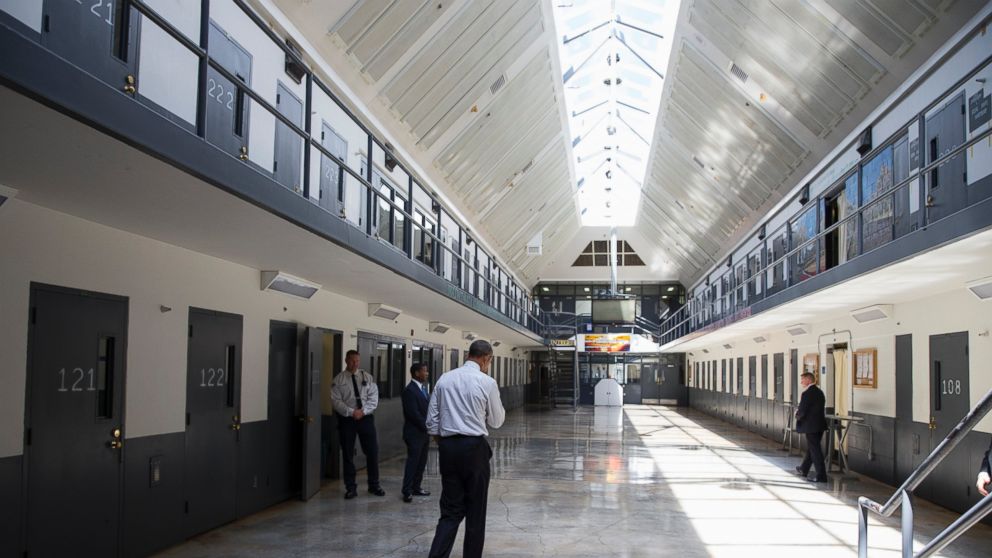 He made clear that it was these personal visits made the greatest impact on him.
"We have a tendency sometimes to take for granted or think it's normal that so many young people end up in our criminal justice system," said Obama. "It's not normal."
"What is normal is teenagers doing stupid things. What is normal is young people who make mistakes. And we've got to be able to distinguish between dangerous individuals who need to be incapacitated and incarcerated versus young people who are in an environment in which they are adapting, but if given different opportunities, a different vision of life, they could thrive," he added.
It's a message that the president has reiterated several times this week: The announcement of 46 commutations for non-violent drug offenders on Monday, during a speech before the NAACP Tuesday, and at a White House press conference on Wednesday.
For Obama, the issue is personal as well. "There but for the grace of God," he said, telling reporters the only difference between him and the inmates he met were the support system and second chances he had growing up.
The White House has laid out a list of solutions -- including reviewing the use of solitary confinement and lowering or eliminating mandatory minimums for softer crimes -- and called on Congress to act, but maintains that the President may continue to use executive action to address the issue.