President Trump gives Ted Cruz new nickname
President Trump heaped praise on his former rival before leaving for Texas.
It's "Lyin' Ted" no more, apparently.
Ahead of his Texas-sized Make America Great Again rally Monday night in Houston, President Trump said he's buried the hatchet with his former campaign nemesis and plans to show his support.
"He's not lyin' Ted anymore, he's beautiful Ted," Trump told ABC News Chief White House Correspondent Jonathan Karl. "I call him "Texas Ted."
Out on the 2016 campaign trail, Trump and Cruz had a less-than-friendly relationship and constantly hurled insults at each other. Trump alleged, without any evidence, that Cruz's father played a role in killing President John F. Kennedy and also insulted the appearance of Cruz's wife, Heidi.
"Donald, you're a sniveling coward, and leave Heidi the hell alone," Cruz said in response.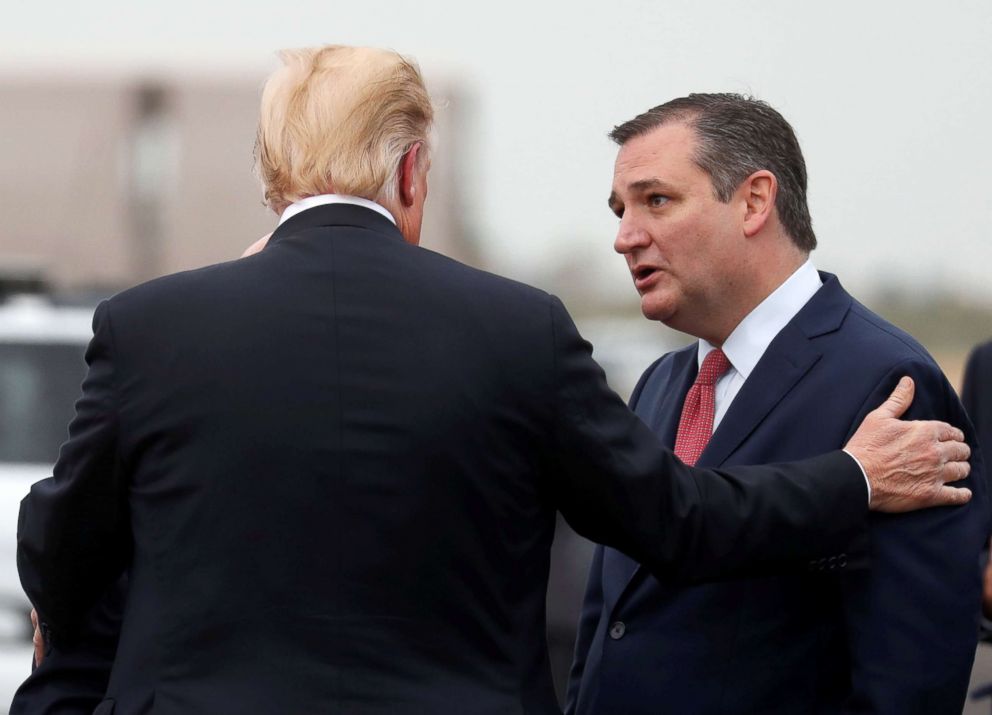 But now, any bad blood between the two Republicans is behind them.
Trump says he wants people to know that he supports Cruz's run for U.S. Senate. Cruz faces Democrat Rep. Beto O'Rourke in the upcoming election.
"I think they wanted to see that I'm on his side, and I am, 100 percent," Trump said when asked about why he was heading to Texas.
"Ted and I get along very well, very late into the campaign. And I said, "Don't worry about it. It's only a question of time." And then it became very nasty, and then it was over," Trump said, thinking back on the 2016 election. "And when it was over, we've gotten along great."
"No, I like Ted. If you remember, he was the last one that we really had -- I mean, I went very late into the campaign. We actually held a rally together late into the campaign. I said, it will end -- and it did -- and then it got back. No, we're very close. We've done great on tax cuts. We've done great on regulation cuts. No, he's been really terrific," Trump said.
During an impromptu press gaggle on the South Lawn, the president lavished praise on his former archenemy on the trail.
"I like him a lot. I actually like him a lot. And he's a very smart guy," Trump said. "He loves the people of Texas -- which I do."
The president said initially he thought Cruz's opponent O'Rourke "must be something a little special." O'Rourke has gained national media attention in the U.S. Senate race. "I think Beto O'Rourke is highly overrated," Trump said. When I heard about him, I figured he must be something a little special. He's not. I thought he got beaten badly in the debates."