— -- As pot dealers in Washington sell their first legal joints today, marijuana activists are targeting as many as 14 more states over the next two years.
Two states, Alaska and Oregon, along with Washington DC, will likely be targeted for votes as early as this November.
READ: Washington State Marijuana Shops Opening Their Doors
Marijuana activists are feeling the momentum as Colorado legalized selling pot in January and it became legal in Washington today.
The pro-pot groups have ambitious plans for 2016 when there will be a big turnout for the presidential election, a turnout that usually includes younger voters. They hope to have pot on the ballots in 11 states in 2016.
"Generally, the more people we see vote, the more support we see" for initiatives legalizing pot, says Mason Tvert, communications director at the Marijuana Policy Project (MPP).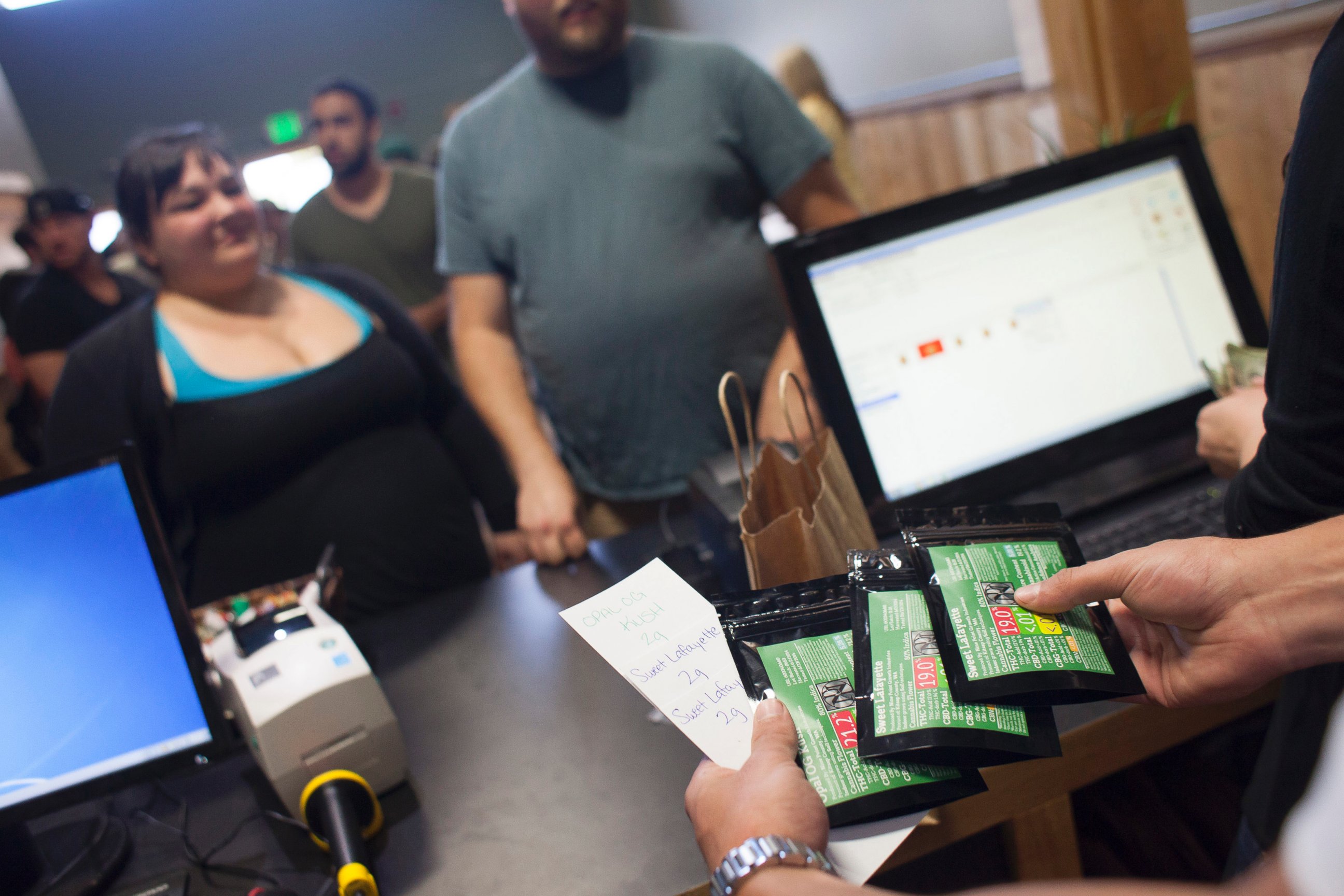 Activists from MPP and other pro-legalization groups plan to push for citizen-led ballot initiatives in pot-friendly states -- including California, Arizona, Maine, Massachusetts, and Montana -- in 2016. They also plan to use the presidential election cycle to urge lawmakers in states like Hawaii, New Hampshire, Rhode Island, Delaware, Maryland, and Vermont to consider the issue.
But encouraged by what has happened in Washington and Colorado, they have moved up their timing for Alaska, Oregon and DC.
"In 2013, we were encouraging people to wait until 2016," says Ethan Nadelmann, executive director of the pro-legalization group Drug Policy Alliance. "What changed our minds, [in Alaska and] in Oregon especially, was that a whole lot of public opinion polling saw, like, an eight to ten point jump between September 2012 and September 2013."
Nadelmann believes the marijuana lobby's success in Colorado and Washington convinced voters that legalization is a viable option.
"It made it very real for people," he said. Legalization "went from an abstract alternative to a very real policy reform."
OREGON
More than 145,000 Oregonians have already signed a petition to put legalization on the ballot come November.
If Oregon Secretary of State Kate Brown certifies that at least 87,213 of those signatures are valid, the Control, Regulation, and Taxation of Marijuana and Industrial Hemp Act will be put to a public vote on Nov. 4.
READ: Pot Advocates Deliver Petitions for Oregon Ballot
The proposed act would license, tax, and regulate commercial pot sellers and permit adults over 21 to privately possess up to eight ounces of dried "usable" marijuana and up to four plants.
Proponents are hoping this proposal does better than the state's 2012 legalization measure, which failed 47 to 53.
Unlike the measure up for consideration in November, the unsuccessful 2012 measure essentially made the state a purveyor of marijuana, mandating that a state-run commission purchase, package and sell the weed itself. That proposal failed to attract major out-of-state donors and fell flat.
READ: The Wacky Pot Law That Failed In Oregon
This year's initiative is "better written, more tightly state drafted … and quite likely more palatable to voters," Tvert says. Both he and Nadelmann say they are confident the measure will pass.
WASHINGTON, DC
Voters in the nation's capital will also likely consider repealing the pot prohibition this November.
Pro-legalization petitioners submitted more than 57,000 signatures – more than twice the number of signatures they needed to get the issue on the ballot. If at least 22,373 of those signatures are valid, the "Legalization of Possession of Minimal Amounts of Marijuana for Personal Use Act of 2014" would move one step closer to the polls.
(The only other thing that could block the measure is Congress, which oversees the district's appropriations. An amendment proposed by Maryland Rep. Andy Harris, R, would not invalidate the law, but could prohibit the city from using its funds to implement legalization.)
READ: Marijuana Movement Plants Flag on Capitol Hill
The act would allow residents 21 and up to have in their possession two ounces or less of marijuana, plus no more than six cannabis plants, including three or fewer mature flowering plants.
It would also allow recreational users to share – but not sell – up to an ounce of marijuana. (They would be allowed to sell pot paraphernalia.)
What About Everywhere Else?
Even opponents of legalization concede the marijuana movement is gaining momentum.
According to a Pew study released in April, a majority of Americans believe pot should be legal, and nearly 70 percent believe the drug is less dangerous than alcohol. (More than 60 percent, however, say they'd be bothered by public use of marijuana and more than 50 percent are convinced legalization will lead to underage use.)
READ: Majority Now Support Marijuana Legalization, Poll Finds
"Marijuana has been demonized for more than 80 years," Tvert says. "It's great we're seeing people talk more openly" about permitting recreational pot.
"Support for marijuana legal has grown even more rapidly than support for marriage equality," says Nadelmann. "There's a real sense of inevitability around marriage equality. People don't quite feel that [way about marijuana] yet, but I think we're close."
Despite state laws legalizing the substance, marijuana is officially classified a "schedule 1" drug and remains illegal under the Controlled Substances Act, a federal law.
The Department of Justice, under Attorney General Eric Holder, has promised it won't take legal action against states that have legalized recreational use anytime soon – but it reserves the right to sue in the future and says it will aggressively prosecute violent offenders and those who sell marijuana to minors.