5 key takeaways from Brett Kavanaugh's Supreme Court confirmation hearing
Supreme Court nominee Brett Kavanaugh addressed Roe v. Wade and other issues.
Dozens of protesters were removed from Judge Brett Kavanaugh's confirmation hearing for a second day on Wednesday as the Supreme Court nominee answered questions on a wide variety of legal issues for the first time.
The questioning ended more than 12 hours later Wednesday night and Kavanaugh faced a second round Thursday.
In the first round, Senate Judiciary Committee members had 30 minutes each to question Kavanaugh on his record, including his time on the federal bench. Senators' questions Wednesday ranged from Kavanaugh's philosophy on the role of a judge, his opinion of Roe v. Wade, and his role in programs implemented after 9/11 at the Bush White House.
Here are five of the key questions asked:
How does he view the role of a judge and judicial independence?
What does he mean by referring to Roe v. Wade as "settled law?"
Can a president be forced to respond to a subpoena?
Can a president pardon himself?
Involvement in Bush-era detainee interrogation programs?
Kavanaugh's responses are below:
How does he view the role of a judge and judicial independence?
Chairman Charles Grassley started off the questioning by asking Kavanaugh to describe his idea of a good judge. As protesters interrupted repeatedly, Kavanaugh said that a good judge is independent, citing cases such as Brown v. Board of Education and United States v. Nixon, in which courts issued unpopular rulings despite political or public pressure.
"I'm a pro-law judge and I've ruled for parties based on whether they have the law on their side. That's part of being an independent judge -- is ruling for the party no matter who they are so long as the party is right. If you walk into my courtroom and you have the better legal arguments, you will win," he said.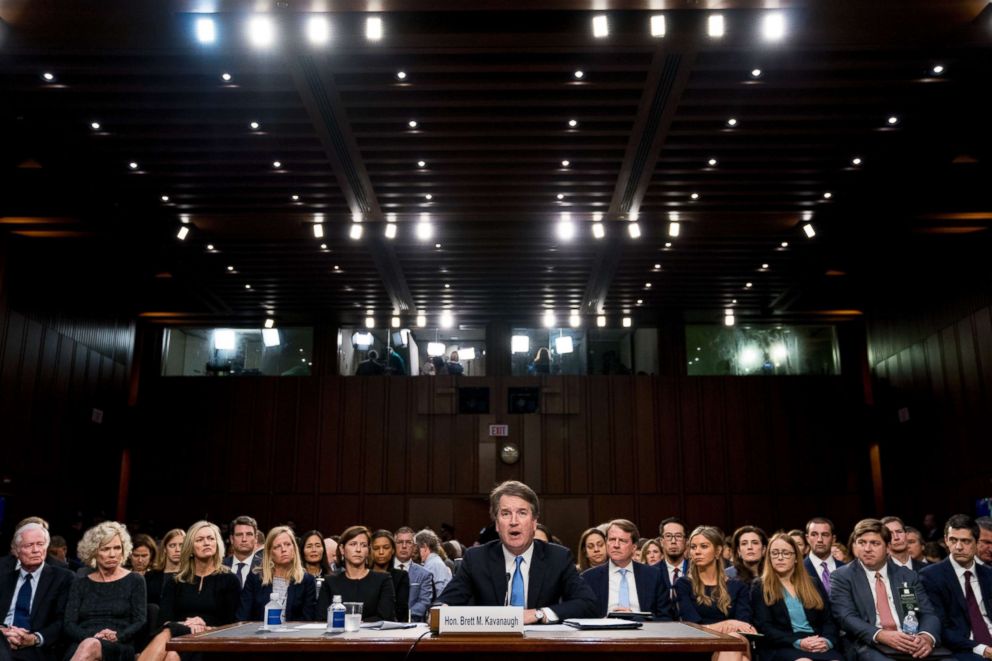 Democrats questioned Kavanaugh on his views on previous Supreme Court decisions, including Roe v. Wade, but he said "nominee precedent" weighs heavily on him as he answers questions. He cited previous Supreme Court nominees as insisting in their confirmation hearings that judges can offer no forecasts or hints on how they might rule on a case.
"If I say something and the case comes before me five years from now I'll feel morally bound by what I said here. If I've crossed the line of what I should say, then I'm not going to have an open mind in that case. That's a violation of judicial independence," he said.
Kavanaugh also said that when he makes decisions he considers the language Congress intended and possible compromises that were negotiated in a law before it was passed. He said that judges interpret the law but it isn't their role to change it from what Congress intended.
"I try to point out when we're having oral argument in a case or deciding cases if we deviate from what Congress wrote we're potentially upsetting careful compromise even if we think we would have struck the compromise in a different place as judges, that is not really our role," he said.
Tuesday's hearing was interrupted and delayed by protesters and protests from Democrats who say the hearing should be delayed until they receive more documents from Kavanaugh's time working for President George W. Bush.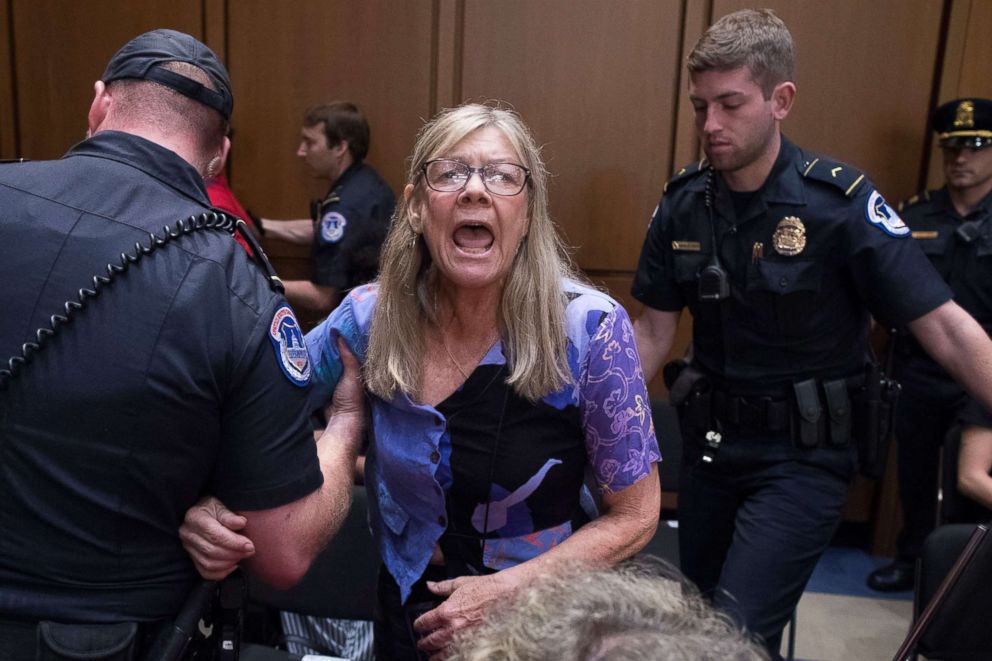 Republicans accused the minority of playing politics with a nomination they've already promised to oppose, but that won't stop them from asking charged questions about a number of high-profile issues as they press Kavanaugh to discuss his views on abortion, gun rights, the powers of the presidency and whether President Donald Trump could be subpoenaed in the special counsel's investigation.
There were some lighthearted moments in Wednesday's hearing. When Sen. Lindsey Graham asked Kavanaugh how he would like to be remembered the nominee said as a good father and a good judge, but ranking member Dianne Feinstein interjected that the nominee should add "a good husband" to the list.
More than once during the hearing Kavanaugh held up or referred to a pocket Constitution that appeared to be well-worn. Sen. Orrin Hatch, R-Utah, asked Kavanaugh if he will owe loyalty to the President if he is confirmed.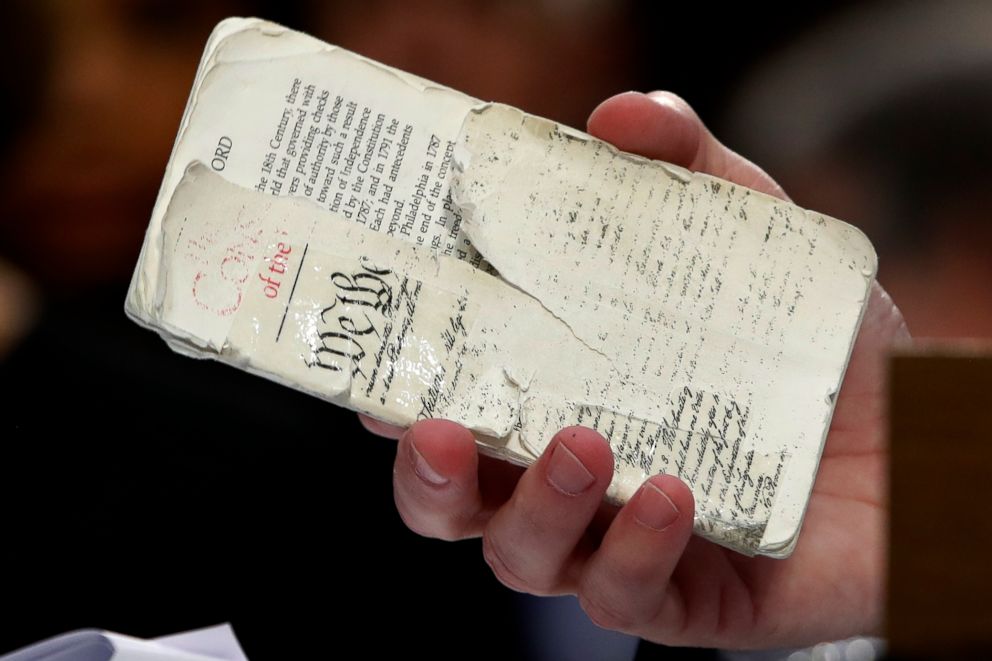 "If confirmed to the Supreme Court and as a sitting judge, I owe my loyalty to the Constitution. That is what I owe loyalty to. And the Constitution establishes me as an independent judge bound to follow the law as written, the precedents of the Supreme Court as articulated subject to the rules of stare decisis," Kavanaugh said, referring to the Latin term for legal precedent.
What does he mean by referring to Roe v. Wade as "settled law?"
The ranking Democrat on the committee, Sen. Dianne Feinstein, was the first to ask Kavanaugh about abortion. She asked him to explain what he means when he says the Roe v. Wade decision is "settled law."
Kavanaugh called Roe v. Wade "important precedent of the Supreme Court" that has been reaffirmed many times over the years, most importantly in the Planned Parenthood v. Casey decision in 1992. In that case, he said the Supreme Court evaluated all the points of Roe using the legal process for evaluating previous cases and reaffirmed the decision, which makes Casey "precedent upon precedent" for the Roe decision, which established the legal right to an abortion in the United States.
He said he understands Feinstein's point of view that women should have a right to legal abortion, though he did not say he agreed with that view.
"I understand how passionate and how deeply people feel about this issue. I understand the importance of the issue. I understand the importance that people attach to the Roe versus Wade decision, to the Planned Parenthood versus Casey decision. I don't live in a bubble. I understand, I live in the real world. I understand the importance of the issue," he said.
Planned Parenthood v. Casey did support the Roe decision that women have a right to abortion but also said states can impose restrictions as long as they aren't an "undue burden," or exist solely to make it more difficult for a woman to get an abortion before the fetus is viable.
Sen. Richard Blumenthal, D-Conn., asked Kavanaugh to explain his use of the phrase "abortion on demand" in his dissent in the case regarding an undocumented minor. He said the phrase is a signal to conservatives and anti-abortion groups that Kavanaugh would be open to overturning Roe v. Wade if on the court.
Kavanaugh emphasized that the young women in the case was a minor and that his dissent focused on parental consent laws and that his dissent did not deny she had a right to an abortion, just that the procedure could be delayed until she was out of the government detention facility.
"I'm not familiar with the code word. What I am familiar with is Chief Justice Burger in his concurrence in Roe v. Wade itself. So he joined the majority in Roe v. Wade, and he wrote a concurrence that specifically said that the court today does not uphold abortion on demand. That's his phrase, and he joined the majority in Roe v. Wade. And what that meant in practice over the years, over the last 45 years, is that reasonable regulations are permissible so long as they don't constitute an undue burden," Kavanaugh said.
Some Democrats and abortion rights groups have said that merely saying Roe v. Wade is precedent is not enough for them to support Kavanaugh because the Supreme Court can change precedent.
Earlier in the hearing, Kavanaugh said that leading up to his nomination, he was not asked his opinion on Roe or how he would rule in specific cases.
Can a president be forced to respond to a subpoena?
Kavanaugh said the United States v. Nixon decision that forced President Richard Nixon to turn over tapes to the special prosecutor was "one of the greatest moments in Supreme Court history" because the justices stood up for judicial independence in a moment of national crisis.
But he declined to answer Feinstein's question about whether a sitting president can be required to respond to a subpoena, saying any answer would violate the principle that nominees shouldn't give views on hypothetical cases.
"I can't give you an answer on that hypothetical question," he said.
Kavanaugh also declined to say that he would recuse himself from any criminal or civil case related to President Trump, who nominated him.
"I think to be consistent with the principle of the independence of the judiciary I should not and may not make a commitment about how I would handle a particular case and the decision to participate in a case is itself a decision in a particular case," he said.
Feinstein also asked Kavanaugh about his frequently cited comments that a president should not face criminal investigation while in office.
Kavanaugh said he proposed ideas for Congress to consider in a 2009 law review article but "they were not my constitutional views" and that he has never taken a position on what the Constitution says about investigating a sitting president or whether a sitting president can be indicted.
Sen. Chris Coons, D-Del., pushed Kavanaugh on comments he made during the Ken Starr investigation in 1998. Coons quoted comments Kavanaugh made on a panel where he reportedly said no one should investigate possible criminal conduct by a sitting president and wrote that a congressional inquiry should take precedence over a criminal investigation.
But Kavanaugh said his comments were misconstrued, and that he actually argued in favor of independent counsels in a law review article the same year. He also said that he's never taken a position on whether a sitting president can be investigated or indicted and that it's actually the Justice Department position that a president can't be indicted while in office.
"I have never taken a position on indicting or investigating a sitting president," he said.
But Coons said he wanted to discuss the issue further.
"Frankly, judge, your views about executive power that you have detailed, what you like to overturn and what limits you think there should be, really leaves me concerned. It's because of our current context, because of the environment that we're operating in," Coons said.
Republican Jeff Flake asked Kavanaugh to comment on one of President Trump's recent tweets complaining to Attorney General Jeff Sessions about Justice Department indictments of two GOP congressmen, both early Trump supporters, close to the midterm elections.
"Should a president be able to use his authority to pressure executive or independent agencies to carry out directives for purely political purposes?" Flake asked.
"I don't think we want judges commenting on the latest political controversies because that would ultimately lead people to doubt if we're independent or politicians in robes," Kavanaugh answered.
There were some tense moments late Wednesday night when Democrat Kamala Harris asked Kavanaugh whether he had discussed the Mueller investigation with anyone at Kasowitz Benson Torres - the law firm of President Trump's personal lawyer, Marc Kasowitz.
When Kavanaugh asked for a name, she declined to say but seemed to suggest she had more information.
"I want to be careful," Kavanaugh said.
"It's a very direct question," Harris replied, finally saying, "I'll move on. Clearly, you're not going to answer the question."
Can a president pardon himself?
Sen. Patrick Leahy, D-Vermont, asked Kavanaugh if a president could pardon himself, as President Trump has said he could do, or could pardon someone in exchange for a bribe for a promise not to testify against him.
Kavanaugh declined to answer, saying it was a hypothetical question that he couldn't comment on as a judge.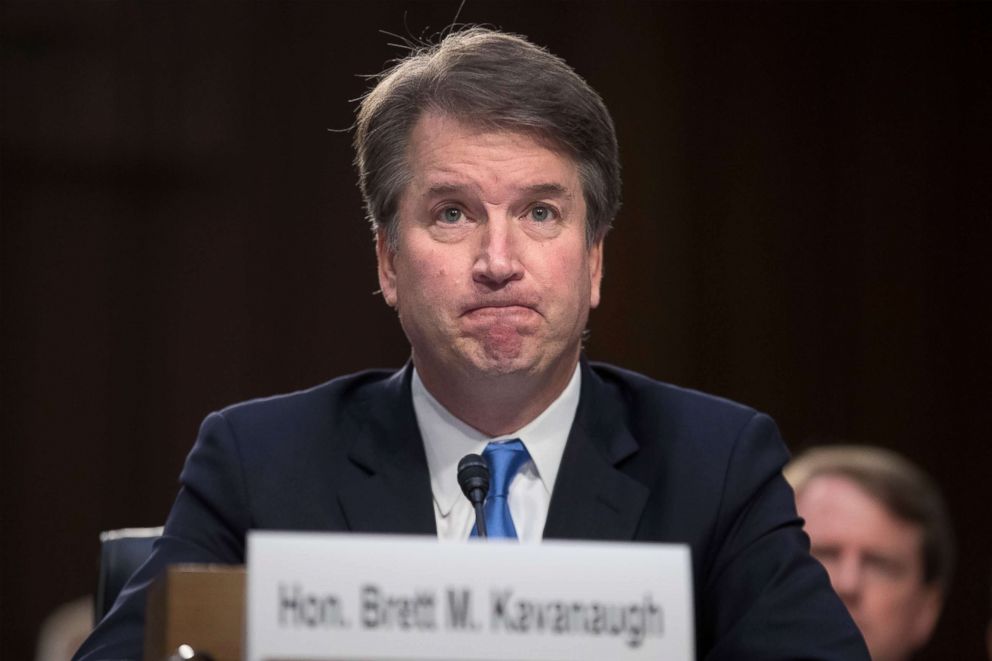 Involvement in Bush-era detainee interrogation programs?
Republican Orrin Hatch asked Kavanaugh whether he misled the committee in his 2006 confirmation hearings for the federal bench. At the time, Kavanaugh was questioned about his knowledge of the crafting of detainee interrogation programs while working in the Bush White House Counsel's office.
"I told the truth and the whole truth in my prior testimony. I was not read into that program," Kavanaugh said.
Leahy pressed Kavanaugh on whether he was involved in interrogation programs or programs allowing warrantless surveillance of U.S. citizens put in place after September 11.
Kavanaugh said he can't rule out that he offered a legal opinion in those discussions because it was "all hands on deck" after the attacks, but denied that he was ever read in or explicitly involved in creating those programs.
During his questions Sen. Lindsey Graham, R-S.C., lamented the drama from Democrats and interruptions from protesters at Tuesday's hearing, saying, "I just wish if we could have a hearing where the nominee's kids could show up." Kavanaugh's two daughters were at Tuesday's hearing but were escorted out during the protests.
"I want your daughters to know that what happened yesterday is unique to the times that we live in. And I want to give you a chance to say some things to the people that have attended this hearing. I think there is a father of a Parkland student who was killed. I think there is a mother of a child who has got terrible health care problems. And there are many other people here with personal situations. What would you like to say to them, if anything, about your job as a Supreme Court justice?" Graham asked.
Fred Guttenberg, whose daughter was killed in the school shooting in Parkland, Florida, attended the hearing Tuesday and accused Kavanaugh of refusing to shake his hand when he approached the nominee during a break.
Kavanaugh, noting he volunteers at a Catholic charity, said he is sensitive to the impact of his legal decisions on the parties involved.
"I want to reassure everyone that I base my decisions on the law, but I do so with an awareness of the facts and an awareness of the real world consequences. And I've not lived in a bubble. And I understand how passionately people feel about particular issues. And I understand how personally people are affected by issues. And I understand the difficulties that people have in America," he said.
ABC News' Trish Turner contributed to this report.