Rand Paul Pushes Kentucky Rule Change to Pursue Presidency and Senate
in Kentucky, Rand Paul works on a way to run for both President and Senate.
February 16, 2015, 5:47 AM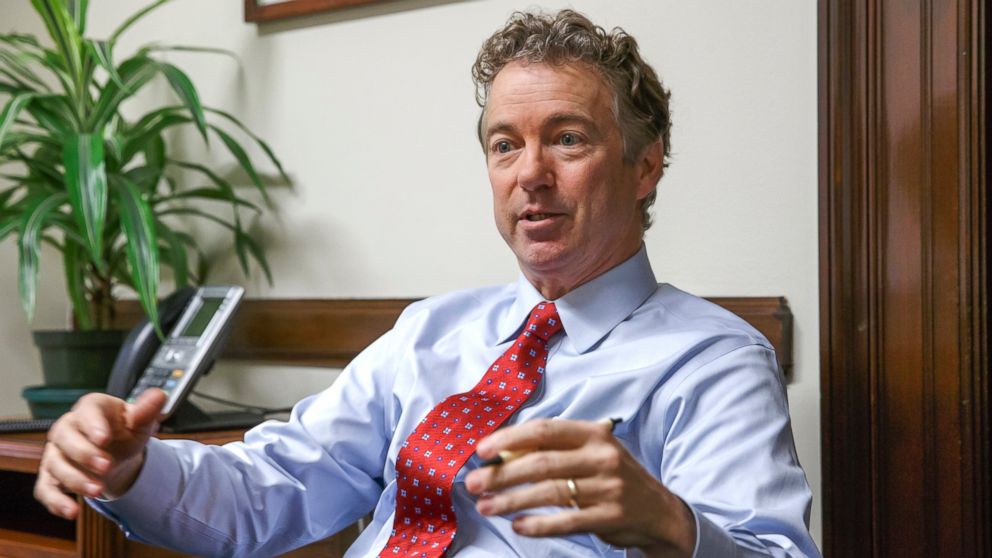 — -- Rand Paul is actively looking for ways to run for both president and re-election to the U.S. Senate, something standard in many states, but not legal in his home state of Kentucky. However, the state GOP has some serious concerns about his desired scenario.
Paul wrote a letter last week to the state party hoping to convince its members to create a presidential caucus, over a primary in 2016, the Lexington Herald-Leader first reported and the Kentucky GOP state party chairman confirmed to ABC News. Paul's letter argued it would make Kentucky more relevant in the primary process, but it also deals with the prohibition on candidates appearing on the same ballot twice.
Paul and his supporters have been strategizing a work-around since he announced his intention to seek re-election and is also considering a 2016 run for the White House. Another potential 2016 candidate, Sen. Marco Rubio has said he will not run for both.
In the letter, he cites Rep. Paul Ryan, who lost the vice-presidency in 2012, but was re-elected to his House seat. There are other examples of victories and losses in states where it's legal including then-Senator Joe Biden in 2008, amongst others, something Paul notes in the letter writing "My request to you is simply to be treated equally compared to other potential candidates for the presidency."
Steve Robertson, the Kentucky State GOP chairman and executive chairman told ABC News it's an option Paul wants the "party to explore," but he said his members have "a lot of questions" about a caucus and the process.
Most pressing, Robertson said, is their concern that it's unclear what would happen if they move to a caucus and Paul were to become the GOP presidential nominee. Under state law, there is no way to substitute a candidate on the ballot after the filing deadline. After a hard-fought 2014 battle to keep Sen. Mitch McConnell in office, Robertson said their biggest concern is losing that seat in the general election because they couldn't field another Republican and state law would still prevent Paul's name from appearing on the ballot twice.
Robertson called this question a "major league struggle for members of the committee," and something they are "very conflicted about," but they also have questions about a caucus since they've never had one in the state before and whether a caucus could "potentially disenfranchise Republican voters from the process." And, he says, it's a question of both "cost and convenience."
"How long does someone theoretically have to drive [to caucus]…how is this going to be a process that is open and convenient and accessible to Republicans, including older Republicans?" Robertson asked, adding they also wonder how it affects absentee voting for service members overseas and they are worried it could have a "depressing effect on the number of people who could be able to take part in the process."
"We are very supportive of Sen. Paul," Robertson said. "This is a very big decision with a lot of ramifications."
Robertson said the 54 members of the executive committee will get a chance to meet with Paul on March 7 and he looks forward to hearing Paul make his "case" then and to "better understand it." He said it won't be the "last conversation" on the topic.There are other possibilities Paul has to get around the issue. Last year, the Kentucky Senate passed a bill that would allow Paul to be on the ballot twice, but it went nowhere in the Democratic-led House.
State Sen. Joe Bowen, a co-sponsor of last year's legislation, said they have not "soured on the issue" and they "still support Sen. Paul," but legislation this year looks unlikely as the state House of Representatives remains in Democratic hands.
Another avenue would be the courts. Paul's political spokesman said they were not commenting beyond the letter, but Paul and his allies have stated publicly before they believe the state law doesn't apply to federal elections and this is likely the argument they would take to court.
Joshua Douglas, an election law expert and professor at the University of Kentucky College of Law, says as it stands right now the "law is absolutely clear."
"You cannot be a candidate for more than one office in the state of Kentucky," Douglas said. "He cannot run for two offices at the same time."
Douglas stressed the issue Robertson brought up is a real one and that changing a primary to a caucus just "delays the issue" until "November 2016."
Another possible scenario is that Paul "runs for the president in 49 states," skipping over Kentucky, though Douglas says that's a "significant imaging problem" and thus unlikely.
Douglas believes Paul will go to court to try and get the law declared unconstitutional, after waiting to see what the state party does in March, but predicts "ultimately he loses the lawsuit" and he will be faced with having to choose from one of these other options.
If one key state figure has her way, Paul won't bend the rules.
The Kentucky Secretary of State Alison Lundergan Grimes failed to beat Sen. Mitch McConnell in the 2014 midterm election, but she has vowed to stop Paul if he does try to get on the ballot twice, telling ABC affiliate WHAS she won't be "bullied" by Paul and the "law is clear."
"Kentucky law has prohibited a candidate's name from appearing on the same ballot for more than one office for more than 50 years," Grimes said in a statement to ABC News. "As Kentucky's chief election official, I will continue to administer Kentucky's election laws and ensure that all eligible Kentuckians have their voices heard."