Rep. Conyers announces he's retiring, endorses son to fill seat
Conyers made the announcement on a Michigan radio show.
December 5, 2017, 3:07 PM
— -- Facing multiple allegations of sexual harassment, veteran Rep. John Conyers Jr., D-Mich., announced he is retiring today.
Conyers, 88, confirmed the news on Mildred Gaddis' radio show, calling in from a hospital in Detroit while recovering for a stress-related illness.
"I am retiring today, and I want everyone to know how much I appreciate the support, the incredible, undiminished support I've received across the years," he said.
His attorney, Arnold Reed, confirmed for ABC News that Conyers' retirement was effective immediately.
Conyers said his legacy will not be affected. He has denied any sexual misconduct.
"My legacy can't be compromised or diminished in any way by what we're going through now," he said. "This, too, shall pass. I want you to know that my legacy will continue through my children."
Rep. Sheila Jackson Lee, D-Texas, read a statement from Conyers on the House floor after his radio interview that he notified House Speaker Paul Ryan, Minority Leader Nancy Pelosi and Michigan Gov. Rick Snyder of his retirement.
"Given the totality of the circumstance, of not being afforded the right of due process in conjunction with current health conditions, and to preserve my legacy and good name, I'm retiring. I hope my retirement will be viewed in the larger perspective of my record of service as I enter a new chapter," Lee said the statement read.
On Nov. 21, the House Ethics Committee began investigating the allegations against Conyers. The panel declined to comment on the status of its investigation on Tuesday. The committee doesn't have jurisdiction over former House members.
Tuesday afternoon, Ryan's office confirmed receiving Conyers' signed letter, making the action effective.
Conyers said he is endorsing his son John Conyers III to fill his seat.
John Conyers Jr. is the first high-profile national political figure to fall in a wave of public sexual harassment allegations across the country.
A congressman since 1965, he was the longest-serving member of the House, a founding member of the Congressional Black Caucus and a civil rights icon. He was the ranking member of the House Judiciary Committee before he stepped down from it last week.
A dozen House Democrats called on Conyers to step down as Congress looked into sexual misconduct allegations against him. Pelosi said he should resign, calling the allegations "serious, disappointing and very credible."
Last week Reed said Conyers refused to be "forced out of office."
At least five women have accused Conyers of sexual harassment and inappropriate touching.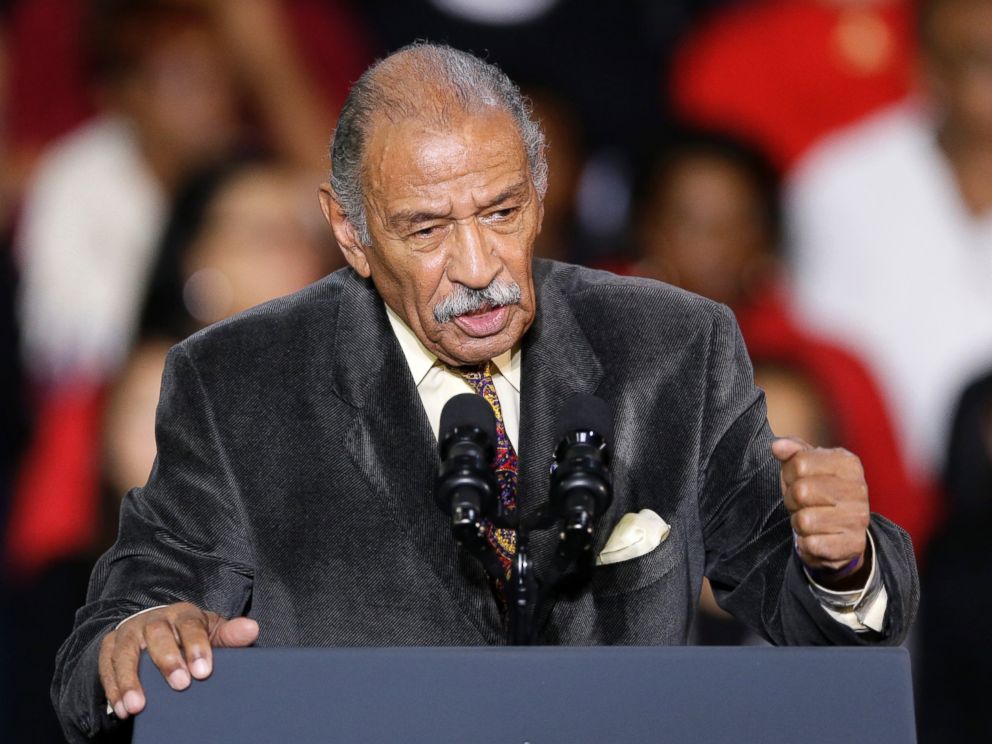 As recently as yesterday, a new sexual harassment accusation against him was made public.
Elisa Grubbs, a staffer for Conyers from 2001 to 2013, alleged in an affidavit dated Dec. 3 released by her lawyer Monday that he "inappropriately touched" her in church and that she witnessed him sexually harassing other female staffers. She also accused him of "regularly" undressing in front of his staff.
The first allegation came to light on Nov. 20, with news that Conyers' office paid a female aide over $27,000 to quietly settle a wrongful dismissal complaint in 2015. The woman later identified herself as Marion Brown on NBC's "Today."
"Some of the things he did were — it was sexual harassment, violating — violating my body, propositioning me, inviting me to hotels with the guys discussing business. Propositioning me to, you know — for sex," she said in a Nov. 30 interview on the show.
Conyers acknowledged that his office settled a harassment complaint involving a former staffer but denied the allegations against him.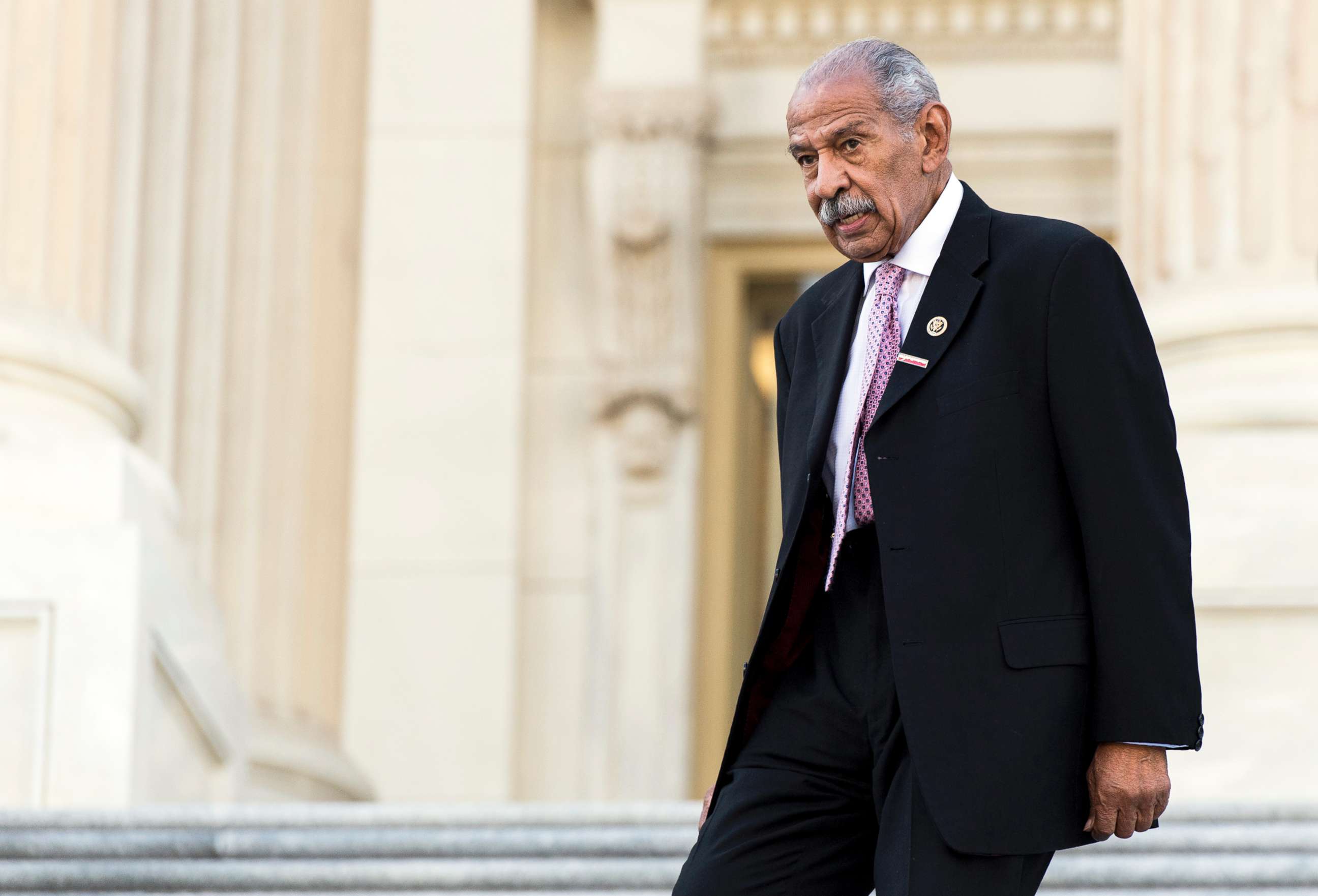 ABC News obtained court filings last Wednesday referring to a federal complaint filed this year by his former scheduler who alleged "sexual advances in the form of inappropriate comments and touches." She dropped her case after the judge rejected her request to keep the complaint sealed to protect her privacy.
Last week another former staffer, Deanna Maher, accused Conyers of making unwanted sexual advances toward her in the 1990s. She alleged that he touched her inappropriately on at least three occasions, including once in 1999, when he allegedly placed his hands underneath her dress.
Melanie Sloan, a lawyer who worked with Conyers on the Judiciary Committee, accused him of being "increasingly abusive" to her — behavior that she said was not "sexual harassment" but "sexual discrimination."
Ian Conyers, 29, the grandson of John Conyers Jr.'s brother, confirmed the news of the congressman's retirement during a phone call with ABC News early Tuesday. Ian Conyers, a Michigan state senator, said that he would also seek his granduncle's seat. The New York Times was the first to report that news.
ABC News' Kate Hodgson, Devin Dwyer and Cindy Smith contributed to this report.