Rep. Duncan Hunter, R-Calif., and his wife, Margaret E. Hunter, were indicted by a federal grand jury in San Diego Tuesday on charges that they converted more than $250,000 in campaign funds to pay for personal expenses and filed false campaign finance records with the Federal Election Commission.
According to the 48-page indictment, the Hunters illegally used campaign money to pay for expenses that they could not otherwise afford from 2009 through 2016. The purchases allegedly included family vacations to Italy, Hawaii, Phoenix and Boise, Idaho; school tuition; dental work; theater tickets; and domestic and international travel for almost a dozen relatives. The Hunters also spent tens of thousands of dollars on smaller purchases, including fast food, movie tickets, golf outings, video games, coffee, groceries, home utilities and expensive meals, the indictment alleged.
To conceal their personal spending, the Hunters mischaracterized the purchases in FEC filings as "campaign travel," "dinner with volunteers/contributors," "toy drives," "teacher/parent and supporter events," and other false descriptions, according to the indictment.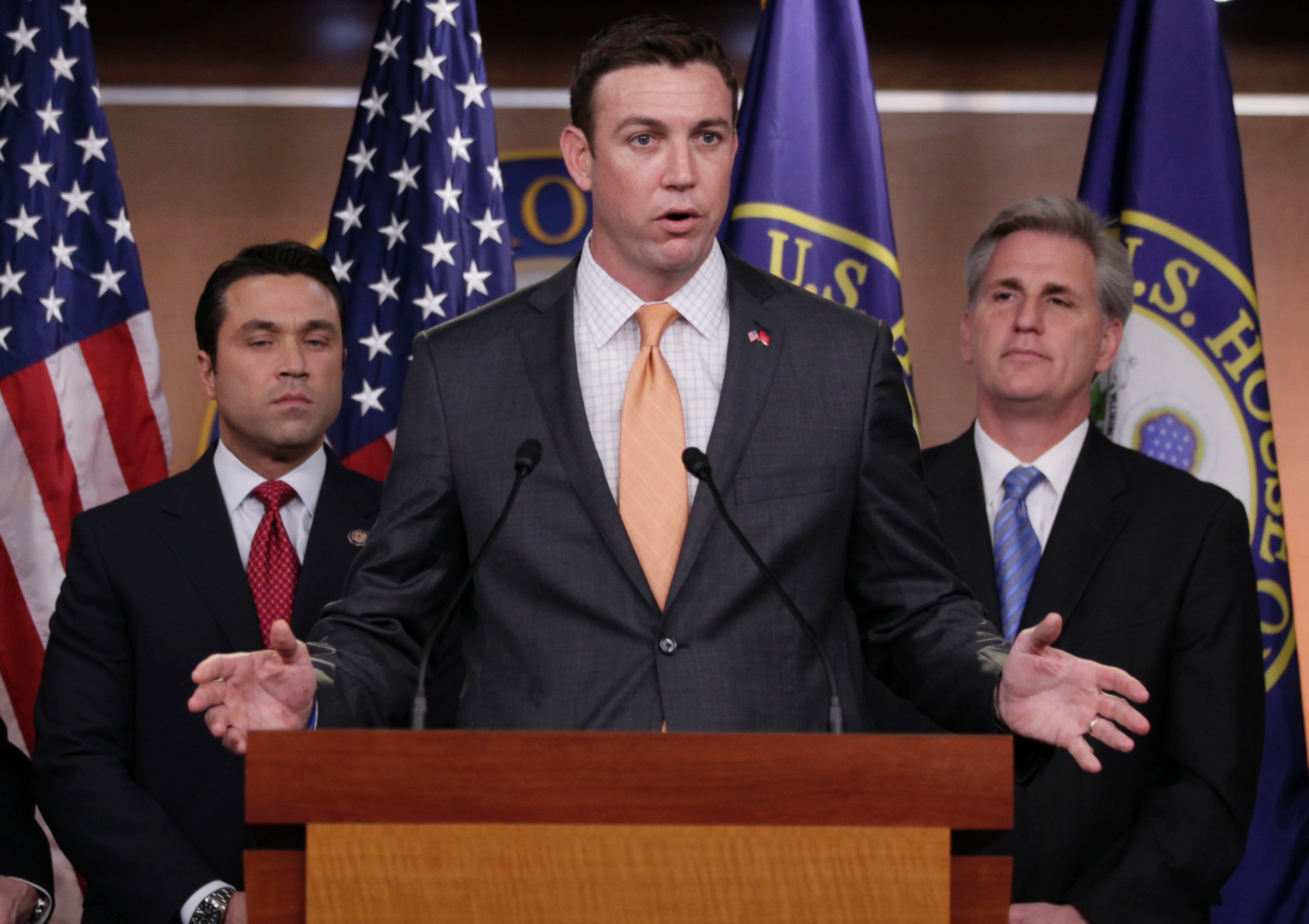 The House Ethics Committee was also investigating allegations of Hunter's improper use of campaign funds, but announced in March that it would continue to defer to the Department of Justice investigation.
Hunter has maintained in the past that he was not aware of the improper spending, and repaid his campaign committee roughly $60,000 to cover the expenses.
The indictment is "all political," said Hunter's spokesman Michael Harrison, adding that Hunter is "definitely still running for re-election."
House Democratic Leader Nancy Pelosi demanded that Hunter resign -- and that Speaker of the House Paul Ryan publicly urge him to do so.
"The charges against Congressman Hunter are further evidence of the rampant culture of corruption among Republicans in Washington today. Once again, one of President Trump's earliest supporters in Congress has broken the public trust and abused his position to enrich himself and his family. Speaker Ryan must immediately call on Congressman Hunter to resign, and affirm that no one is above the law," she says in a statement.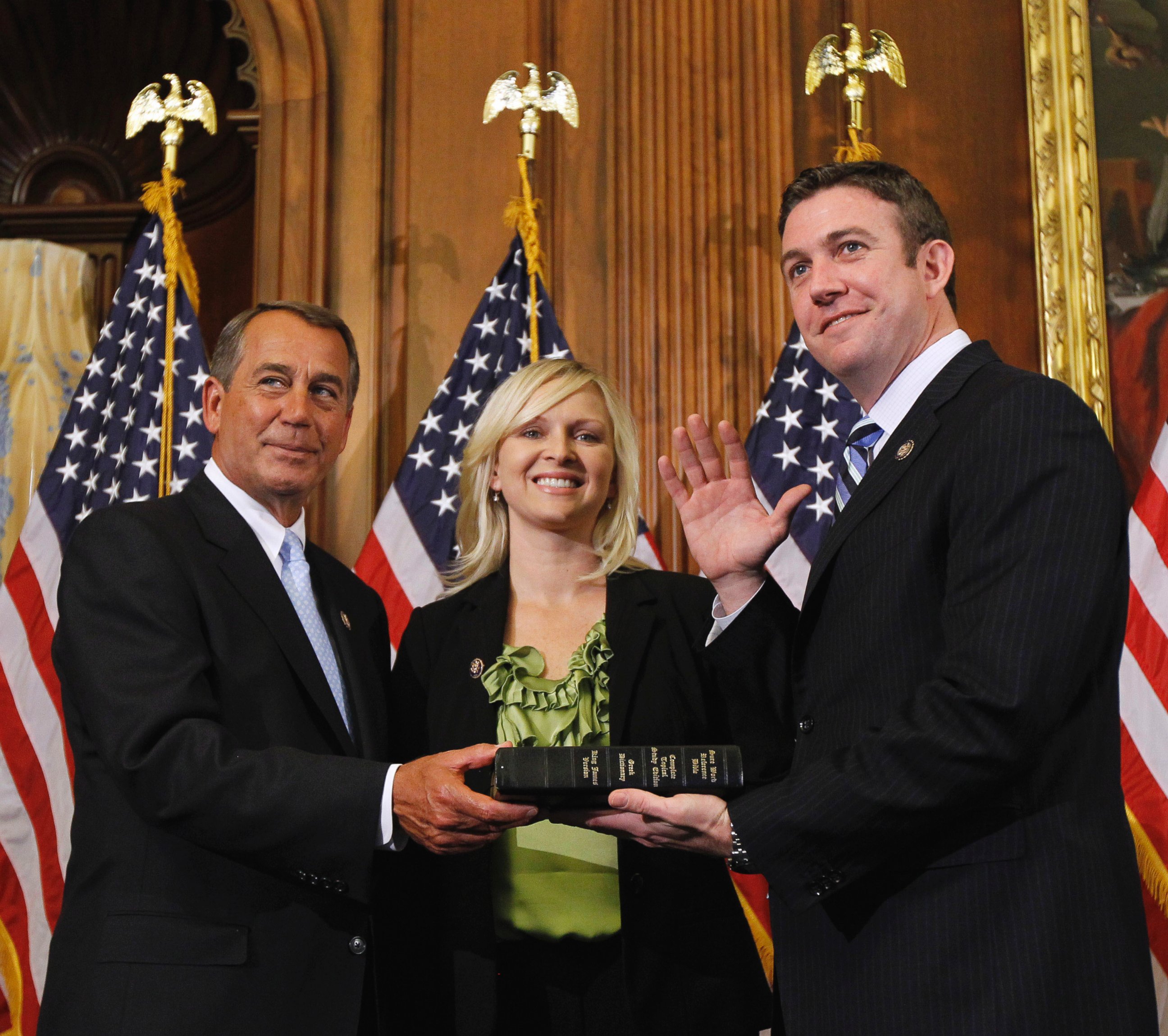 Ryan, R-Wis., issued a statement in response to the allegations against Hunter.
"The charges against Rep. Hunter are deeply serious. The Ethics Committee deferred its investigation at the request of the Justice Department. Now that he has been indicted, Rep. Hunter will be removed from his committee assignments pending the resolution of this matter."
Rep. Steve Stivers, R-Ohio, chairman of the National Republican Congressional Committee, also released a statement, calling the charges "troubling."
"These are troubling charges leveled against Congressman Hunter. I trust our judicial system and eagerly await more facts surrounding the case."
Earlier this month, a lawyer representing Hunter wrote to Deputy Attorney General Rod Rosenstein asking him to review whether the United States Attorney's Office for the Southern District of California should be recused from the case because two assistant U.S. attorneys allegedly attended a private fundraiser for Hillary Clinton's presidential campaign -- accusing the office of political bias against him.
A plainspoken former Marine, known for using a vape pen during a congressional hearing and calling for a preemptive strike on North Korea in 2017, Hunter has served in Congress since 2009, after replacing his father who was retiring, former House Armed Services Committee Chairman Duncan Hunter. He was one of the first lawmakers to endorse President Donald Trump's 2016 campaign.
In an interview with San Diego ABC affiliate KGTV in February, Hunter, who had faced some pressure not to run for reelection from Washington Republicans, expressed confidence in his campaign and dismissed the allegations against him.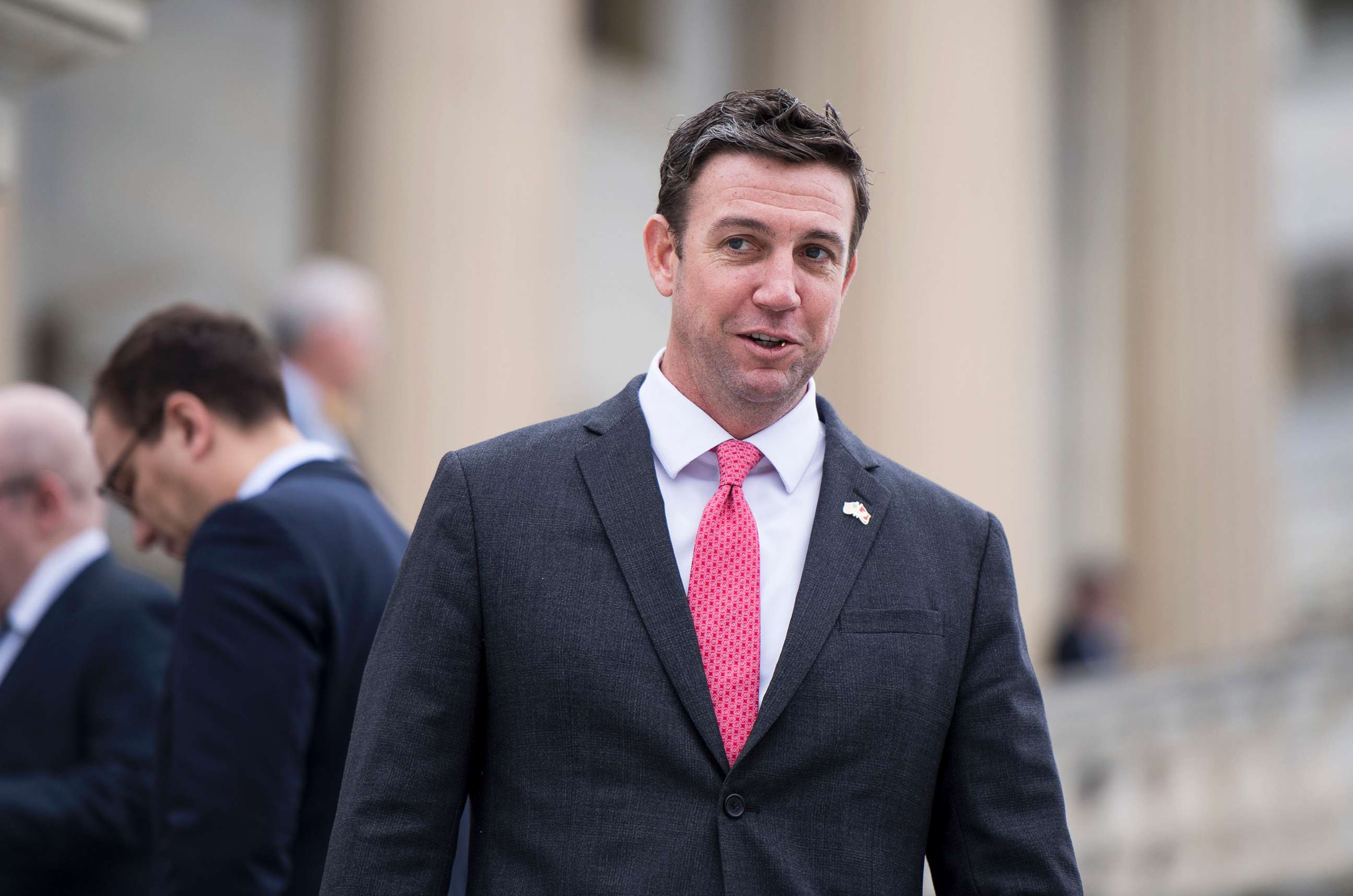 While Democrats hoped that Hunter's ethics woes would derail his reelection bid, Hunter easily won his primary in June, snatching more than 48 percent of the vote. Democrat Ammar Campa-Najjar, an Obama campaign alum, who worked as a spokesman at the Labor Department in the Obama administration, will face Hunter in November after winning second place in the jungle primary, which is known as a qualifying primary where the top two candidates move on to the general election, with nearly 17 percent of the vote.
Barring legal action, Hunter is still expected to appear on the ballot in November. There is no mechanism under California election laws to replace the top two finishers in a jungle primary on the general election ballot, according to the California Secretary of State's office.
Hunter's father, Duncan Hunter Sr., a former congressman from California himself, blamed Democrats for the indictment in an interview with KGTV on Tuesday: "It's politically motivated by hardcore Democrats who want to get Duncan Hunter out of Congress."
"It's a political late hit; this is the rough and tumble of politics," Hunter Sr. said. "Margaret herself has said he didn't know anything about this."