It's rare for a Senate primary to draw national attention, but the race for the Republican nomination for the U.S. Senate in Florida has garnered widespread notice as a fight for the heart and soul of the GOP.
That debate, pitting Gov. Charlie Crist, a champion of President Obama's economic stimulus package, against former Florida House Speaker Marco Rubio, a favorite of Tea Party activists, played itself out today on Sunday morning television.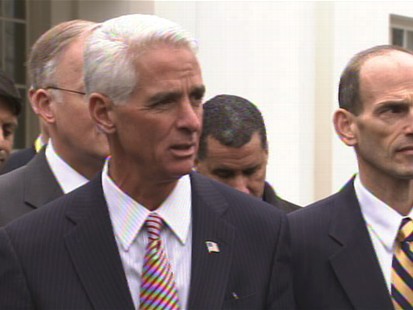 Appearing on "Fox News Sunday,"
Crist and Rubio clashed on the
economic stimulus
, Social Security, taxes and illegal immigration. But the overarching theme pushed by both candidates was the question of trust.
Rubio charged that Republicans cannot trust Crist to stand up to Obama's agenda in Washington because the governor embraced the president's economic stimulus package shortly after the president took office.
"This election is about trust," Rubio said. "Who do you trust to go to Washington and stand up to Barack Obama and offer a clear alternative?"
Crist stood by his support for the stimulus, arguing that it saved 87,000 jobs in Florida including the jobs of 20,000 teachers. He then countered by repeatedly alleging that Rubio has a record of enriching himself rather than the people he serves.
Crist Asks Why Rubio Has Not Released Tax Returns
"The choice is crystal clear in this race," Crist said. "I view public service as a calling ... Speaker Rubio views public service as a way to enhance his personal enrichment, and that's just wrong."
In particular, Crist alleged that Rubio set up a "$600,000 slush fund," which was supposed to be used for political purposes but which instead was used to "fix his minivan, get haircuts, employ family members, things of this nature that are not what a political committee is supposed to do."
Rubio acknowledged that there were some occasions in which he used political funds on personal expenses. He maintained, however, that "all this money's been accounted for."
Crist did not accept Rubio's contention that he has accounted for all the funds, and he suggested that Rubio has not released his tax returns because of accounting irregularities.
"There are $34,000 in expenses from that $600,000 slush fund that have not been accounted for," Crist said. "We don't know where the money went. We don't know what happened to it. And the speaker won't tell us."
Rather than dwell on the attacks on his finances, Rubio made an effort to cast the primary as a fight for the ideological direction of the country.
"You just don't get it," Rubio said. "This campaign is not about you and it's not about me. It's about the people watching this program, [people] that are watching their country being fundamentally redefined by this administration and this Congress."
One of the starkest contrasts between the candidates came on the issue of Social Security.
Rubio said that the nation's retirement program "will not survive" in its current form. He said people 55 and older should be spared from any changes but argued that lower benefits and a higher retirement age should be on the table for younger Americans such as himself. Rubio turns 39 in May.
Crist said raising the retirement age "flies in the face of many of my fellow Floridians."
Tax Policy Becomes Contentious Issue
Crist said that he favored shoring up Social Security to cope with the retirement of the Baby Boomers by reducing waste and fraud in the program. He said this even though independent watchdogs at the nonpartisan Concord Coalition maintain that some combination of benefit reductions, higher taxes and a later retirement age will be needed to shore up the program.
Another issue of contention between the candidates was tax policy.
Crist criticized Rubio for wanting to replace property taxes with a statewide sales tax. The sales tax favored by Rubio was designed to be revenue neutral for the state government. Rubio thought it was a good deal for Florida because 30 percent of the state's sales taxes are paid by non-Floridians traveling in the Sunshine State.
Crist honed in on the fact, however, that it would represent a new tax burden on the 40 percent of the state's residents who are renters and who currently do not pay property taxes.
While defending his proposal, Rubio misspoke, saying, "Let me tell you about that supposed program to raise taxes that he keeps talking about, it was probably the largest tax increase in Florida's history."
Rubio meant to call it "probably the largest tax cut" in Florida's history but he inadvertently armed the Crist campaign.
Following the debate, the Crist camp circulated the video and issued an "in case you missed it" press release with the headline: "Speaker Rubio Admits He Supported Largest Tax Increase In Florida History."
On the issue of illegal immigration, Rubio got to the Right of Crist by saying that he would not have supported Sen. John McCain's, R-Ariz., plan to offer illegal immigrants a path to citizenship if they paid a fine, learned English and paid back taxes.
"He would have voted for the McCain plan," Rubio said. "I think that plan is wrong, and the reason why I think it's wrong is that if you grant amnesty, as the governor proposes that we do, in any form, whether it's back of the line or so forth, you will destroy any chance we will ever have of having a legal immigration system that works here in America."
Crist Says He Will Not Run for the Presidency in 2012
Beyond the various policy issues they were asked about, Crist was pinned down on two questions about his political future.
Crist ruled out running for president in 2012. He also ruled out running for the U.S. Senate as an independent if he loses the GOP primary to Rubio.
Rubio, who has been encouraged to one day run for president by former Arkansas Republican Gov. Mike Huckabee and other GOP officials, was not asked about his White House ambitions.
The Florida Senate primary takes place Aug. 24. The likely Democratic nominee for Senate in Florida is Rep. Kendrick Meek.
ABC News' Cait Taylor contributed to this report.