— -- Twenty-four hours after Democrat Doug Jones claimed an upset victory in Alabama's senatorial election, controversial candidate Roy Moore is refusing to concede the race.
Moore released a video on Wednesday night, saying "the battle rages on," and vowing every ballot should be counted.
"In this race, we have not received the final count to include military and provisional ballots," Moore said in the video. "This has been a very close race -- and we are awaiting certification by the secretary of state."
Alabama's Secretary of State John Merrill stood by comments he made election night in an interview with ABC News' Tom Llamas on Wednesday, saying an automatic recount is "highly unlikely." Merrill believes Jones' margin of victory will not dip below 0.5 percent, which would trigger an automatic recount. A spokesperson for Merrill said the state had a "free, fair and safe elections process," even calling it "perfect and seamless."
Jones spoke to reporters in Birmingham on Wednesday afternoon and said he'd leave it up to Moore to choose to concede.
"I'm going to leave that to him," Jones said. "I think that as most people, including the president, believe that the people of Alabama spoke, and after elections it's a time for healing, it's a time for reaching out."
Jones also told Moore to "do the right thing" in regard to conceding later in the press conference.
The Moore statement, filmed in front of an American flag and Christmas tree, runs just under five minutes long. It touches on many of the topics Moore made a hallmark of his conservative campaign -- religion, abortion, immigration, the Constitution and the definition of marriage.
Moore also briefly alludes to the allegations of sexual misconduct against him made by multiple women, though not explicitly, saying the claims against him have been a sign of "immorality."
"Immorality sweeps over our land -- even our political process has been affected with baseless and false allegations which have become more relevant than the true issues which affect our country," Moore says. "This election was tainted by over $50 million from outside groups who want to retain power and their own corrupt ideology."
Moore faces allegations from eight women who have accused him of sexual misconduct when he was in his 30s and, in some cases, the women were in their teens. He has denied the allegations throughout the race.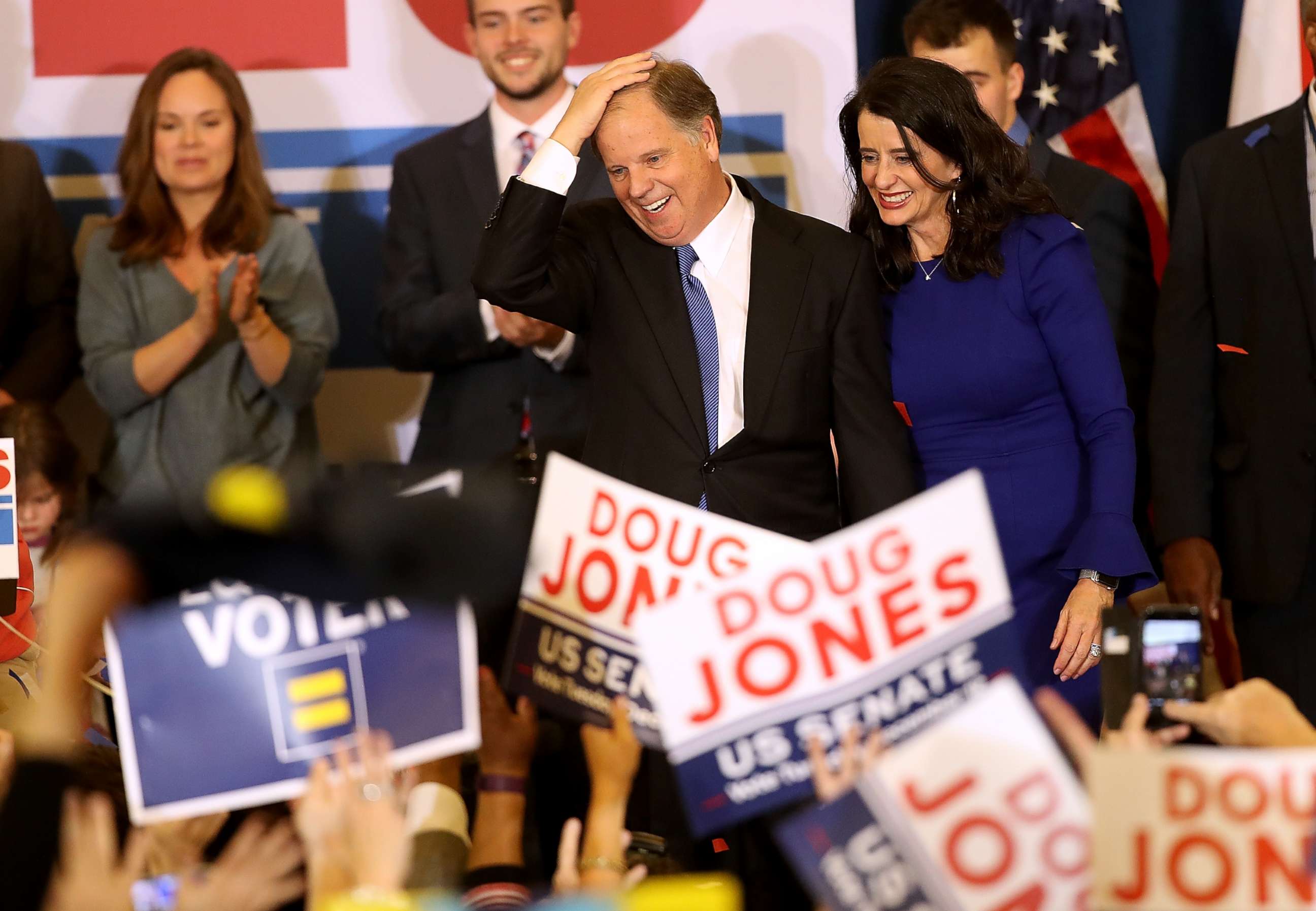 Absentee ballots are still being counted, as Moore notes, but with 100 percent of precincts reporting, Jones led Moore by nearly 21,000 votes, according to the Alabama secretary of state's office.
While Moore vows to fight on, it doesn't appear as though the rest of the political establishment is in agreement.
The Republican National Committee, Alabama's Republican Party and even President Donald Trump, who endorsed Moore, have all made statements indicating they are moving on. Trump tweeted three times about Moore losing in the 24 hours since Jones declared victory.
Jones said he also received a congratulatory call from Trump, referring to it as "gracious" and "very much appreciated." Senate Majority Leader Mitch McConnell and sitting Alabama Republican Sens. Richard Shelby and Luther Strange also called him.
ABC News' Tom Llamas and John Verhovek contributed to this report.