March on Washington: 'Their March Is Now Our March'
Attorney General Eric Holder, civil rights leaders gather in D.C.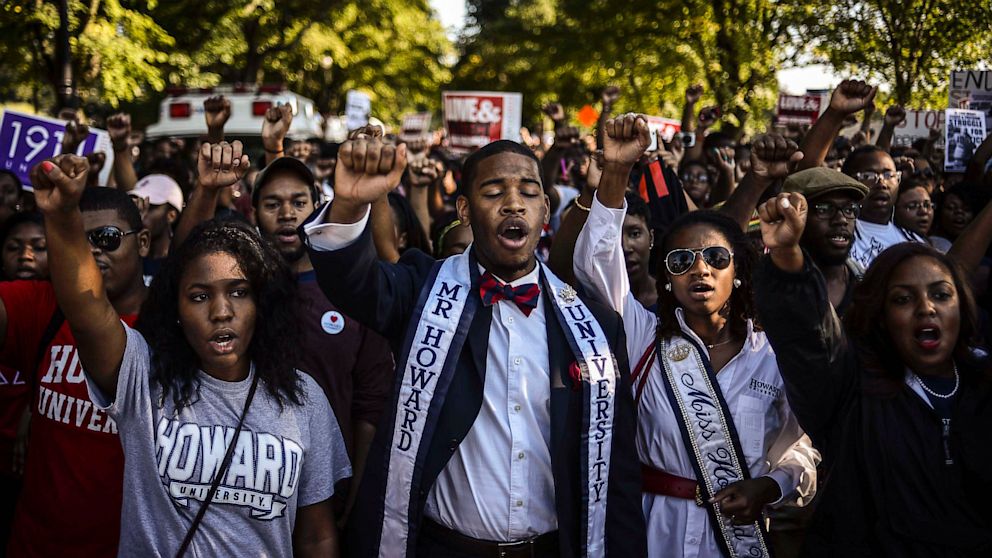 WASHINGTON, Aug. 24, 2013 -- Commemorating the 50th anniversary of the March on Washington, civil-rights leaders and elected officials gathered the site of the original event to decry voter-ID laws, the Supreme Court's recent decision on the Voting Rights Act, "Stand Your Ground" gun laws, and racial profiling.
Wednesday will mark a half century since Martin Luther King Jr. delivered the iconic "I Have a Dream" speech on Aug. 28, 1963. A rally is planned on the National Mall for the anniversary, and President Obama is scheduled to speak on the steps of the Lincoln Memorial.
But today, leaders convened at the Lincoln Memorial for the National Action to Realize the Dream March, which includes a morning prayer, a series of speeches and a march to the Washington Monument, past the Martin Luther King Jr. memorial, which was recently reopened after a paraphrased quote that had drawn criticism of the statue was sandblasted off.
Before the planned march, the crowd heard speeches from Attorney General Eric Holder; the Rev. Al Sharpton; Rep. John Lewis, D-Ga.; House Minority Leader Nancy Pelosi, D-Calif.; House Minority Whip Steny Hoyer, D-Md.; Myrlie Evers-Williams, the widow of slain civil rights activist Medgar Evers; Newark, N.J., Mayor and New Jersey Democratic Senate candidate Cory Booker; the mother of Trayvon Martin; and leaders of civil-rights groups.
"Trayvon Martin was my son, but he's not just my son, he's all of our son, and we have to fight for our children," said Sybrina Fulton, the mother of slain Florida teenager.
Martin's death in 2012 sparked national outrage and a broader discussion of gun laws and racial profiling, although race was not an issue in the trial of Martin's killer, George Zimmerman, who was found not guilty of murder. Zimmerman said he shot and killed Martin in self-defense.
Fulton was joined onstage by a cousin of Emmett Till, the Chicago teenager slain in Mississippi in 1955 after allegedly flirting with a white girl. Many attendees carried yellow signs reading, "Support Trayvon's Law," supporting changes to laws like Florida's "Stand Your Ground" law, even though that was not the basis of Zimmerman's defense.
"Fifty years later, their march is now our march, and it must go on," Holder told the crowd, pointing to a broadened push for equality for women, Latinos, Asian Americans, gays and lesbians, and people with disabilities.
Holder called on Americans to remember not just King, but all activists who staged sit-ins at lunch counters and faced fire hoses and police dogs in the civil-rights demonstrations of the 1960s.
"But for them, I would not be attorney general of the United States, and Barack Obama would not be president of the United States of America," Holder said.
Lewis, who led the Student Nonviolent Coordinating Committee (SNCC) spoke at the March on Washington in 1963 and was one of its organizers. He returned to the steps of the Lincoln Memorial today.
"Fifty years ago, I stood right here in this spot, 23 years old, had all of my hair and a few pounds lighter. So I've come back here again to say that those days, for the most part, are gone, but we have another fight," Lewis said. "We must stand up and fight the good fight as we march today, for there are forces, there are people who want to take us back."
Lewis pointed to the Supreme Court's decision this summer to strike a major provision of the Voting Rights Act, which has mandated that voting districts with histories of racial discrimination must seek federal approval for changes in voting policy. In June, the Court struck down the provision that determines which districts must undergo that federal scrutiny.