Scaramucci criticizes Trump's reaction to Charlottesville violence
The former White House communications director speaks out.
— -- Former White House communications director Anthony Scaramucci had harsh words for President Donald Trump's reaction to the violence in Charlottesville, Virginia, this weekend.
Scaramucci spoke to ABC News Chief Anchor George Stephanopoulos on ABC News' "This Week" today in his first television interview since his whirlwind 11-day stint in the White House.
"I wouldn't have recommended that statement," Scaramucci said of Trump's words on Saturday from Bedminster, New Jersey. "I think he would have needed to have been much harsher."
"With the moral authority of the presidency, you have to call that stuff out," Scaramucci said, referring to Trump's seeming unwillingness to condemn the white nationalist rally in Charlottesville, where clashes between white nationalists and counter-protest groups forced the city to declare a state of emergency Saturday.
Scaramucci went on to criticize the influence of the website Breitbart and Chief Strategist Steve Bannon, who was the executive chairman of Breitbart before joining the Trump campaign and later the administration, saying that there's "this sort of 'Bannon-bart' influence" in the White House that he thinks "is a snag on the president."
When asked by Stephanopoulos if that influence stemmed from Bannon, Scaramucci said, "I think the president knows what he's going to do with Steve Bannon."
"Let's leave it up to the president. It's his decision, but at the end of the day, the president has a very good idea of who the leakers are inside the White House. The president has a very good idea of the people who are undermining his agenda that are serving their own interests," Scaramucci added.
Asked if that included Bannon, Scaramucci said "well yeah," before saying "I would prefer to let the president make the decisions the president needs to make."
Scaramucci spoke further about the bombastic phone call that he had with New Yorker reporter Ryan Lizza, during which he criticized a number of his then-colleagues, including then-Chief of Staff Reince Priebus and Bannon. Scaramucci today said that "for the record, I thought that was off the record."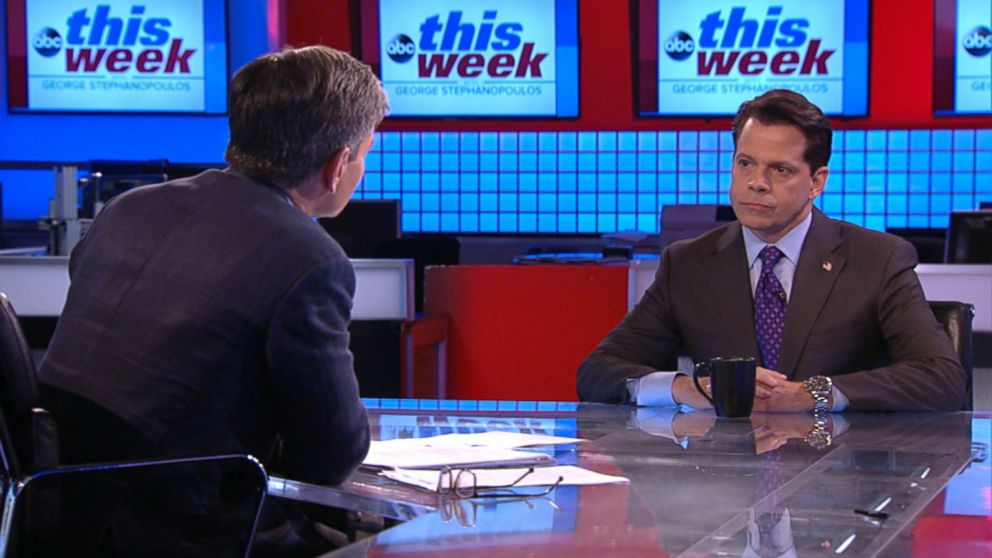 He called Lizza's decision to record the call "a very deceitful thing that he did."
"Obviously I paid the consequences," Scaramucci said, later noting that he feels he made "an unforced error."
When asked if he thought he deserved to be fired, Scaramucci said that "well obviously I wished they would've given me a bar of soap and told me to wash my mouth out in the bathroom and move on."
He said that with the addition of retired Gen. John Kelly as the new chief of staff after Priebus's dismissal, "It was going to be very hard for me to stay in the job."
"My feeling about the whole thing is that what happened was sort of meant to happen," he added.
Stephanopoulos noted how political consultant and former Trump campaign adviser Roger Stone likened Scaramucci to a political suicide bomber, but Scaramucci said that he viewed himself closer to the character from 'Pulp Fiction' who cleaned up after murders had taken place.
"Listen, I saw it more as like Mr. Wolf from 'Pulp Fiction.' You know, I really did get a directive from the president. I had a mutual understanding with him. And I was probably running too hard and acting more like a corporate CEO than I was say a political operative, and that is my mistake," he said.
He admitted he "absolutely" made mistakes but said, "I went in there with my heart and soul."
Scaramucci is still a supporter of Trump's, saying that the president "can be a tough coach at times" but "this guy's a winner."