President Donald Trump's newly-announced federal commission on school safety will meet "very soon," within the "next few weeks," Education Secretary Betsy DeVos said Tuesday.
Her testimony came on the heels of yet another school shooting on Tuesday morning. Two students were shot and wounded at an incident at a high school in Great Mills, Maryland.
"Rest assured, we have a very keen sense of urgency," DeVos told lawmakers.
The commission will be made up of Attorney General Jeff Sessions Secretary of Homeland Security Kirstjen Nielsen, Health and Human Services Secretary Alex Azar, and DeVos, who said they will consult a "wide variety of experts."
The secretary said she also looked forward to meeting with students who survived the Parkland shooting last month "at a time that is workable," but told lawmakers she wasn't sure she had time in her schedule on Friday when they'll be in Washington, D.C. for the March for Our Lives.
"You're not sure that you have the time to meet with the Parkland kids on Friday, and maybe you will have a meeting with the commission in a few weeks, but then, maybe not. You know, Madam Secretary, I think we understand where your priorities are. They are not with the, the young people of this country," Rep. Rosa DeLauro, D-Conn., said in the hearing.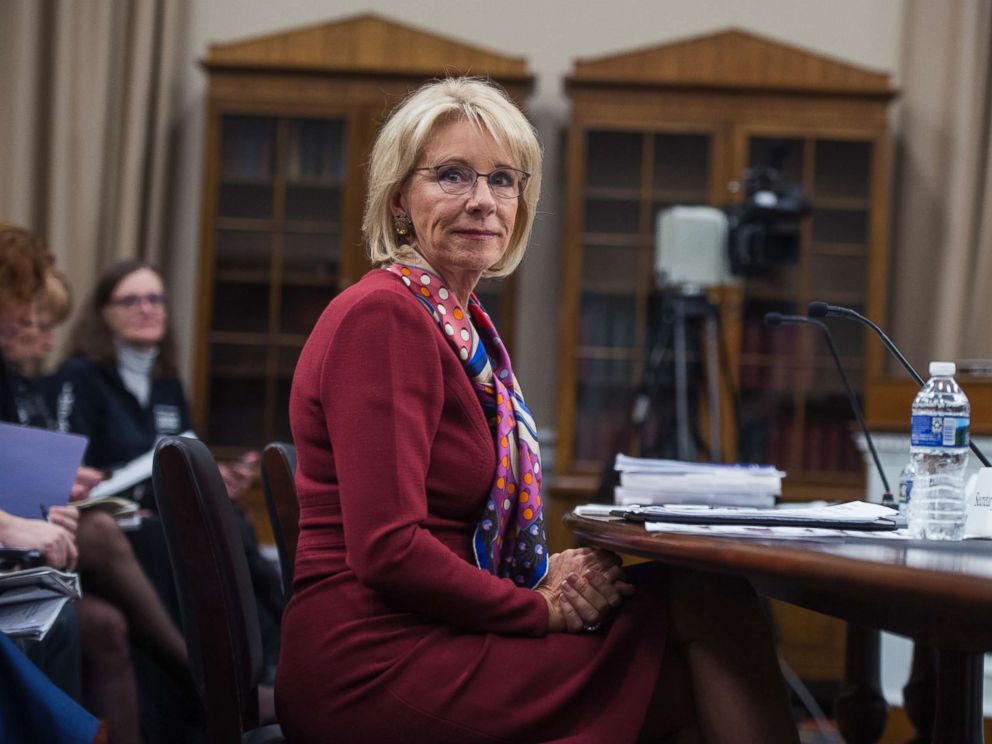 DeVos was also slammed for her apparent openness to arming teachers, especially in light of data revealing that minority students are punished more harshly for the same infractions compared to white students.
"Should the president's view prevail in arming, uh, teachers, do you see why black and brown students are really worried and anxious about this? It's very clear to me," Rep. Barbara Lee, D- Calif., said. "Madam Secretary, you just don't care much about rights of black and brown children. This is horrible."
Appearing visibly shaken by the end of the hearing the secretary pledged to work with Congress "on promoting a safe and healthy culture in our schools."
"Schools must have the resources they need to improve safety infrastructure, hire more counselors and host more programs and activities aimed at violence prevention," she said. "We owe the victims of school violence nothing less."
Lawmakers present noted that the Trump administration's proposed budget, unveiled just two days before the Parkland shooting, actually cut funds to pay for school counselors and other school violence programs.
ABC News' Angie Yack contributed to this report.