Sen. Michael Bennet, D-Colo., announced Thursday he is running for president, becoming the 21st candidate to join the crowded field of Democrats hoping to take on President Donald Trump in 2020.
"I called my mom and I said to her 'somebody has to be 22' and it turns out I'm not. I'm 21! So, I've already made a little bit of progress," the presidential hopeful said playfully while announcing his 2020 run on 'CBS This Morning'.
Bennet said confidently that, despite the historically large field, his experience will distinguish him from the other Democratic candidates.
"I've got a track record of bipartisan work that's been harder to do during the Trump administration," he said.
The Republican National Committee was quick to respond critically to Bennet's announcement. "Michael Bennet is just another tax-and-spend liberal with no chance of becoming president. Bennet hasn't gotten anything done after more than a decade in the Senate, and unfortunately for him, the 'unknown, no-accomplishments lane' of the Democratic primary is already full," Michael Ahrens, RNC communications director, said in a statement.
The evening before his CBS interview, Bennet hinted at a major announcement in a tweet, linking to a sign-up page on his new website with the caption, "Be the first to know about my plans for the future."
Bennet held out on announcing his run following a prostate cancer diagnosis, stating he would only run if he was cancer-free. Doctors said the 54-year-old Democrat underwent "a completely successful" surgery in late April, "requiring no further treatment," according to a statement released by Courtney Gidner, a spokesperson for Bennet.
"In the context of getting the diagnoses, my reaction was disappointment at the idea that I couldn't run," Bennet told CBS This Morning. The presidential contender said his diagnoses was "clarifying," further fueling his ambition to run for office. "It would have been a great excuse to say this is just some adolescent fantasy that I shouldn't run—that's not how I reacted," he continued.
Bennet quickly pivoted to healthcare, attacking president Trump for his push to end the Affordable Care Act, a policy that has weighed heavily on Bennet's conscience since overcoming his battle with prostate cancer. "The other reaction I had was to think about what it would feel like to get a diagnosis like that and to not have insurance and to know that this president has worked so hard since he's been president to take insurance away from people in America," Bennet said.
In early April, the Colorado Senator and Time Kaine, D-Va., reintroduced the "Medicare X" healthcare bill, an expansion of the Affordable Care Act that would create a government-run insurance option that Americans can purchase if they are unable to get healthcare coverage from their employers.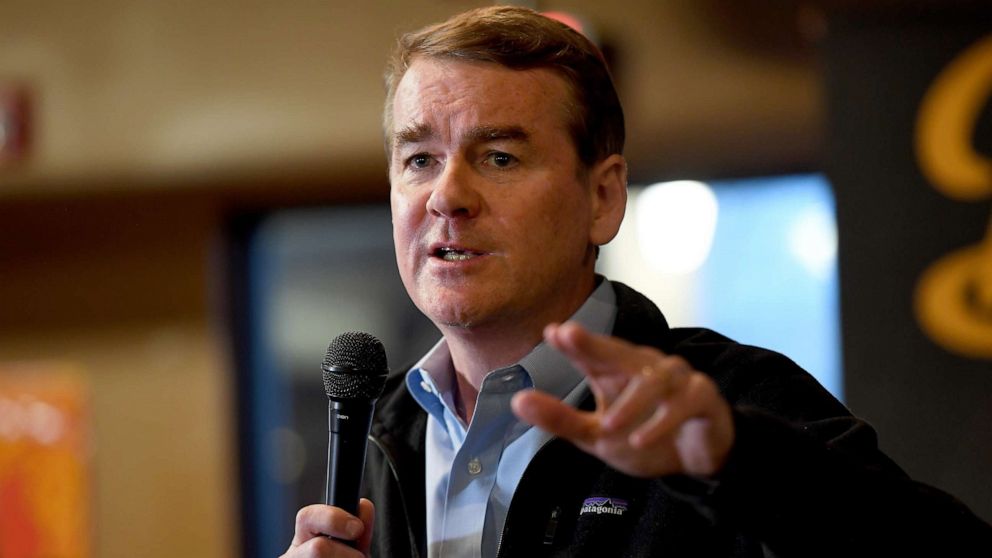 Fellow Democratic presidential candidate and former Colorado Gov. John Hickenlooper welcomed Bennet to the race in a tweet shortly after the senator made his 2020 announcement.
"He knows first-hand what an excellent public servant Michael is. He looks forward to seeing him on the campaign trail," said Hickenlooper campaign spokesperson Lauren Hitt in a statement sent to ABC News.
Bennet later became the superintendent of the Denver Public Schools in 2005, a position he touted in a recent Twitter post.
When he was elected Denver mayor in 2003, Hickenlooper hired Bennet as his chief of staff.
Bennet was appointed senator of Colorado by then-governor Bill Ritter following the resignation of Ken Salazar, who left to become secretary of Interior in 2009. Bennet was re-elected to the Senate in 2010 and 2016.
ABC News' Sasha Pezenik contributed to this report.